A roof safety harness is one of the most important pieces of equipment you need, especially when working at soaring heights. This tool is basically a series of straps connected by stitches and buckles worn around your body. These components distribute fall forces safely across your body evenly to limit the consequences and severity of a potential fall. Besides supporting your body, it also lets you move freely while you work.
Being an integral element of an active fall protection system, the best full-body harness is one that suits your weight, size and job requirements and has useful features that ensure your safety while on rooftops. This is important because the number of reported falls resulting from poor and inappropriate tools is increasing and obviously you do not want to be among the unfortunate ones enduring the falls.
The following is a list of the best and most comfortable safety roof harnesses to use for your own home or commercial projects. We have also included an in-depth buy guide focusing on the factors to consider, safety features to look for, accessories you might need, how to properly use your harness plus care and maintenance tips.
KwikSafety Scorpion Safety Harness
The best roof harness is the KwikSafety Scorpion Safety Harness. This is an affordable harness that ticks all the right boxes in terms of comfort and safety features.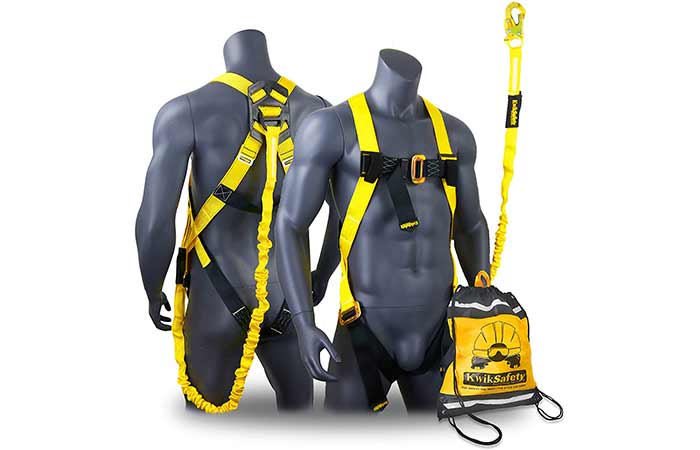 It's a series of tough straps that interconnect with rings and buckles going on your thighs and the shoulders for all-round comfort.
This one even comes with a 6-foot tubular lanyard on the back and you can simply unpack it and you're set to work in a short while.
You get many safety features starting with an adjustable and comfortable fit with an internal shock-absorbing lanyard providing for a lightweight fall protection mechanism.
The double-locking snap hook prevents any accidental rollouts that may occur while you're working. With a tensile strength of 5,000 pounds and gate strength of 3,600 pounds, you'll be working stress-free with this harness.
This harness also meets the standards set by ANSI (American National Standards Institute) and OSHA (Occupational Safety and Health Administration). It's thus a guarantee that anyone within the stated capacity of 310 pounds (about 140 kg) will always be safe using it.
Pros
Comfortable and adjustable for a universal fit.
Comes with a 6-foot lanyard.
3 D-rings on the back for easy hooking.
Weight capacity of 310 lbs.
Approved by OSHA and ANSI for quality and safety.
Luminous yellow straps for visibility.
Cons
The lanyard on the back D-ring isn't detachable.
With a longer lanyard, you can reach any height you want to work from using this great harness from KwikSafety. It's easy to use right out of the box and is made with high-quality materials for the best user experience.
3m ExoFit X300 Full Body Style Harness
For purely professional work, this 3M ExoFit X300 is among the very best you can find on the market. For this reason, it's among the best-constructed roof harnesses you can find on the market. It has all the top features to provide professional-level services. As of this writing, it is Amazon's best seller.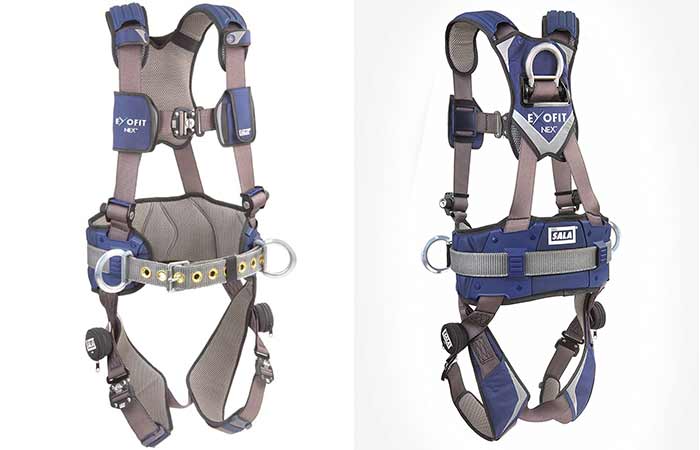 You can quickly and easily connect the harness together thanks to the Duo-Lok Quick Connect buckles. These buckles allow easy one-handed operations and have a memory-fit web-lock ensuring your settings are kept when you're done working.
It is lightweight, moisture-wicking and has breathable padding with soft edging wraps around the wearer for the ultimate in comfort, security and no-tangle donning.
It comes with built-in reflective materials integrated on legs, chest, shoulders and back for enhanced visibility in low light conditions
It also comes with a small pouch for items such as your phone, camera and others. The pouch can be closed and opened easily with one hand.
To prevent snags and trips, the lanyard keeper for the harness easily holsters the snap hooks and easily breaks away to eliminate a trip hazard. Other than that, it comes with revolver vertical torso adjusters which allow for quick and safe adjustments even when on the job.
Pros
Has suspension trauma straps sewn into the harness for extra safety.
Duo-Lok Quick Connect buckles for one-handed operations.
Pocket on the side for small items such as phones and cameras.
Revolver vertical torso adjusters for quick and fast adjustments on the go.
Prevents trips and snags with a lanyard keeper that easily breaks away and holsters the snap hooks.
Provides lumbar support.
Comfort and secure
3 D-rings (on the back and either side).
Cons
For a roof harness aimed at professionals, all the safety and quality aspects have been taken care of ensuring you perform your work without worry. The addition of padded lumbar support is a great feature few other harnesses can boast of.
Guardian Fall Protection Roofing Harness Kit
The Guardian Fall Protection has been one of the top manufacturers and providers of safety gear for America's construction workers since 1993.The Safe-tie Bucket is an affordable kit primarily designed for the safety of roofers and other crew members to help prevent accidental falls. It is perfect for restraint applications in construction work, roofing, thatching, and high-rise window cleaning tasks. As of this writing, it is Amazon's choice.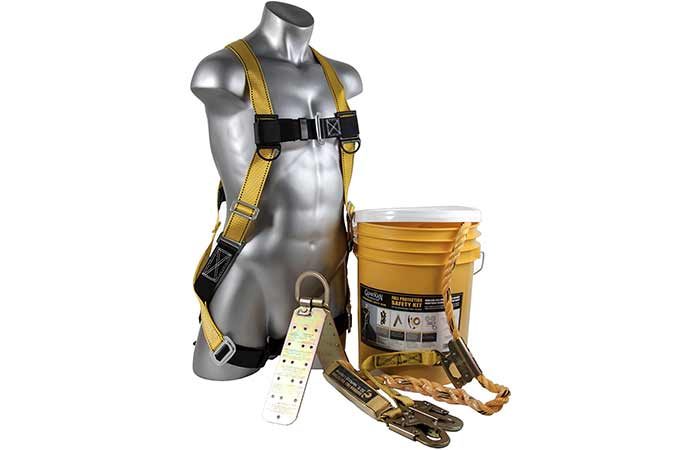 Features and Benefits
Polydac rope for the VLA does not absorb water
Shock pack reduces worker fatigue
18in. lanyard extension keeps positioning device within reach and reduces trip hazards
Includes Velocity Harness – an entry level harness
Temper anchor comes with screws and nails, as well as off-set holes so it doesn't split the roof trusses
Comes with bi-lingual instructions
Kit Specifications
Webbing Material: Nylon & Polyester
Connector Length: 50 ft. Vertical Lifeline Assembly
Body Wear: Velocity Harness (Small- Large)
Bucket Storage: 5 Gallons
Anchor Type: Temper Reusable Anchor (1)
Capacity: 130-310lb.
OSHA, ANSI compliant
Malta Dynamics Warthog Comfort MAXX
This full-body work harness is designed for full movement while still being attached to a fall protection anchor; it provides both comfort and safety. The removable waist belt offers additional padding for comfort and support.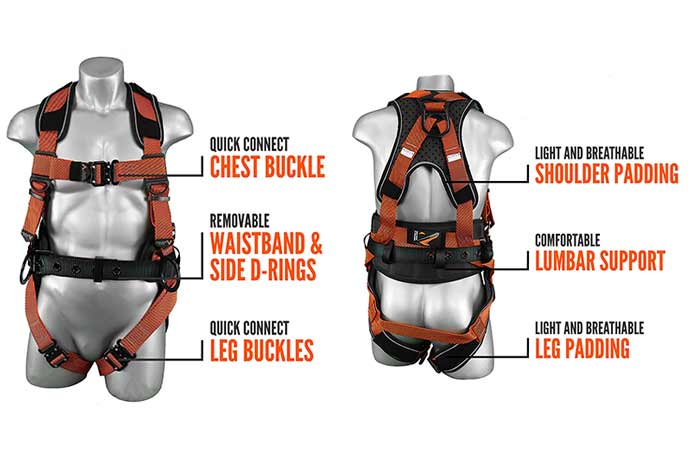 Those who have used this harness rave about its great quality and level of comfort if you land the size that's right for you. It comes in 4 sizes namely X-Small, Small Medium Large, X-Large XX-Large and 3XL. These are meant for people of all sizes on the construction site with all the sizes coming in quality materials and comfortable straps.
It's one of the best quality roof harnesses having met and passed all standards set by ANSI, OSHA, and the CSA. As such, you can get one with the confidence of knowing it has been tested and passed by professional bodies.
The Malta Dynamics Warthog MAXX supports up to 310 lbs. of body weight with the straps, buckles, and other parts of the harness being made with safety and comfort in mind. It, however, comes with two D-rings on the side and back
Pros
Approved by ANSI, OSHA and CSA for quality and safety.
High-quality materials for the whole harness guarantee safety.
Supports up to 310 lbs. of body weight.
Available in extra small to 3X-large sizes.
Has fall indicators to improve safety.
Reflective materials for visibility on the site.
Cons
Although the dorsal D-ring is the most used D-ring, the side D-rings can be helpful in complex construction sites. As such, this is a good choice
Palmer Safety Fall Protection Full Body Harness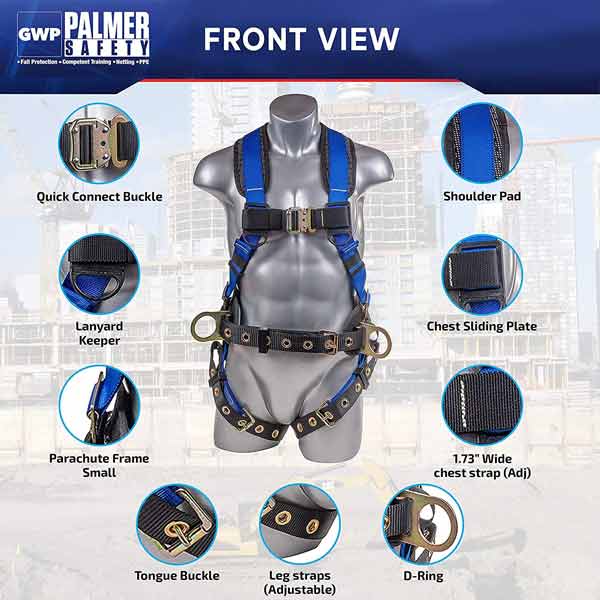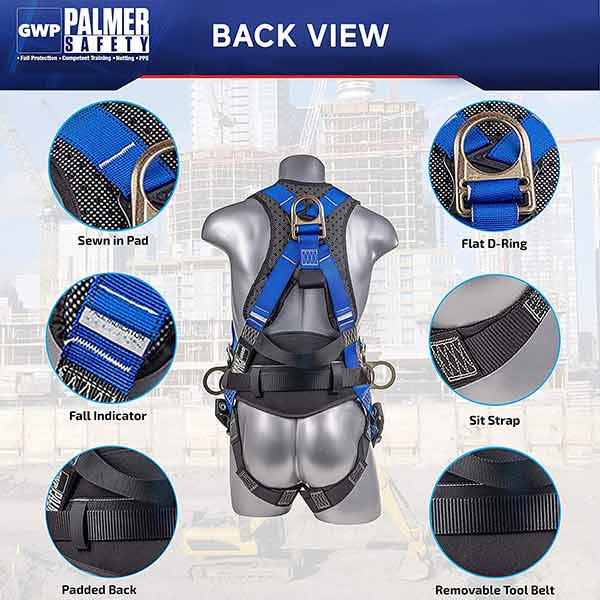 Palmer Safety Harnesses are designed and tested to comply with applicable OSHA and ANSI standards for fall protection equipment.
When used as a component in a personal fall arrest system, or a personal restraint system, it provides you with the full-body harness system
It comes with 5 easily accessible adjustment points to ensure a comfortable fit for a wide range of body types properly and safely. The dorsal D-ring for fall arrest, hip D-rings, heavy-duty back support/positioning pad with removable tool belt, tongue buckle leg straps. Quick connect chest.
Palmer Safety Full Body Safety Harness is designed for a person with a combined Weight (clothing, tools, etc.) of 140 – 240 lbs.
This fall protection gear is built to last and can keep you out of harm's way. The body harness is built with these physical parameters:
Webbing: Polyester
Width: 1.73 in
Breaking Strength: 5000 lbs.
Stitching Thread: High-tenacity polyester
Metal Component: Alloy Steel, Finish: Silver or Golden Yellow Galvanized | Weight: 7.28 lbs.
Palmer fall protection fall arrest harness complies with OSHA standards as well as meet in some cases exceed ANSI/ASSE Z359.11-2014. A10.32-2012 fall protection requirements. It's a must-have for safe and fully-compliant work operations in, Government buildings, Military Installations, Residential & Commercial Construction, Roofing.
Pros
Safe
Durable
Easily adjustable
Affordable
Frontline Fall Protection 100RCTB Full Body Harness
This full-body style harness is built to deliver performance, durability, and reliability for workers across all industries.
Comes with safety orange and reflective webbing, that makes the user stand out a lot more for added safety and visibility
It is also lightweight but built rigid to withstand the harshest conditions, while also featuring built-in suspension trauma straps for added safety in case the user is subject to a fall.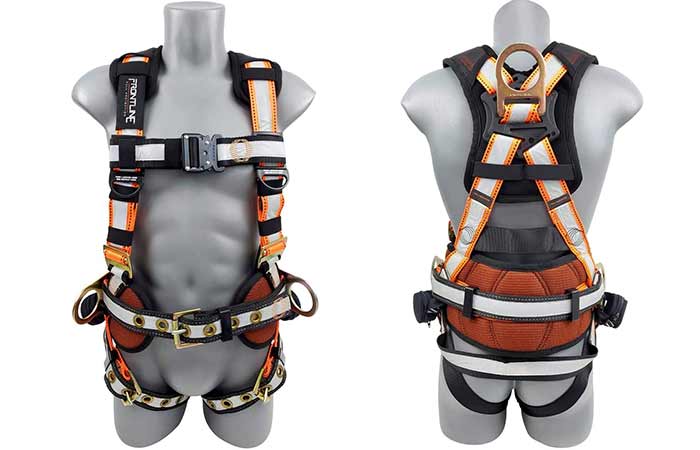 Check Current Price & Reviews on Amazon
More Features and Specs:
Back, shoulder and waist pads are of moisture-wicking material for better breathability and a more comfortable fit to help reduce user fatigue and heat exhaustion
Made up of high tenacity black polyester webbing and safety orange stitching, makes it easier to do stitching safety inspection because of the color contrasting
Features 5-points of adjustability, making the harness fits snug and more comfortable for users
Convenient reinforced belt and rigid pad support tool belts without harness falling or sagging
Includes aluminum quick-connect buckle on chest strap & tongue buckles on leg straps for fast and easy adjustment
Comes with 2 lanyard keepers on the shoulder straps for lanyard placement and to help avoid tripping hazards
KwikSafety Tornado Full Body Safety Harness Kit
Yet another entry from KwikSafety with all the features you'd want in a harness is the Tornado assembly full-body harness. It's created with safety and quality in mind yet very simple in design. Like the other great entrants from KwikSafety, it comes in a luminous yellow color for visibility on the site.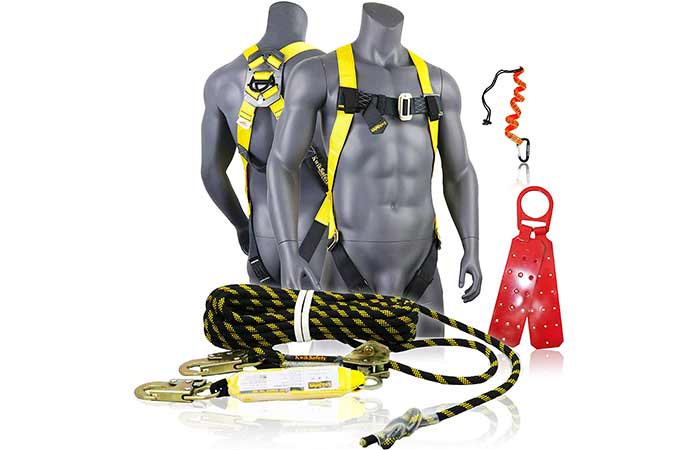 This roof harness also supports up to 310 lbs. (140 kg) of body weight and comes in 4 sizes (SM, M, LG, and XL) for different body sizes and heights. It comes with a single D-ring on the back for easy suspension and perfect fall arrest.
The high-quality materials used for this harness prevent any chances of abrasion and aging while providing resistance to heat. The stitching is lock stitching which means one stitch coming loose won't affect the rest of the strap. It's also been approved by the ANSI/ASSE and OSHA for safety and quality.
Pros
OSHA and ANSI/ASSE approved for safety and quality.
Supports up to 310 lbs.
Can be used for fall arrest, rescue and position restraint.
Made with quality materials that won't get worn out easily.
Stress indicators for safety.
Cons
Even with only one D-ring, this harness from KwikSafety is among the very best when it comes to both professional and home jobs in need of suspension. It packs the same great features found in its costlier siblings.
Cyclone Safety Harness
Our next pick is Guardian Fall Protection Cyclone safety Harness. It is designed with a unique x back which leaves the harness straps tangle-free. An ideal combination for fall arrest, work positioning, rescue, and rope access applications.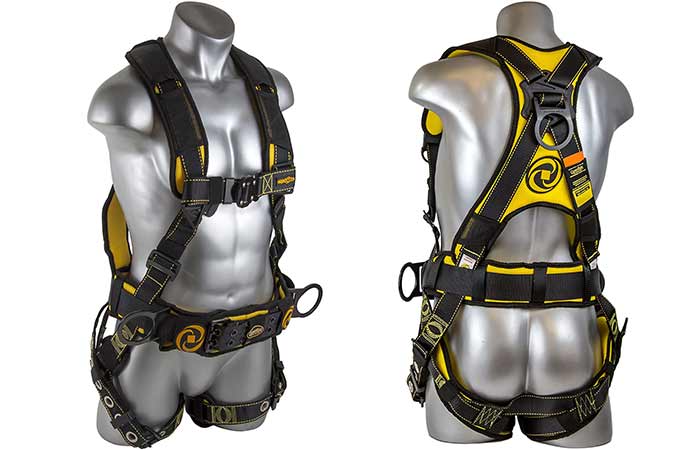 This Harness offers superior comfort, styling, and safety. The design engineers took the basics of what makes a harness effective and safe then made holistic improvements to allow you to do your job more comfortably and with added versatility, all without breaking the bank.
The Cyclone is made from 100% polyester and it features ultra-flow padding that helps keep moisture away from the body, and the double-grommeted tool belt provides the ultimate in support.
It also comes with the following features
5-point adjustment harness- Fully adjustable shoulder, chest strap & leg straps
Break-away lanyard keepers
Double grommeted tool belt
Velcro waist belt for a custom fit
Optional affordable & durable work bags
Finished ends for a clean and professional look
Employees can personalize their harnesses without jeopardizing the integrity of the webbing
Easy adjustment combination buckles
Unique aesthetic stitch pattern for enhanced strength
Pros
D-rings for easy attachment of lanyards.
Superior flexibility and comfort
Multipurpose; for rescue, fall arrest and work positioning.
Padded for comfort.
Comes with hammer loops.
2 lanyard keepers.
Back and shoulder padding can be removed then washed or replaced.
Made with durable materials.
Available in S, M, L, XL, 2XL and 3XL sizes.
Cons
Requires proper sizing hence no universal fit.
Slightly pricier compared to other harnesses
Finding the right size for this harness isn't an issue and, once you have it, you'll get a very comfortable and durable harness that allows you to work at various heights without an issue. We loved the heavy padding which is also replaceable and removable.
ATERET Fall Protection Roofing Bucket Kit
This bucket kit by Palmer Safety includes a universal full body 5-point safety harness, a reusable roof anchor, a 50-foot vertical lifeline rope with a rope grab and attached personal shock absorbing lanyard plus a storage bucket to protect the kit. The Palmer Safety Roofing Bucket Kit is ideal for both residential and commercial roofers and all construction workers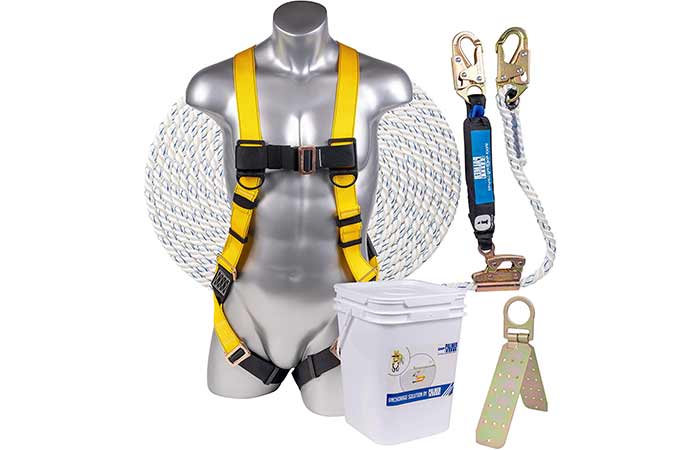 Choosing the Right Safety Harness for Roofing: Factors
When buying yourself a harness for your roof cleaning and roofing projects, here are factors to consider:
The Work to be Done
The type of work you intend to carry out is the primary aspect to focus on when going for a harness. While our focus has been the roofing area which doesn't require much specifics with harnesses, the materials you'll be handling, the level of heat, water and others have a major effect on the harness you'll be choosing.
For example, if you'll be doing a lot of welding, getting heat-resistant materials is a must. It should also be flame-retardant to prevent accidental burns. If you'll be working in wet conditions, choose a harness that has water-resistant materials. For electricity jobs, go for a harness without conductive materials.
Also, while some jobs can be done with a harness with a single D-ring, some require intricate positioning with more D-rings and other important parts. As such, always consider the type of job you're going to do and even consult with an expert on the matter to make the best decision.
Weight
You can view weight from two perspectives, that is, the weight of the harness itself and that of the user.
The weight of the harness is a consideration since you don't want to be carrying around a heavy harness when on your job. It all depends on the materials that have been used to make the various parts of the harness itself. Heavy metals such as steel have more weight than lighter ones like aluminum.
The good news is that modern harnesses have been crafted to be both light and durable. This has been made possible by the use of lighter yet equally reliable materials.
In terms of the user, harnesses have rated capacity or weight limits for potential users. The rated capacity includes the harness components, the user's clothing, and any gear the worker may require on the job. While the weight limit is specific to each make and model of harness, 130-310 pounds is the most common range.
Size
Even with the many adjustments that harnesses are packed with, no one size fits all. You need to know your weight, body size and shape to find one that fits you perfectly. The better a harness fits, the safer and more comfortable you will be. If you get one that's too big, you'll end up not feeling secure. A size too small, on the other hand, makes you very uncomfortable. In both cases, you'll not be efficient at your work and even risk injury.
The positioning of each part of the harness and how effective they'll be, depends on how well it fits your body. The positions of the straps, D-rings and other parts depend on being at the right place on your body to distribute pressure and prevent pressure points that can be quite painful.
The right size of the harness also makes it possible to move around, adjust the harness and go through the natural motions of the body without restrictions. If you have a D-ring in the wrong place, for example, you'll feel more pressure than usual on one part of the body. Always check for the sizing guides to determine which one best suits you.
Construction Materials.
While the type of job for which you intend to use the harness greatly influences the construction materials, lightweight, durable and easy-to-maintain construction materials is what you should look for in any harness.
Standards/Certifications
Depending on the country where you work and the type of job you want to use your harness for, you may want the harness to meet some standards or certifications. These standards include
ANSI(American National Standards Institute), ANSI Z359.11-2014. ANSI Z359.11-2014
OSHA(Occupational Safety and Health Administration)
CSA(Canadian Standards Association) CSA Z259.10-12
Harness Parts & Safety Features to look for
Although the fall protection equipment market has different styles or designs of full-body harnesses for roofers, a standard harness should have the following major parts.
Fabric webbing- (chest, shoulders, hips and upper legs straps)
D-rings (Attachment/anchor points)
Buckles (the fastening mechanism)
Tagging (limitation details, warnings, etc.)
The following are diagrams of the most common harness styles with the parts. Image Sources:buckinghammfg.com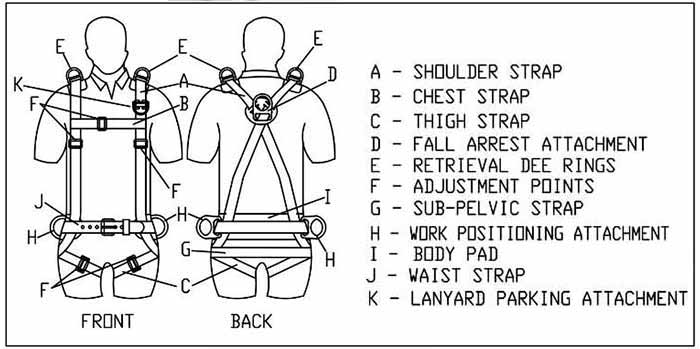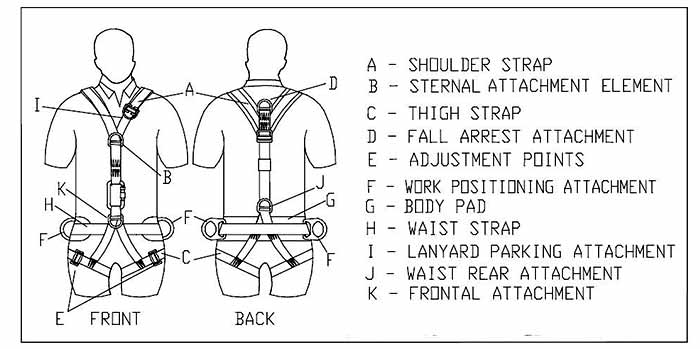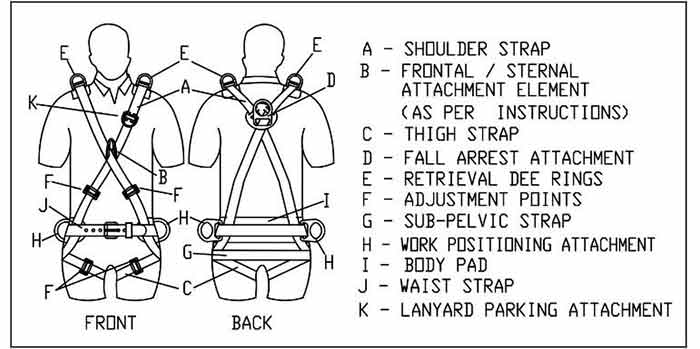 Webbing & Adjustable Straps
The straps are different fabric webbing that are sewn together. The adjust to provide a comfortable/snug fit. Common harness webbing fabrics include nylon and polyester. Specialty fabrics like Kevlar are used for harnesses used in hazardous applications.
D Rings
Usually made of stamped or forged metal, or plastic, a D-ring is the part of the harness to which you attach a fall arrest lanyard or fall restraint system.
D-ring attachment points are sewn into the harness webbing on the front, and back sides. The location depends on the type of harness and the application it is intended for.
A back or dorsal D-ring attachment is the most common and important. It allows for the attachment of a fall arrest lanyard and helps to keep the body upright during a fall event. The Occupational Safety and Health Administration (OSHA) requires all fall protection safety harnesses to include a D-Ring on the back.
Front attachment D-rings include the chest/sternal and shoulder. Although the sternal D-rings mostly serve as harness attachment points for climbing applications, they can also be used with vertical fall protection systems, especially on steep roofs.
Shoulder D-Rings are excellent for safely lowering or hoisting a worker, especially in confined spaces or rescue operations
Side D-rings are extra D-rings on the sides at hip level. They provide attachment locations to connect devices such as lanyards to during work positioning. They can also be used for fall arrest rescue.
Buckles
Buckles are metal or plastic pieces used to tighten the harness straps to the body with. Common harness buckles include;
The pass-through/parachute buckle is the simplest and most economic system, which explains why it is common on many entry-level harnesses.
It comprises two pieces of metal on each end of the buckle. The smaller end passes through the larger end and secures into place to attach the harness to your body.
The quick-connect buckle is the easiest and most efficient buckling system. How it works is quite similar to the buckle system on a vehicle seat belt. One end has a piece with a tongued edge, while the other has a clip. The tongue simply locks into the clip and that is it. It is the fastest way you can fasten your harness to your body.
The tongue buckle is just the same as the buckle system on a belt for your pants. It comprises a strap with grommets. To adjust, you simply pull more material through the buckle securing it in place with the prong. It is extremely secure because the straps do not loosen throughout the workday. It is also cost-effective but; it is not as efficient as the quick connect type.
Tagging System
Every harness must have a legible tag identifying the harness, model, date of manufacture & inspection, name of manufacturer, limitations and warnings.
Additional Safety Features
Besides the above generic features and parts that make a standard harness safe, some manufacturers add more features that make their harnesses much safer and more comfortable. Some of these extra safety features include the following.
Padding
Sufficient padding at the right places is one of the easiest ways to add comfort, especially for roofers who spend a long time in the harness. On top of comfort, padding can also be beneficial in the following ways
Padding adds a layer of protection in the event of a fall and during the post-fall suspension
Extra lumbar padding aids in stabilizing the lower back and waist
Padding enhances the harnesses' ability to hold their shape, making them easier to put on.
The padding can be a built-in feature or a detachable type that can be removed for cleaning.
Suspension-relief straps or suspension-trauma straps. These straps lower pressure on the body from the harness after a fall and while awaiting rescue, thus doing away with the effects of suspension trauma on the user in the long run.
Spring-loaded dorsal D-rings are a better option because they stay upright, making them easier to reach than regular D-ring designs. They ensure fast, easy, and safe connections. In the event of a fall, the D-rings enhance an improved alignment with whichever hardware is connected to them.
Unique & Durable Webbing. Certain characteristics of the webbing can make a safety harness stand out. Above-average and modern harness designs come with webbings that are not only durable and lightweight but also liquid-resistant webbing, paint-resistant coatings, and even heat resistant.
Other recent designs come with stretchable webbing that provides greater freedom of movement and increases comfort.
The color of the webbing or straps can also make a difference. Having a highly visible color like yellow or having a reflective film is a major advantage, especially for commercial projects.
Quick-connect and Adjustable Buckles. As mentioned earlier quick connect buckle systems are the most efficient. Additional lock and unlock adjustment points, make buckle systems safer and less cumbersome.
How to Properly use a Harness on a Roof
Proper use of a full body harness starts from an inspection before any use, donning or putting it on correctly, adjusting then finally anchoring using a lifeline or lanyard.
Safety Harness Inspection Checklist
Before each use, you should visually and manually (touch) inspect your harness under good lighting conditions.
Keep in mind that a little tear on a strap can make the difference between a safe day at the job and a career-ending fall.
You should ensure the webbing, stitching and hardware do not have any signs of damage that could be dangerous during use.
Examine all webbing and stitching for indications of deterioration or wear, including cuts, thinning, discoloration, mildew, unusual spots, fraying modifications, pulled stitches, missing stitches, burned fibers, etc.
Examine every D-ring, buckle, plastic/metal fitting and grommets for any distortion, rust, modification, breakage, improper fitting, etc.
Look at the tag to learn when the last inspection was performed by the competent person.
Replace the harness if you have any question/doubt about it being safe for use. If you conclude the harness is in a good condition, put it on.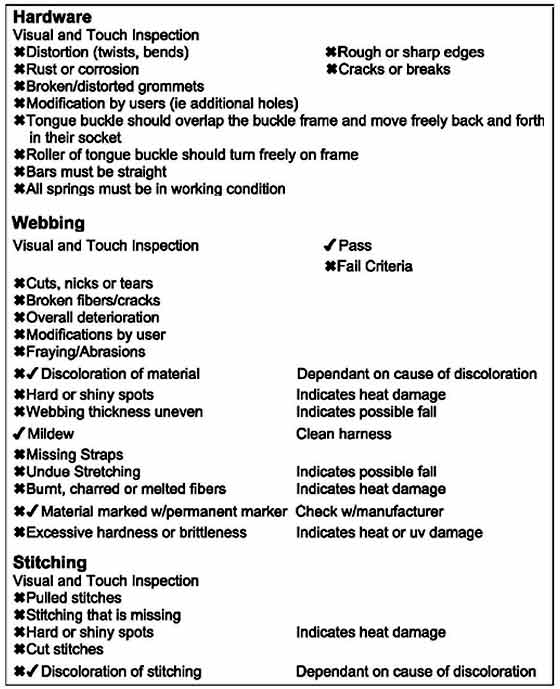 How to put on a Safety Harness (Donning)
The following are to don a full-body harness.
Unfasten the buckles and loosen the straps
Grab the harness by the dorsal D-ring then shake it to untangle the straps and allow them to fall in place.
Slip the straps over the shoulders so that the D-ring is positioned in the middle of the upper back between the shoulder blades
Buckle and adjust the leg straps
Connect the chest strap and position it in the midchest area then fasten to keep the shoulder straps taut
Connect and fasten the waist strap.
Once all straps are tightened and buckles fastened adjust so that the harness fits snug but allows a full range of movements
Tuck excess straps through the loop keepers.
Roof Harness Anchoring
You can anchor your harness either by using a vertical fall protection rope/lifeline or a lanyard. The rope or the lanyard connects the harness, by the D-rings, to an anchor on the roof.
Safety Harness Accessories for Roofers
Some of the most useful safety harness accessories for roofing projects include the following:
Tool belt
The tool belt helps free up both of your hands to focus on a single task. It's simply a belt with holes and other provisions for inserting tools when you don't need them immediately.
Tongue buckles
Tongue buckles provide a more secure and firmer grip than slip-on buckles since they'll be locked into place and won't allow the harness to move and risk your safety.
Shock-absorbing lanyard
The addition of a shock-absorbing lanyard helps cushion from the impact of a free-fall almost in the same way a bungee rope does.
Holster
A holster can be used to keep small items that don't fit into the tool belt such as washers, your phone and others.
Strap cushion pads
If your harness didn't come with the proper padding for the straps, adding some padding will help you be more comfortable using the harness and even stay suspended for longer periods without pain.
D-ring extenders
D-ring extenders provide more length for the attachment of a lanyard to the D-ring. This is important when in need of extra length beyond the fixed length of a lanyard.
Roofer's Harness Care and Maintenance
Even though harnesses are made of high-quality materials, proper care and maintenance is essential to prolong their lives, keep them in good working condition and safe. The best care and maintenance routine for your harness includes the following aspects:
Clean the Harness Regularly
Cleaning the harness will prolong its lifetime. This prevents harmful substances from affecting the harness in any significant way. These include abrasives, corrosives, oils, etc. These substances tend to compromise the integrity of the harness by deteriorating the fabric, stitches, and other parts.
A thorough cleaning also allows you to effectively inspect the harness for damage to the webbing and hardware.
Follow these steps to clean your harness
Place the harness on a flat surface, for visual inspection.
Using a moist sponge, wipe down the harness to remove excess dirt and dust.
Mix a cleaning solution using laundry detergent or dish soap.
Dip your sponge into the solution and thoroughly scrub each portion of the harness until a thick lather forms.
Using a sponge dipped in clean water, wipe down the harness to remove the suds and soap residue.
Hang freely to dry in room temperature air away from excessive heat, steam or long periods of sunlight
Precautions
When cleaning, avoid soaking the harness for long as this damages the fiber.
Avoid using dryers. Excessive heat and tumbling can damage the harness.
Do not use any cleaners that contain chlorine, bleach, or abrasive chemicals.
Do not use a mechanical heat dryer or expose the harness to long periods of sun-drying.
Storage
Once your harness is dry, store it in a clean, dry area. The storage areas should be free of exposure to fumes, extreme temperatures, water, direct ultraviolet light, sunlight, and corrosive elements.
Avoid storing your harness next to abrasive objects, or objects that can leak such as batteries, chemical attacks can occur if the battery leaks.
Constant Inspection
As mentioned earlier, before putting on your harness, you must always inspect it thoroughly to make sure no part is compromised in any way.
The same type of inspection should be carried out right after you take off your harness. If you find any issues with it, always have the harness checked and fixed if possible. If the issue can't be fixed, strictly replace it with another one.
It is important to note that all full-body harnesses come in different styles and designs. They're not created the same. Luckily, manufacturers package each of their harness models with clear how-to-use instructions in at least one language. The instructions include explicit guidelines for usage, maintenance and inspection. Be sure to check what comes with your package.
As an Amazon Associate, we earn from qualifying purchases. Details here