Be it you are roofing expert or practical person who once in a while gets on home's rooftop, having the right roof lifeline rope knowing how to use it properly is an important safety measure.
A roof safety lifeline is the appliance that connects your body support device, usually a harness, to an anchor point. While the harness attaches to your body and keeps you safe by distributing the weight around the body, the rope allows you move around on the roof without the risk of falling.
Following is a review of the 10 best roof safety ropes/vertical assembly lifelines in including a guide on how to use, safety measures, features to look for when buying plus additional accessories that can be helpful
1. KwikSafety TSUNAMI Safety Lifeline Rope
This a complete vertical lifeline assembly(VLA) that includes a rope grab, snap hooks and a shock protection absorber. Available in lengths of 25ft., 50ft., 100ft., and 150ft the KwikSafety Tsunami is based on the high-quality KwikSafety safety harnesses all of which have received great reviews from experts and regular users.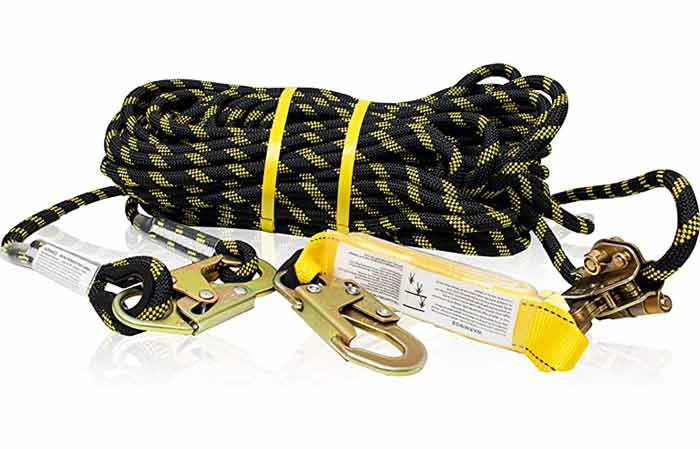 This rope can be used with any safety harness as its two alloy steel snap hooks fit into any D-rings on the harnesses. The rope itself is made up of high-quality braided polyamide material which is resistant to all abrasion, corrosion and generally all the risks at work. With a maximum strength of 5,000 lbs. (2268 kg), it's among the strongest on the market.
It works well for individuals up to 310 lbs. of bodyweight and comes with its own shock absorber and rope grab device to provide you with a smooth working experience. The addition of luminous yellow sections of the rope makes it highly visible for safety purposes.
Pros
Durable braided polyamide rope.
Maximum strength of 5,000 lbs.
Available in multiple lengths .
2 alloy steel snap hooks on either end.
Shock absorber for smooth working.
Rope grab device for roof movement.
OSHA and ANSI/ASSE standards compliant.
Cons
Some users find the rope grab not as smooth as some
Easily one of the best roof safety ropes thanks to the quality parts and ease of use.
2. Guardian Fall Protection Vertical Rope Lifeline Assembly
The Guardian Fall Protection Lifeline Assembly is the complete setup for staying safe when working on roofs, especially in high-moisture environments.
With this roof safety rope, you get the whole package since it comes with a 25ft, 50ft, 75ft, 100ft, 130ft, 150ft or 200ft vertical lifeline rope, 2 locking snap hooks on each end of the rope, a shock absorber, an 18-inch lanyard extension, and a positioning device. All you need is an anchor on one end and a weight on the other and your harness to start working safely on the roof.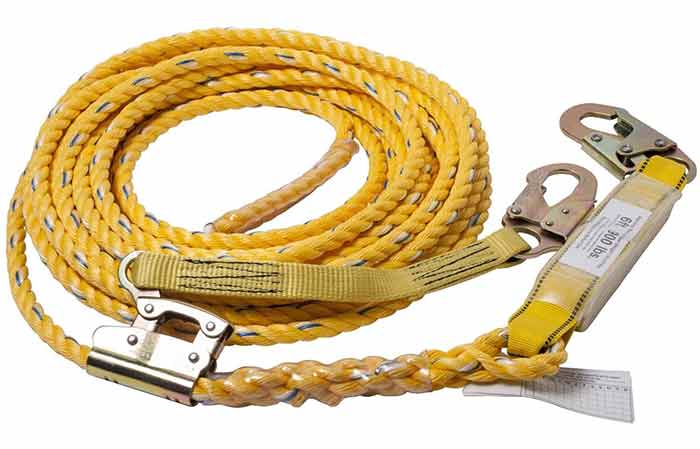 It comes with a heavy-duty 5/8" poly rope that's resistant to cuts and abrasions. Unlike nylon ropes which are affected by water, this Poly Steel Rope doesn't and retains its quality even when exposed to the elements for a significant amount of time.
While this safety rope is touted first as a roof safety device, it can be put to many other uses including personal fall arrest, restraint, swing falls and even rescue.
Pros
Variety of length options
Rope resistant to wear and tear.
Weight range of 130-310 lbs.
Self-locking carabineer included.
Complete safety assembly with a positioning device, shock absorber, 18-inch extension lanyard, and 2 double locking snap hooks.
Minimum breaking strength of 5,000 lbs.
Usable for fall arrest, restraint and swing falls.
Cons
The grab can be a bit tight on the line.
For staying safe on non-horizontal planes, this is one of the best safety ropes. The fact that it comes with all the accessories you'll need makes it a must-have for all your rooftops tasks.
3. Malta Dynamics Vertical Lifeline Assembly
The quality of this vertical lifeline is proved by its approval by both the OSHA and ANSI for safety when in use. It's available in lengths of either 25 feet or 50 feet each one with a weight capacity of between 130 and 310 lbs.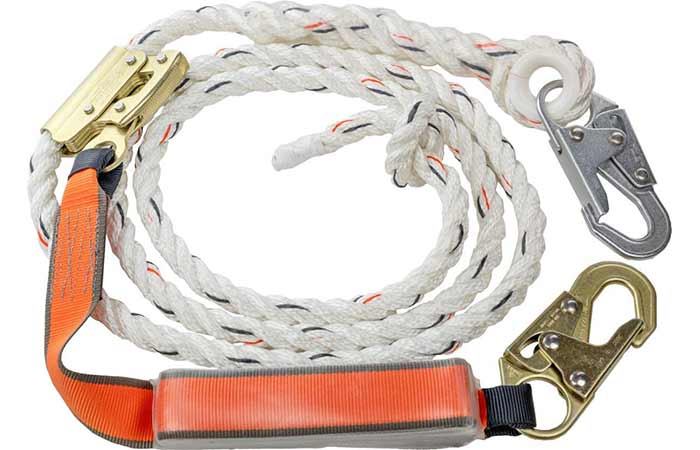 The lifeline rope is made with polyester, alloy steel and nylon to be tough enough to work under similarly tough conditions. These materials give it a minimum breaking strength of 5,000 lbs. which is very impressive for any rope or cable.
You get a complete package with the rope, shock absorber, 18-inch extension lanyard and a positioning device. You also get a pair of snap hooks with it. Essentially, all need is your harness, and you're good to go.
Pros
Meets ANSI and OSHA standards for safety and quality.
Bodyweight capacity of up to 300 lbs.
Minimum breaking strength of 5,000 lbs.
Comes with shock absorber, 2 snap hooks, 18-inch extension lanyard, and positioning device.
Rope made of high-quality alloy steel, polyester and nylon materials.
Cons
An easy choice for anyone seeking to work safely on a pitched roof.
4. Peakworks Fall Protection Safety Lifeline Rope
Next on our list is the Peakworks Fall Protection Safety Lifeline. This one also has a 50-foot long safety cable although you can choose other lengths from 25 ft., 50 ft., 100 ft., 150 ft. and even 200 ft. All the cables are heavy duty with 5/8-inch of thickness and made of strong braided polyester.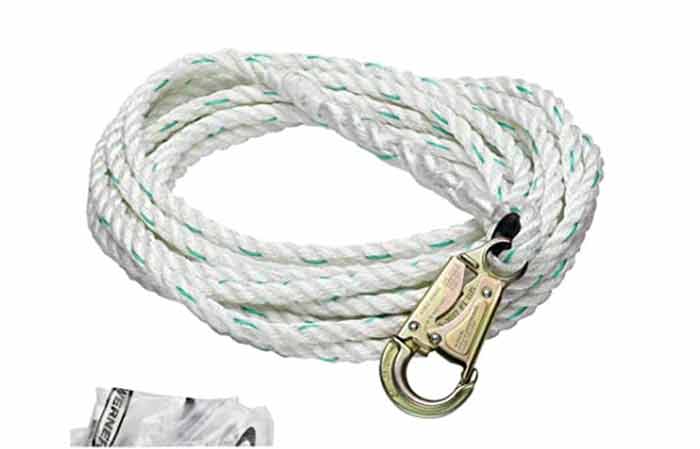 This safety rope has also passed the ANSI Z359 & OSHA Fall Protection Code Standards. You're thus guaranteed safety no matter the height you'll scale with this one. You also get a galvanized steel snap hook that works with any D-rings. A back splice at the other end of the rope keeps the rope grab device on the rope even when the whole length is covered.
At only 4 lbs. of weight, this rope has a maximum breaking strength of 6,000 lbs. which is quite impressive. For a rope tested by recognized safety standards bodies, the Peakworks safety line is what you need the next time you want to repair the roof or carry out any other task above the ground.
Pros
Heavy duty rope made of braided polyester and at 5/8-inch thickness.
Rope available in lengths of 25 ft., 50 ft,100 ft., 150 ft. and 200 ft.
Certified by ANSI and OSHA for safety and quality.
Has a breaking strength of up to 6,000 lbs.
Comes with a galvanized steel snap hook for attaching to harness D-ring.
Back splice prevents the rope grab device from coming off at the other end.
Cons
Only one steel snap hook.
Although it comes with single snap hook, its quality speaks for itself given the high breaking strength.
5. Welkforder Vertical Lifeline Assembly with Rope + Grab, Snap Hooks & Shock Absorber.
The Welkforder lifeline assembly is made of a lifeline rope, an energy absorbing lanyard, two steel snap hooks, and a rope grab.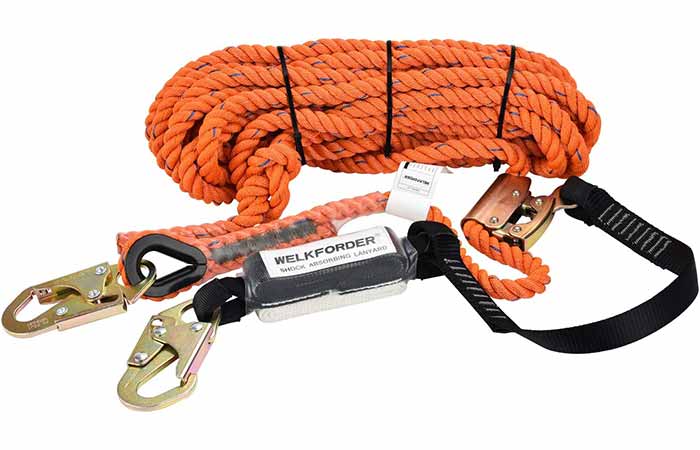 The rope is made of 100% polyester, and three strand 16mm (5/8″). It includes one eye termination with hard-end thimble and one knot on the other end, applied with Anti-abrasive tubes for protecting rope ends from abrasion. The heavy-duty construction materials provide maximum security with breaking strength: 6000lbs,
The snap hooks, marked with the "ANSI Z359.12" standard, are self-locking with minimal tensile break strength of 5,000 lb. and a 3,600 lb. gate rating.
YOKE rope grab is constructed of a long-wearing non-corrosive stainless steel, brass and bronze material for Rope:16mm (5/8″) with Min. Breaking strength: 3600lbs, meets ANSI Z359.1.
The Shock Absorbers are designed for up to 6-foot free fall applications with a maximum capacity up to 310 lb. (141 kg) including clothing, tools, etc. with a maximum deployment distance of 48 inch/1.2m & average arresting force 900lbs. Statically tested with a minimum breaking strength more than 5,000 pounds (22.2 kN).
6. Dwale Vertical Lifeline Rope Assembly
The Dwale lifeline assembly comes with a fall protection rope, shock absorber, rope grab and 2 steel snap hooks.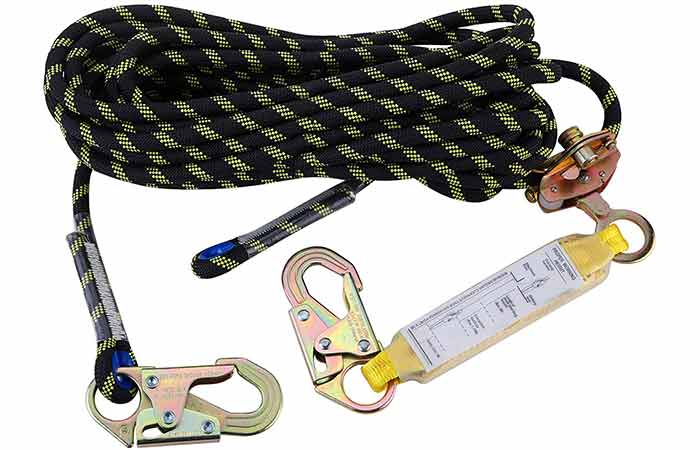 The fall protection rope is 50 ft in length, 0.55" in diameter and 310 lbs weight capacity is enough for you and your equipment, ensuring your high workplace security.
The rope is made of made of wear-proof and high-strength polyester material, it is durable and sturdy. The premium braided design makes it even stronger.
The 2 steel, double locking snap hooks can connect and are compatible with most safety harness and anchors with D-Rings,
And the rope grab is adjustable to allow you to move easily along the lifeline.
It is a multi-purpose kit that can also be used for climbing, inspection, rescue, window washing etc.
7. Amarine Made 5/8 Inch 100ft Fall Protection Vertical Lifeline Rope with Back Splice and Snap Hook
This Amarine Lifeline Rope is made of the best quality 5/8-inch-thick braided polyester. It's available in different lengths from 25 ft., 50 ft., 100 ft., 150 ft. to 200 ft. with all lengths having the same quality of rope.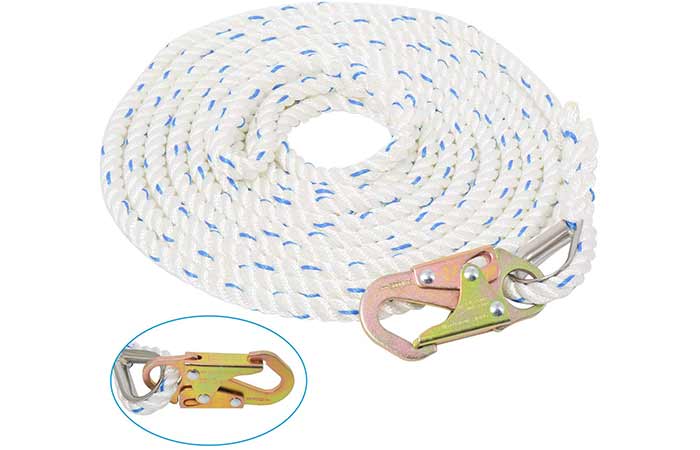 It has a steel snap hook for attaching the rope to the D-ring of your harness. The other end of the rope has a back splice to keep the rope grab device on the rope. With a weight capacity of 310 lbs. and a strength of 6,000 lbs., you have yourself a quality rope that you can take to any job on the roof.
The Amarine rope can be used in many other cases such as rescue missions, tree and rock climbing, construction and many others. It'll work with all types of safety harnesses and even in jobs on and in the water since the rope doesn't rot or get damaged by water.
Pros
Heavy duty 5/8-inch thickness braided polyester rope.
Available in lengths of 25 ft., 50 ft., 100 ft., 150 ft. to 200 ft.
Steel snap hook and back splice for attachment and grab device protection respectively.
Bodyweight capacity of up to 310 lbs.
Strength of up to 6,000 lbs.
Can be used for roof climbing, construction, rock and tree climbing and many other tasks.
Cons
Only one snap hook.
No rope grab and shock absorbing mechanism
8. AFP 100 FT Vertical Lifeline Assembly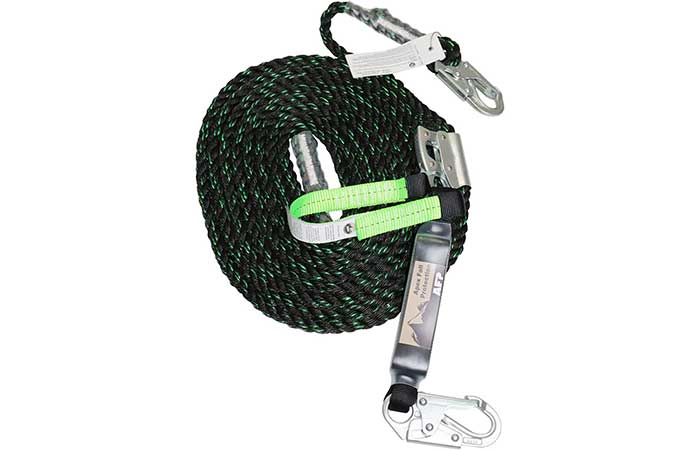 The rope is attached with a rope grab and two galvanized steel snap hooks with a gate strength of 3,600lbs.
The premium braided rope is designed with a high-tension stitching pattern for maximum security and tensile strength of over 5,000 lbs. The rope knot end is heat-shrunk with clear PVC coating over termination for greater strength and durability
The rope grabs trailing feature allows rope grab to follow the user, providing freedom of movement. Built-in eye terminator for comfortable carabiner movement.
Alloy steel hardware ensures all-weather performance and averts wear and tear against all weather conditions.
Meets applicable requirements from OSHA and ANSI
9. Frontline VLP50R3L Vertical Lifeline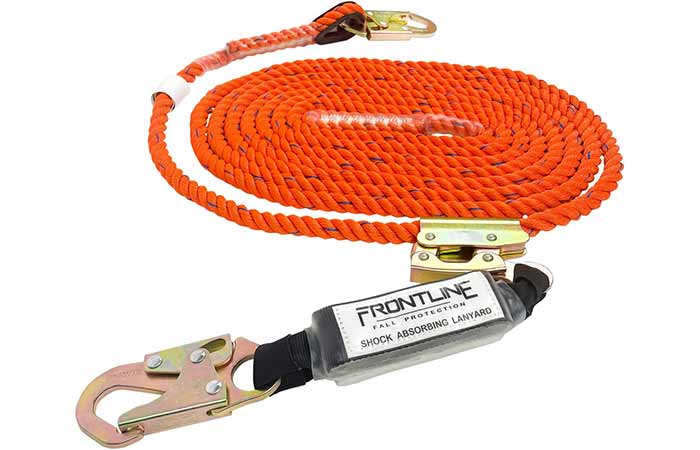 Frontline's VLP50R3L safety rope comes with the following features
Rope is of high tenacity polyester material
The rope grab is made of high-grade steel material, making the rope grab long lasting and highly durable
Includes lanyard with integrated shock pack and snap-hook to attach directly to back d-ring of harness
Rope grab equipped with double locking closing mechanism
Meets or exceeds ANSI & OSHA applicable standards
10. Fall Protection Self-Retractable Lifelines
While the rest of the roof safety ropes have been free-form ropes that take up some space, Self-Retractable Lifelines(SLRs) come in a compact form with the lifeline housed in a casing. When not in use, the lifeline is automatically pulled into the casing for easy handling at the end of the job session. Some of the best SLRs include;
Guardian 42002 Velocity Cable SRL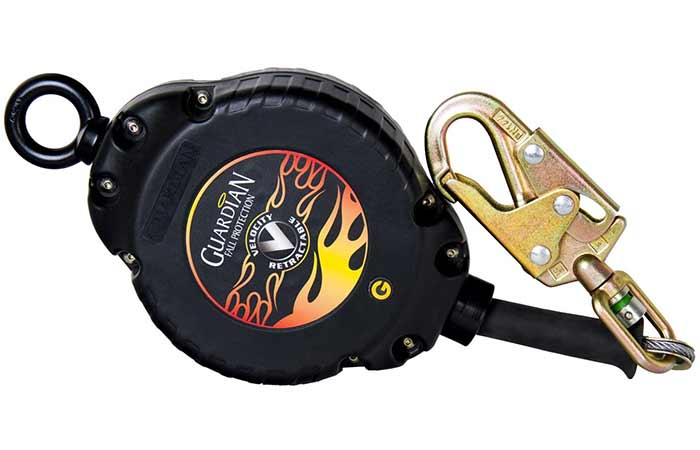 The lifeline is made of high-quality galvanized cable for maximum strength and flexibility. You can get the cable in various lengths from 20 feet to 50 feet in the same quality materials.
Features
Lightweight and compact design.
Meets OSHA and ANSI standards.
Available in high-quality galvanized cable or webbing.
Snap hook and carabineer included.
KwikSafety Cobra 30′ Self Retracting Lifeline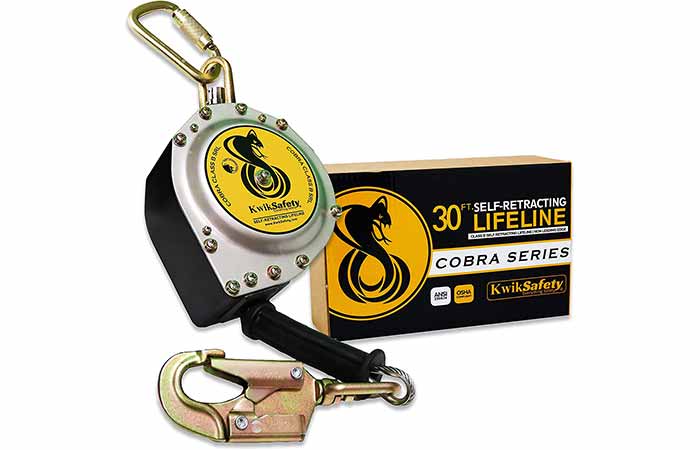 This SLR comes with a 3/16" non-fraying galvanized steel cable that easily retracts into its heavy duty, protective aluminum housing, and a textured grip for easy handling.
The instant locking tech and quick brake system will catch you in what feels like a nano second during the event of a fall and ease the impact.
Features
Available in 20ft and 30ft
Snap hook
The heavy duty, twist lock steel carabiner clip with swivel top helps with ease of work and prevents a twisting lifeline.
Maximum arrest force 1800lbs
130-310lbs weight capacity
OSHA and ANSI compliant
How to use a Roof Safety Rope
A lifeline rope is basically a device that connects a body support device and anchor point. This means that proper use of a lifeline requires that you have the following items
Anchor point
Safety Harness (Body support device)
Connector (lifeline/lanyard and rope grab)
Once you have these items, follow the steps below.
Anchoring-Some roofs may already have a permanent anchor point. If there's no anchor, you can install a permanent/temporary one.
Using the self-locking snap hook at the end of the rope, attach the vertical lifeline to the anchor point.
Measure out the appropriate distance to allow you to move around safely on the roof without reaching the edge or crashing into the ground if fall may occur.
Fasten safety harness properly to the other end of the lifeline with the rope grab. Make sure you are following the manufacturer's instructions carefully.
Safety Tips & Inspection
Always connect the rope grab device to the safety harness before accessing the roof. That is in a safe zone.
For work on a sloping roof, users should always face the ridge, which means they should use the chest attachment point of the harness.
Do not forget to inspect all the components of the safety rope system. Let a competent, knowledgeable professional do the inspection. Even when employed and installed correctly, roof safety line systems should be considered useless if they are damaged.
Here are some is list of what you should check.
Check fixtures and fasteners for damage or modifications
Check for obstructions and abrasive materials that can compromise the system
Check components for corrosion, rust, and deterioration
Inspect rope for any damages
Look for broken or distorted sleeves and connectors
View impact detection system to ensure that it has not been involved in a fall.
Buying Guide
The considerations to make when going for a roof safety rope include the following:
1. Quality of Materials
Literally speaking, you'll be entrusting your life to the safety rope when climbing your roof. As such, you don't want that with a rope that easily cuts in half under any stress. Always check the type of materials used. In our view, always go for materials with metal alloy and polyester. Nylon on its own isn't the best since it's affected by water and heat.
2. Length of the Rope
The length of the rope will also depend on the height of the roof, the anchor and other aspects. While you can find shorter ropes, go for one with about 50 feet of length or more for use in various other scenarios.
3. Weight Capacity
On our list, we only included ropes with a weight capacity of at least 310 lbs. to accommodate workers of all sizes. Such a weight capacity ensures your safety no matter the conditions you're working in.
4. Accessories
The accessories that you're likely to get with your rope include a lanyard extension, shock absorber, extra snap hooks, a carbineer and rope grab device. While complete vertical lifeline assemblies come packed with these accessories, some safety ropes come with just hooks.
Rope Grab
The rope grab is what connects the full body harness to rope, which that is already attached to the anchor. The rope grab is operated manually, you can lock and unlock it to slide up and down the rope into different operating positions.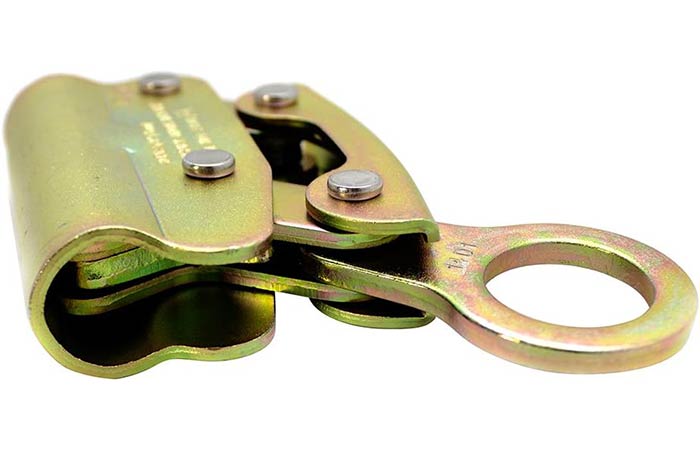 Horizontal Lifeline vs. Vertical Lifelines
Horizontal lifeline is a rope that runs along a building. It is mostly installed on worksites where multiple workers are performing work from a great height or when free movement over an area is needed without having to constantly dis-attach and reattach to different anchor points.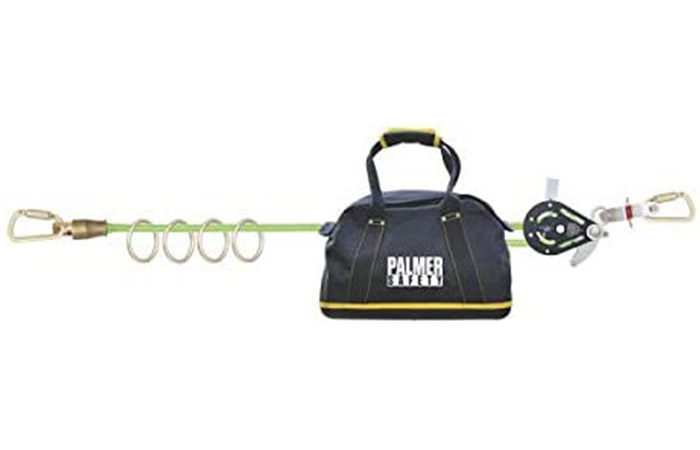 Most horizontal lifelines incorporate of a wire rope or a synthetic fiber rope anchored and tensioned between two anchor points with intermediate anchor points on longer lengths.
Workers connect themselves to the horizontal lifeline's slider or shuttle using a variety of fall arrest equipment, including vertical rope lifelines body harnesses, lanyards, and hooks, in order to safely move along the line.
Compared to vertical lifelines which use a single fixed point anchor resulting in limited movement and potential for swing falls, horizontal systems allow a greater area to be covered and reduce swing falls.
Roof Maintenance Tools & Products
Roof Leaks
As an Amazon Associate, we earn from qualifying purchases. Details here