While a rain chain is a functional, yet aesthetically pleasing alternative to traditional downspouts, choosing the right one can be quite a challenge with the many options in the market today.
This is a guide describing the factors to consider and features to look for when buying rain chains including insights on the best-selling options, especially on Amazon
Selecting the Best Rain Chain: Key Factors to Consider
The following are the main points to remember when choosing a rain chain.
Construction Material and Finish
One key consideration when buying a rain chain is the material it's made from or the finish. Different materials can affect the durability, appearance, and even the sound of your rain chain.
The material should also be one that is compatible with your pre-existing guttering system. Through electrolysis non-compatible can interact and interfere with each other, causing them to degrade over time.
Rain chains are available in various materials, each with its own unique characteristics. Common options include:
Copper rain chains are the most popular choice because of their durability, timeless appeal, and natural patina that develops over time. Copper's natural antimicrobial properties also help keep algae at bay, making it one of the best rain chains available
Aluminum: Aluminum rain chains are lightweight, affordable, and resistant to rust. They often come in a variety of finishes.
For a modern and sleek look that complements contemporary designs, you can opt for a steel or galvanized steel finish. Steel has extraordinary durability and resistance to corrosion, promising years of seamless functionality. They require minimal maintenance.
Brass (Copper and Zinc)- Brass rain chains offer a warm and elegant look, and they are highly durable. Over time, brass develops a rich patina.
Remember that your chosen finish or material must withstand changing weather conditions while enhancing your home's exterior design. Be sure to use plastic clips to act as barriers when using non-compatible metals
Weight
The weight of a rain chain is an important consideration when choosing the right one for your home. Rain chains can vary in weight depending on the material they are made from, such as copper, steel, or aluminum.
A lighter rain chain may be easier to install and handle, especially if you plan on DIY installation. On the other hand, a heavier rain chain can provide stability and durability during heavy rainfall or strong winds.
It's essential to consider both your personal preferences and the weather conditions in your area when deciding on the ideal weight for your rain chain.
Height
When choosing a rain chain, considering the height is crucial. The height of the rain chain determines how effectively it will transport water from your gutters to the ground or receptacle below.
A taller rain chain allows for better water flow and prevents splashing, ensuring that the water reaches its destination without any issues. Additionally, a taller rain chain adds an elegant touch to your home's exterior and can enhance your overall aesthetic.
Measure the distance from the gutter to where you want the water to be directed, such as a rain barrel, basin, or ground. Additionally, check the size of the rain chain cups or links to ensure they can handle the expected rainfall volume in your area.
Style/Design
Rain chains come in a variety of styles or designs, allowing you to choose one that complements the aesthetics of your home. From traditional and rustic designs, simple and minimalist to intricate and decorative to modern and sleek options, there is a rain chain style for every taste.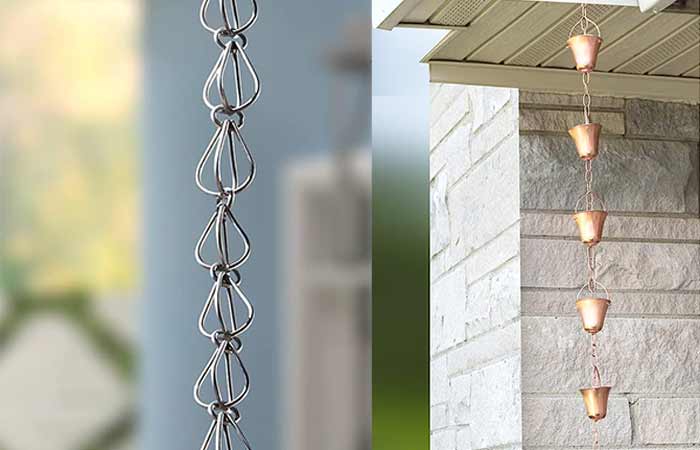 Some popular styles include cup rain chains, link rain chains, and even unique designs like lotus flowers, themed motifs, and fish-shaped or butterfly-shaped rain chains.
For fans of DIY projects, there are also customizable solutions enabling creative input with personal design aspects.
With such a wide range of styles available, you can easily find a rain chain that adds charm and elegance to your outdoor space.
Looking beyond aesthetics, the type you choose affects functionality too; cup-style chains slow water flow more effectively than link-style ones helping reduce soil erosion.
Functionality
Consider how you want the rain chain to function. If you prefer a calming water flow, choose a rain chain with cups or larger openings. If you want a more visually striking effect, opt for rain chains with smaller openings or intricate designs that create cascading water patterns.
Further Reading
Weather Conditions
Consider the weather conditions in your area. If you experience heavy rainfall or strong winds, choose a rain chain that is sturdy and can withstand these conditions.
Copper and stainless steel rain chains are generally more resilient, while delicate designs may be more suitable for calmer climates.
Further Reading: Common Rain Chain Problems with Fixes
Installation
Check if the rain chain you are considering comes with installation instructions or hardware. Some rain chains are easy to install and can be attached directly to the existing gutter system. Others may require additional accessories like gutter adapters or installation kits.
Details
Maintenance
Different materials require varying degrees of maintenance. Copper and brass rain chains develop a patina over time, which some people find appealing.
If you prefer the shiny appearance, you'll need to occasionally clean and polish them. Aluminum and stainless-steel rain chains are low maintenance and typically only require occasional rinsing.
Budget
How much you're willing to spend to buy and install a rain chain is an important factor to consider. The cost of a rain chain can vary depending on several factors, including the material, design, additional tools, and brand.
Consider the quality and longevity of the rain chain when evaluating its price to ensure you're getting good value for your investment.
Copper rain chains tend to be more expensive than those made from other materials such as steel or aluminum. However, copper rain chains are known for their durability and elegant appearance.
If you're looking for a more affordable option, steel or aluminum rain chains are great alternatives that still offer functionality and charm at a lower price point.
The length of the rain chain can affect its price—the longer the chain, the higher the cost.
Additional installation kits can also raise the price.
When shopping for a rain chain within your budget, keep in mind that quality matters. While it may be tempting to opt for a cheaper option, investing in a well-made rain chain will ensure longevity and better performance over time.
Brand Reputation
There are several reputable rain chain manufacturers and brands known for their quality craftsmanship and wide range of options. Here are some top rain chain manufacturers and brands to consider:
Monarch Rain Chains– this manufacturer offers a diverse selection of rain chains in various materials and designs. They specialize in copper rain chains, including cup styles, link styles, and themed designs.
Good Directions– a well-known brand that offers a variety of home and garden products, including rain chains. They provide a range of rain chain designs in materials like copper, brass, and aluminum.
Rain Chains Direct– an online retailer that offers a wide assortment of rain chains from different manufacturers. They carry rain chains made of copper, aluminum, and stainless steel, catering to various styles and budgets.
Ancient Graffiti– this brand offers a selection of artistic and nature-inspired rain chains. Their rain chains are typically made of copper and feature unique designs, such as leaves, birds, and flowers.
Garm Beall– owner & designer at rainchains.com, specializes in copper rain chains and accessories. They offer a variety of traditional and contemporary designs, focusing on quality and craftsmanship.
Reviews and Recommendations:
Read customer reviews and seek recommendations from others who have purchased rain chains. Their experiences can provide valuable insights into the durability, functionality, and overall satisfaction with specific rain chain models or brands.
Best Rain Chains
Now that you understand the factors you should consider here are the most popular and top-selling rain chains
1. Modern Loop Rain Chain
A product of Rain Chains Direct, this Modern Loop Rain Chain is perfect for the homeowner or gardener who wants to add a touch of functional beauty to their property.
Highlights
Modern and sleek design adds a stylish touch to any outdoor space
Made with durable materials for long-lasting performance
Can be easily installed and used to replace traditional downspouts
Perfect addition to gardens, patios, and other outdoor areas for both function and aesthetics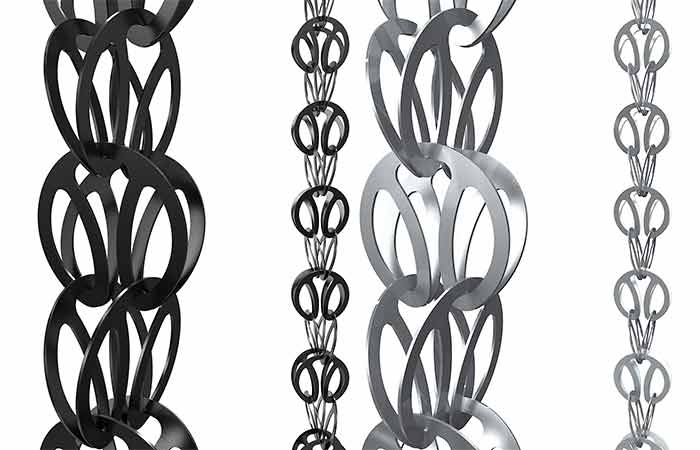 The Rain Chains Direct(RCD) Modern Loop Rain Chain is a fusion of functionality and aesthetics, making it our top pick in its category. The chain, measuring 8.5 feet in length with each cup/link constructed with dimensions of 2.5" x 2.5", ensures effective conveyance of water from the gutter to the ground just like traditional gutter downspouts. However, what makes this rain chain stand out is its ability to enhance your home's curb appeal while performing its essential function—a unique blend that most other standard rain chains lack.
This rain chain is crafted using premium materials to ensure durability and longevity, providing you with a high-quality product that will withstand various weather conditions for years to come
Constructed in black powder-coated aluminum, the Modern Loop Rain Chain displays an elegance ensuring immediate enhancement of architectural facelift whether used as a single replacement or for all your gutter downspouts. It's not simply about beautifying your home; this product comes with a Quality Advantage promise by Rain Chains Direct—an assurance based on their commitment to high-quality materials and craftsmanship focused towards customer satisfaction.
Finally, yet importantly, assembly is straightforward requiring no tools—another user-friendly aspect indicative of its design choices favoring simplicity besides durability and aesthetic value. This explains why we've placed the "Rain Chains Direct Modern Loop Rain Chain" at No.1 on our list—for both functional effectiveness plus the aesthetic impact it brings to any property where installed.
Pros
Enhances the aesthetic appeal of your home with its modern loop design
Provides a functional and decorative replacement for traditional gutter downspouts
Easy to install with no tools required for assembly
Made from high-quality aluminum and black powder coating for long-lasting durability
Customize the length of your rain chain to perfectly fit your outdoor space, ensuring optimal water flow and functionality.
Cons
The assembly required may be a drawback for those who prefer ready-to-use products.
Some customers may find the 8.5 feet length of the chain to be too short for their needs.
The black powder coating on the aluminum material may chip or wear off over time, requiring touch-ups or maintenance.
2. Black Monarch Ring Rain Chain
This rain chain is perfect for anyone looking to add a stylish touch to their home while simultaneously enhancing the functionality of their gutter system.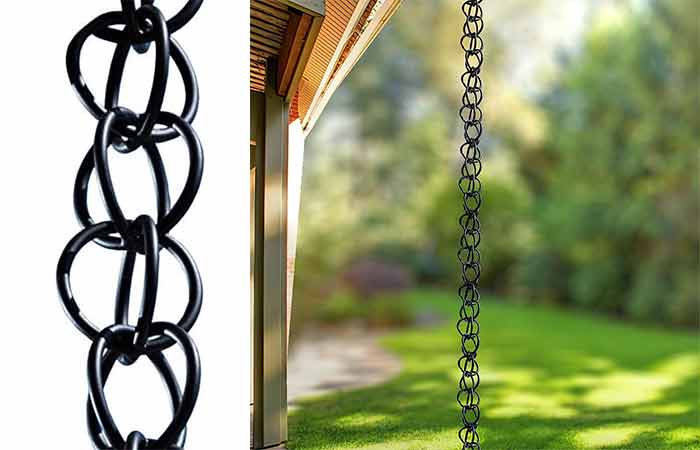 With premium construction and an elegant design, Monarch Ring Rain Chain will make your outdoor space look stunning while giving your gutters the stylish upgrade they deserve.
Highlights
High-quality rain chain replacement downspout for gutters
Made from durable materials to withstand outdoor elements
Provides a stylish and decorative alternative to traditional downspouts
Easy to install and can be adjusted to fit different gutter sizes
Adds an elegant touch to the exterior of your home or garden
Designed with rings that create a soothing sound as water cascades down
Monarch's ring rain chain absolutely elevates curb appeal with its contemporary design consisting of 57 interlinked rings. Each ring measures 2-inches in diameter, forming an 8.5-foot chain that is both artistically appealing and useful.
Constructed from high-quality heavy-duty copper, the rain chain is assembled by skilled artisans emphasizing durability and stability. This feature allows you to enjoy the tranquil atmosphere created as rainwater cascades down each ring without worrying about rust or poor weathering over time.
The black powder-coated finish not only adds a visual edge but also ensures higher resistance to harsh elements, making it our No.2 pick.
Monarch's Aluminum Ring Rain Chain integrates style and practicality beautifully into one product – from its premium construction right through to its ease of installation via the included cross-bar kit.
Its distinct appearance gradually morphs into an earthly patina over time delivering an ever-changing aesthetic accent suiting various tastes at different stages; all while fulfilling its primary function – guiding rainwater away from your property effectively.
Pros
Easy to assemble and install
Sturdy and durable
Versatile design that can be extended to meet the desired length
Adds a stylish accent to gutters while creating a visually appealing water feature
Cons
May require additional purchases for a complete installation (gutter reducer kits, basins, anchoring stakes)
Splashing can occur with rain chains, potentially leading to water pooling or damage to surrounding areas
May not handle heavy rains
3. Channel Link Rain Chain
This channel link rain chain from Rain Chains Direct is a splendid combination of functionality and artistic appeal.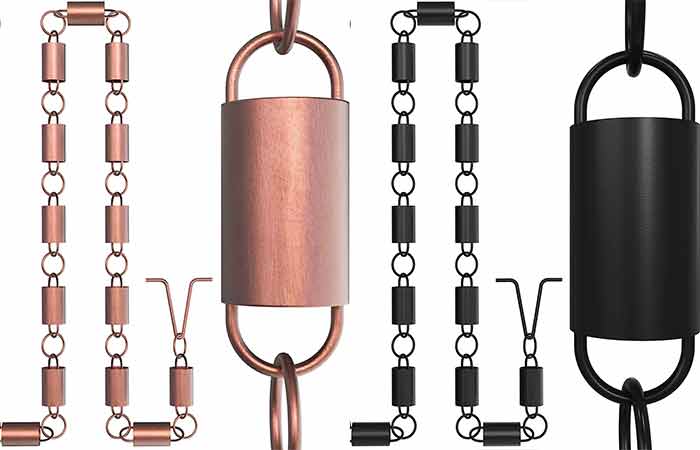 Highlights
High-quality materials: Made with durable and weather-resistant materials, ensuring long-lasting performance.
Unique design: Featuring a charming channel link design that adds an elegant touch to any outdoor space.
Easy installation: Comes with all the necessary hardware for quick and hassle-free installation.
Versatile use: Can be used as a functional rain chain or as a decorative accent piece for your garden or patio.
Customer satisfaction: Backed by numerous positive customer reviews, showcasing its reliability and effectiveness.
With its length stretching up to 8.5 feet and cup/link 3.18" x 1.25"; this rain chain stands as an ideal replacement for traditional gutter downspouts.
This rain chain greets you in all its 100% copper glory, an aspect that not only affirms longevity but adds a touch of finesse to your home exterior as well. Over time, the copper begins to patina into striking shades of green – offering a visual treat during rainfall.
Installation does not require expert skills or any tools; each chain arrives with its own hanging hook enabling immediate placement onto your gutter out of the box. This simplicity paired with sturdiness makes it perfect even for those less acquainted with DIY tasks. Not just eye candy, this rain chain effectively channels rainwater from roof to ground without causing splashback – something I've noticed during heavy monsoons at my place.
Rain Chains Direct has established its reputation through consistent quality and customer satisfaction which reflects in this Channel Link Rain Chain being our No.3 pick.
Through first-hand experience and user testimonials online, we found this product strikes an excellent balance between aesthetics and utility while remaining competitively priced compared to other alternatives available.
Providing more than just curb appeal enhancement; this rain chain serves as a durable weather accessory for year-round use,a worthy investment indeed!
Pros
Lightweight
A stylish alternative to traditional gutter downspouts
Quick and hassle–free installation with no tools required
100% copper construction for patina and durability.
Cons
Limited length: Some customers may find the 8.5 feet length of the rain chain to be too short for their needs.
Patina development: While the patina adds character to the copper rain chain, some individuals may prefer the shiny new copper look and be disappointed by its darker appearance.
Because it is lightweight, it may need more stabilization and anchoring in windy areas.
Slightly expensive
4. Square Link Rain Chain
This is yet another sleek and modern square-themed link-style rain chain from RCD.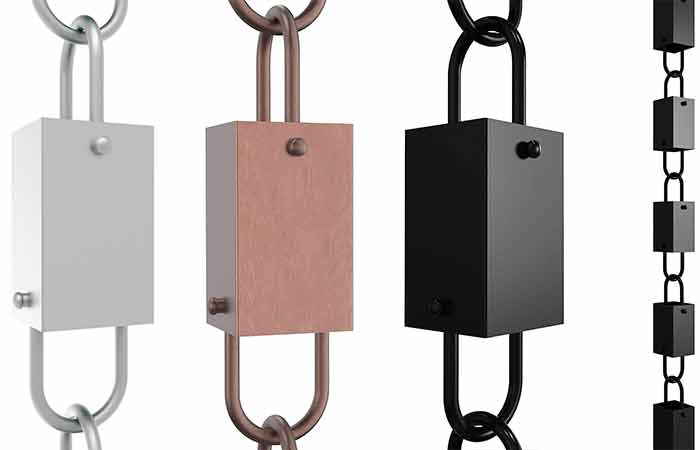 Highlights
Square link design for a sleek and modern look
Durable construction with high-quality materials
Easy installation for any home or garden setup
Versatile use for both functional and decorative purposes
Manufactured by Rain Chains Direct, a trusted brand in the industry
Made from high-quality aluminum and coated in black powder for extra durability, this product offers a robust solution for wet weather.
The chain length spans 8.5 feet – plenty long enough to accommodate most gutter applications while each cup/link measures 2.125 inches by 1.25 inches, ensuring optimal water flow through every link.
What sets this rain chain apart is its square link design which brings an architectural facelift to your home.
Pros
Unique Square design
Easy installation with no tools required; comes with its own hanging hook for hassle-free setup in minutes
Made from high-quality aluminum and black powder coating for durability and longevity; backed by our satisfaction guarantee
Cons
May not be as durable as a rain chain made from higher-quality materials
The black powder coating may fade or chip over time
Some people find the square link design less visually appealing than other styles of rain chains
5. Double Oval Loop Rain Chain
This beautiful Double Oval Loop Rain Chain RDC is perfect for home improvement enthusiasts looking to add a classic and sophisticated touch to their outdoor spaces.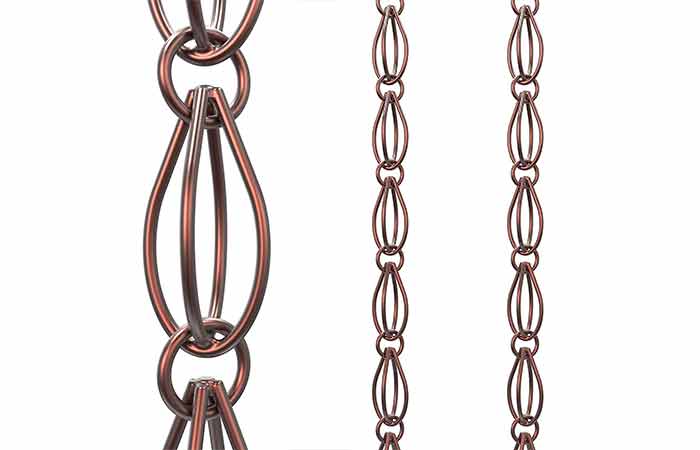 Designed for easy installation, this rain chain comes with its own hanging hook that can be attached right out of the box without additional tools – perfect even for DIY novices!
Highlights
Oval loop design: The double oval loops of this rain chain give it a unique and appealing look that will enhance the aesthetic of any home or garden.
Durable construction: Made with high-quality materials, this rain chain is built to last, ensuring long-term functionality and reliability.
Easy installation: With its simple design and included hanging hardware, setting up this rain chain is a breeze, allowing you to enjoy its benefits quickly and hassle-free.
Efficient water flow: The carefully designed loops create optimal water flow, guiding rainfall smoothly from your gutter downspout to the ground or collection system.
Versatile usage: This rain chain can be used in various settings, including homes, gardens, patios, and more. It adds an elegant touch while efficiently managing rainfall runoff.
Cup/link 3.5" x 2"; chain length 8.5 feet
Excellent customer reviews: Customers love the quality and performance of this rain chain. With hundreds of satisfied customers giving it high ratings, you can trust its effectiveness.
Manufactured by a trusted brand in the industry
Pros
Enhances the curb appeal of your home with a fresh and modern look
Simple and tool-free installation process for quick set-up
Patina effect
Crafted with the highest quality materials and craftsmanship for durability
Can be used to replace traditional downspouts or as decorative accents throughout the property
Cons
High-priced
May not be suitable for areas with heavy rainfall as it may not effectively handle large volumes of water
Copper material may eventually develop patina, which some customers may not prefer
6. Monarch Akira Rain Chain
Monarch's Akira rain chain is ideal for an eco-conscious homeowner seeking stylish and functional rainwater downspout replacements.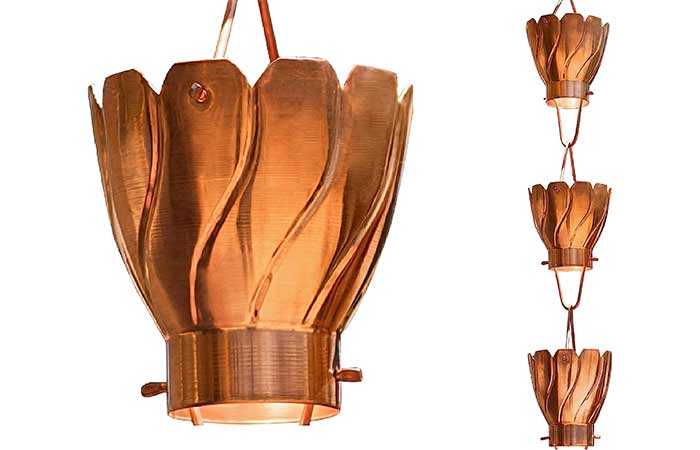 Highlights
Made from pure copper for a stunning and elegant look
Akira design adds a touch of sophistication to any outdoor space
Easy to install with no special tools required
Durable construction ensures long-lasting performance
The versatile length of 8.5 feet allows customization for different setups
This rain chain is designed as an eco-friendly substitute for traditional gutters, boasting a solid pure copper construction that speaks volumes of its durability.
The lustrous scalloped rims of the 14 cups, each measuring 3.25 inches wide (bottom of cup has 1.5 inch diameter) and 3 inches in height, not only form an attractive visual element but also ensure smooth water flow, reducing splashing during downpours.
Installation is conveniently tool-free with a provided guide, making it accessible even to those less handy around the house. Measuring at a standard length of 8.5 feet with an option for extension, it strategically caters to varying architectural needs while increasing curb appeal significantly. Meanwhile, the rust-resistant property coupled with gradual patina development over time means you can enjoy this tasteful piece of functional decor without worrying about maintenance issues.
Both practical and visually pleasing, the Monarch Rain Chain offers effective redirection of rainwater away from structures while adding aesthetic charm to your outdoor environment.
With added options like gutter reducer kits or anchoring stakes available separately, customization potential further enhances user experience and ensures compatibility with unique requirements.
Pros
Easy to assemble
Easy installation: No tools are required and an installation guide is included.
Enhanced curb appeal: Adds a beautiful, green alternative to traditional gutter downspouts.
Premium quality construction-durable and rust resistant.
Versatile and customizable: Each rain chain is made of 14 cups that can be extended to meet the desired length.
Cons
Pricier than other options on this list
A limited length of 8.5 feet may not be sufficient for larger homes or buildings with taller roofs.
Splashing can occur, which may result in water runoff being dispersed in a wider area around the rain chain.
The copper material can develop a brownish patina over time, which some individuals may find undesirable.
7. Tulip Rain Chain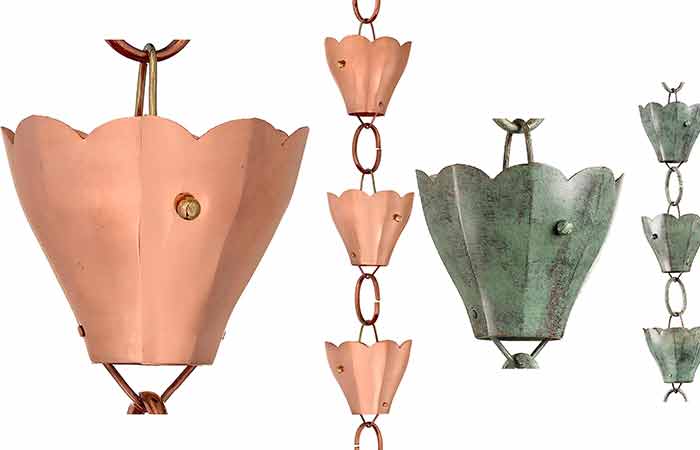 The Good Directions Tulip Rain Chain brings a touch of elegance and functionality to your home, offering a refreshing alternative to conventional gutter downspouts. At an ideal length of 8-1/2 feet with 13 extra-large cups, it's the perfect fit for a single-story house. The ingenuity of its design lies not just in its aesthetic appeal but also in its purpose; these larger-than-average cups skillfully direct rainwater away from your home, preventing potential water damage.
Crafted from superior-quality, 20-gauge pure copper, by family-run business Good Directions – an industry leader since 1982 – this rain chain exudes quality and longevity. With time, the bright polished copper develops a beautiful patina that enhances its visual charm while brass accessories lend timeless appeal.
Installation is hassle-free only needing a screwdriver and comes with an included gutter installation clip for seamless connection.
A functional piece of art, this tulip-patterned rain chain breathes life into any outdoor living space while providing practical drainage solutions. your investment is secure.
Pros
Wide-enough cups to handle intensive downpours.
Built from quality materials for longevity
Suitable for single-story homes, perfect size at 8-1/2 feet long
Easily connectable to achieve the desired length, ensuring proper water diversion
Family-owned and operated business since 1982, providing exceptional service and expertise
Hassle-free installation with a simple screwdriver and included gutter installation clip
Cons
Bulky for some individuals
Length may not be suitable for multi-story homes
More expensive compared to alternative rain chain options
Poor craftsmanship on the hoops
8. Contempo Rain Chain
If you want to upgrade your outside space with a functional and stylish rain chain, Cotempo rain chain is what you need.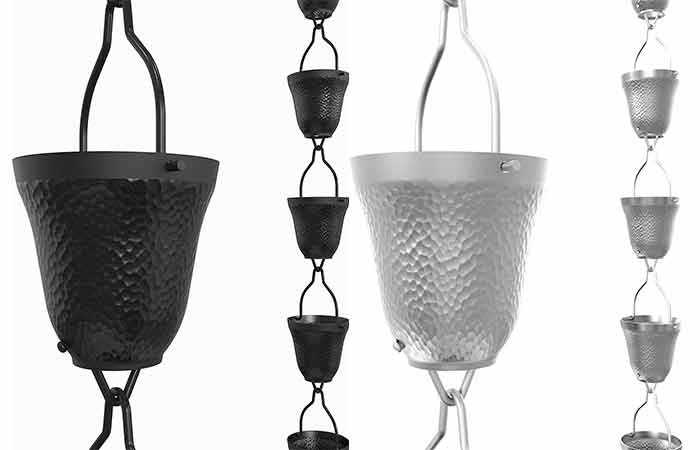 Highlights
Contemporary design: Features a sleek and modern design that adds a touch of elegance to any outdoor space.
Durable construction: Made with high-quality materials, this rain chain is built to withstand the elements and provide long-lasting performance.
Easy installation: With its simple yet secure installation process, setting up the Contempo Rain Chain is quick and hassle-free.
Versatile usage: Suitable for both residential and commercial properties, this rain chain can be installed in various locations such as gardens, patios, or even business establishments.
Positive customer feedback: With numerous positive reviews from satisfied customers, you can trust that the Contempo Rain Chain delivers on its promises.
The Contempo Rain Chain emerges as an artistic yet practical solution for replacing traditional gutter downspouts. With cup/link dimensions measuring 3.125 inches by 3.125 inches, the 8.5 feet length chain, crafted from quality aluminum and coated with black powder, is a dignified blend of function and decoration.
Its installation process sets it apart, requiring no tools at all. Each rain chain comes equipped with its own hook allowing for easy assembly in mere minutes – a feature that adds immense value for those who prefer self-sufficiency in home improvements.
Another stand-out aspect rests on the flexibility of adjusting chain length during assembly; you can tailor-fit this element to your space requirements effortlessly.
Pros
Affordable
Functional and decorative replacement for traditional gutter downspouts
Enhances curb appeal by giving your home a fresh and updated look
Easy installation with no tools required, each chain comes with its own hanging hook
Made with high-quality materials for durability and customer satisfaction
Cons
Limited color options (only available in black)
May not fit all gutter sizes and styles
Requires assembly, which may be difficult for some users
9. Aluminum Hammered Cup Rain Chain
Whether as a creative addition to enhancing landscape designs or as part of eco-friendly water conservation efforts, the Monarch's Aluminum Hammered Cup Rain Chain proves versatile.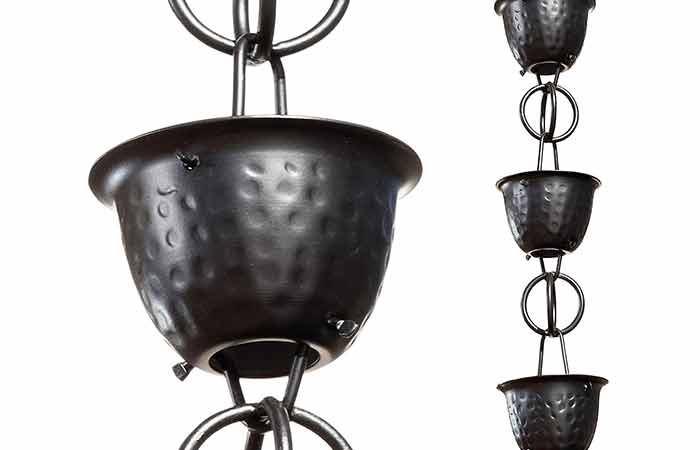 This stylish alternative to traditional gutter downspouts not only presents an elegant look but also efficiently captures most rainwater for potential reuse- a true embodiment of modern functional design meeting aesthetic brilliance.
Highlights
Aluminum construction for durability and weather resistance
The hammered cup design adds a stylish and decorative touch to your outdoor space
Efficiently directs rainwater down from your gutter system, preventing water damage to your home's foundation
Easy to install with included components, no need for professional help
A generous length of 102 inches(8.5 feet) ensures proper water flow and coverage
Highly rated by customers with an average rating of 4.7 out of 5 stars
Handcrafted by skilled artisans, this aluminum rain chain is deeply impressive with its individual hand-hammered cups in a classic matte black finish. Each of the 15 cups on this 8-1/2 feet long downspout replacement channels rainwater gracefully, creating an engaging visual and auditory experience during rainfall.
Installation is incredibly simple, requiring no specific tools – everything you need to get started comes included with your purchase.
The construction material contributes significantly to its durability and rust resistance, ensuring that it withstands harsh weather conditions for years without losing any charm or functionality. Its smart green alternative design increases curb appeal while providing practical utility for environmentally conscious homeowners.
Pros
Easy installation with no tools required
Stylish appearance
Premium quality construction ensures long-term durability and rust resistance
Versatile design allows for customization of length to meet specific needs
Cons
Some splashing may occur when using the rain chain, which could potentially lead to water damage or slippery surfaces.
The rain chain requires additional accessories, such as gutter reducer kits or basins, for a complete installation, which adds to the overall cost.
The 8.5 feet length may not be sufficient for certain building structures or areas with heavy rainfall, requiring additional rain chains for effective water channeling.
10. OAK LEAF Rain Chain Set
This beautiful OAK LEAF Rain Chain Set is perfect for anyone looking to add a natural touch to their home decor.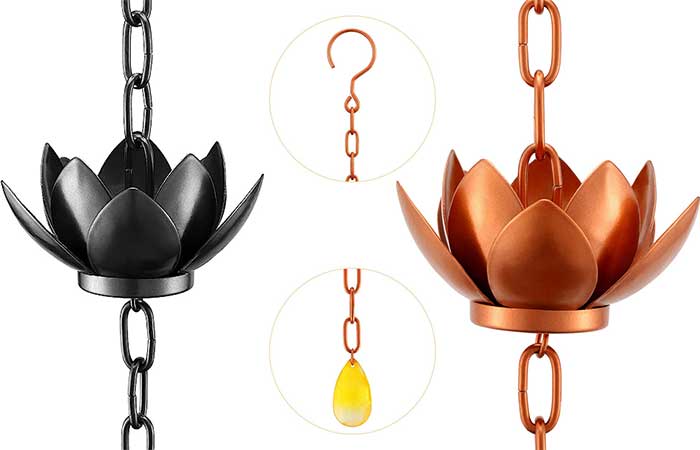 Crafted with inspiration from ancient Japanese architecture, this innovative drainage solution delivers a delightful twist to traditional downspouts.
Its easy installation and adjustable chain length make it the ideal product for busy homeowners who want an effortless yet stunning outdoor focal point. Upgrade your outdoor space with this elegant rain chain today!
Made of robust galvanized iron and furnished with rust-resistant copper plating, longevity is assured even in the face of raging rainstorms or heavy downpours.
The 8.5ft chain comes complete with 12 lotus flower cups that can be adjusted according to your preference ensuring suitability for every building type – be it modern apartments or vintage villas. With its easy-to-install adapter seamlessly connecting gutters and chains, you get efficient rainwater diversion at your fingertips.
Pros
Affordable
Eco-friendly drainage solution with a soothing sound
Durable material that withstands harsh weather conditions
Easy installation without the need for tools
Adjustable and extra-long chain suitable for various building sizes
Cons
Some customers may find the price of the OAK LEAF Rain Chain Set to be on the higher side compared to other rain chain options.
The 8.5ft length of the rain chain may not be suitable for multi-story houses or buildings, requiring additional chains to be purchased.
While the lotus flower cups add an elegant touch, they may require occasional cleaning and maintenance to prevent debris buildup.
11. Cascading Leaves Rain Chain
This cascading leaves rain chain by Monarch provides not only an innovative, eco-friendly replacement to traditional gutter downspouts but also adds a touch of artistry and elegance to your home.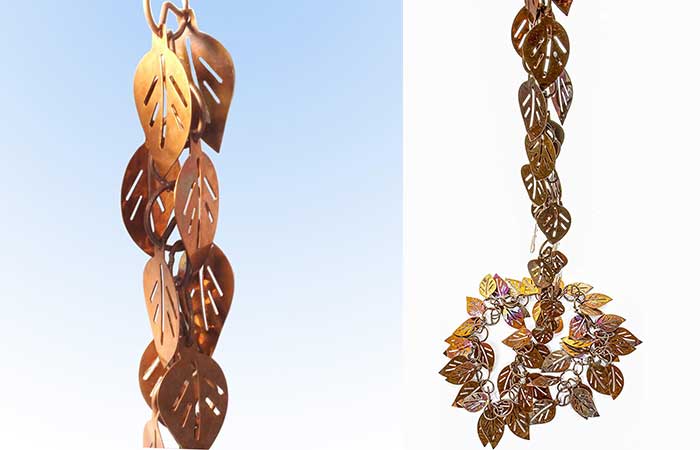 With its unparalleled quality construction, made from heavy-duty pure copper by skilled artisans, this rain chain offers both long-term durability and rust resistance. The uniquely crafted chain consists of 46 links each with double leaves, giving it a striking appearance that increases the curb appeal.
The functionality of this downspout chain is as impressive as its aesthetic appeal. It works by directing rainwater first into the top cup and then cascading down through the beautiful sequence of copper leaves.
Versatility is another strong point – additional chains can be purchased to extend its standard 8.5 feet length based on your preference or requirement.
Over time, the Monarch's Cascading Leaves Rain Chain develops a brownish patina—a natural process inherent with copper—which gives it an attractive rustic style enhancing your outdoor ambiance even more. This stunning mix of utility and contemporary design makes it an excellent choice for those looking to make their gutters functional while adding artistic charm to their homes!
Pros
Enhances curb appeal and adds a touch of elegance to your home's exterior
Made with premium quality pure copper construction for long-lasting durability
Versatile design allows you to customize the length by adding additional rain chain links
Creates a visually appealing water feature as water cascades down the leaves on the chain
Cons
Requires regular maintenance to prevent the buildup of debris and ensure proper water flow
May not be suitable for heavy rainfalls as it may overflow and cause splashing or water damage in certain situations
Installation may require some adjustments or additional accessories depending on the specific gutter system
Expensive compared to others in this list
12. Lotus Large Cup Rain Chain-with Anchoring Basin
Monarch's Lotus Large Cup Rain Chain is a great blend of functionality and aesthetic appeal.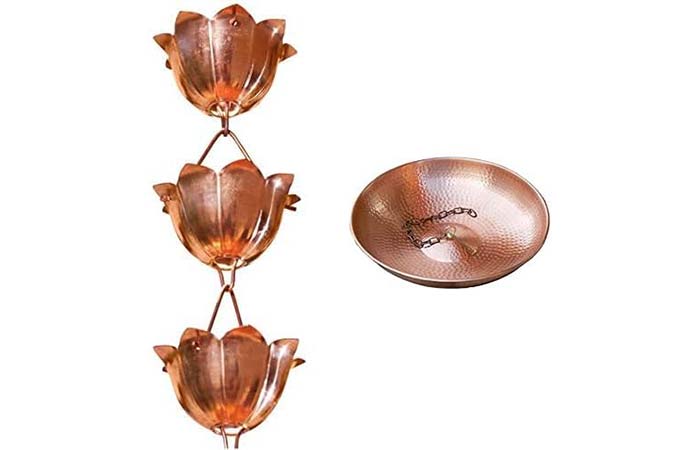 Crafted from pure, rust-resistant copper fashioned into the form of a lotus flower, this rain chain introduces an artistic element to your outdoor space while serving a practical purpose. Additionally, its quality construction ensures durability and stability as it withstands heavy showers with ease.
Each foot-long segment comprises 20 large cups designed for efficient rainfall capture. The cups' wide open mouths paired with slightly indented petals ensure that most rainwater is captured and channeled down effectively.
Over time, these handcrafted copper pieces develop a gorgeous brown patina, adding character to your exterior design setup.
An equally impressive component in this set is the anchoring basin. Designed to provide balance aesthetically and functionally – anchoring the strand whilst catching overflow – this basin not only enhances curb appeal but also presents opportunities for water recycling practices in your garden.
This combination of premium materials alongside creative yet practical design makes both the Monarch's Lotus Rain Chain and Hammered Anchoring Basin must-have components for any high-end home exterior.
Pros
Enhances the curb appeal of your home
Made of premium quality heavy gauge pure copper
Creates a beautiful water feature when paired with the copper anchoring basin.
Easy installation without tools required, comes with an installation guide.
Stylish appearance
Versatile length
Cons
Cups may splash water during heavy rain,
The brownish patina that develops on the copper surface over time may not appeal to all aesthetic preferences.
Installation may be slightly challenging for those who are not familiar with installing rain chains.
13. Jemeni Birds on Cup Mobile Rain Chain
The Jemeni Birds rain chain is a noteworthy addition to any garden or outdoor space. Expertly crafted from powder-coated iron with an appealing dark bronze finish, this product effortlessly balances aesthetics and durability.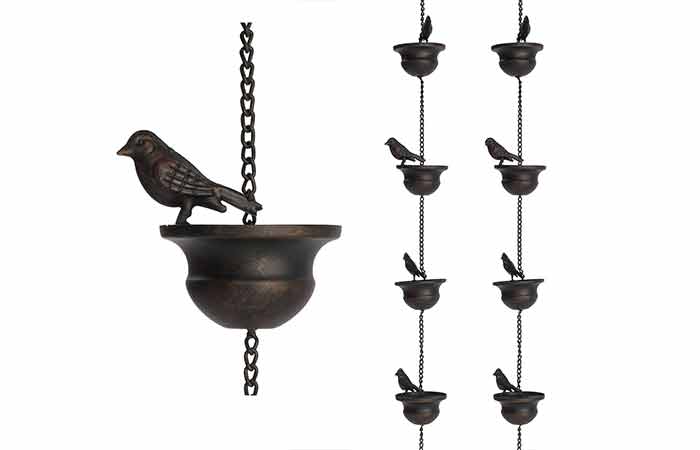 The elegant birds-on-a-cup design does not just serve as an eye-catching decoration for your garden shed, gazebo, or patio but also functions effectively as a rain chain.
Its functionality is easy to appreciate when it starts to rain – the 3.35-inch diameter mobile birds guide the rainwater along its eight accompanying cups into your chosen collection point, like a barrel or watering can. This unique feature creates a beautiful vertical water feature in your yard during rainfall and aids in water conservation efforts simultaneously.
Another major plus of this Jemeni product is its practicality. It comes with an attached hanger rendering installation effortless and switchable/mobile; you can quickly move it around your yard from one tree to another whenever desired with ease, making it very user-friendly too!
Be it you're looking for something ornamental that adds character to your exteriors or seeking alternative solutions for traditional downpipes, this rain chain ticks all boxes and might be exactly what you need.
Pros
Makes a beautiful and unique gift for gardening enthusiasts
Easy to hang on any tree, window pane, or patio
Made from durable powder-coated iron with a bronze finish for an attractive rustic look
Can be used as a stylish alternative to traditional downpipes or as a decorative hanging garden ornament
Very affordable
Cons
May not be suitable for areas with heavy rainfalls due to limited water capacity in the cups.
The dark bronze finish may fade or wear over time, requiring occasional touch–ups.
Birds and cups may become clogged with debris, necessitating regular cleaning for optimal performance.
Limited height
14. Fish Rain Chain
This fish-themed rain chain is a delightful blend of functionality and artistic design. With its length measuring at 8-1/2 feet, it's perfect for single-story homes, making sure all rainwater is efficiently diverted away from your home.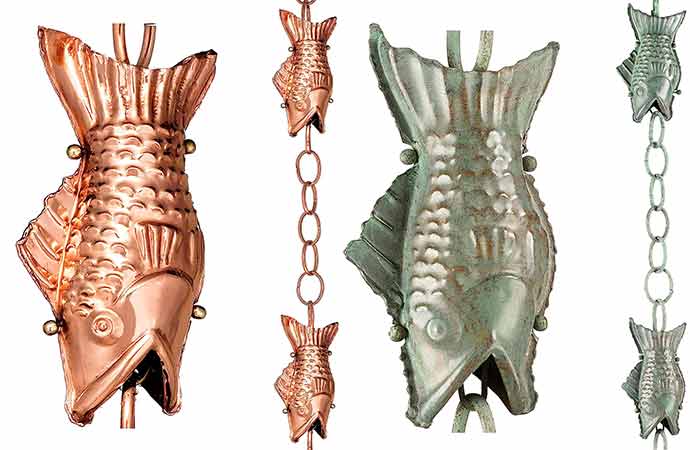 Created by the Connecticut-based family-owned company – Good Directions, this exceptional work of art has been crafted using premium quality 20-gauge copper which develops a beautiful patina over time.
This rain chain carries an edge with its large fish design dimensions (4 inches wide x 8 inches high), the largest in the industry, ensuring enhanced water redirection. It firmly aligns with Japanese tradition in providing a decorative alternative to plain gutter downspouts that we often find lackluster.
Another attractive feature that makes it stand out is the ease of installation; you only need a screwdriver! The brand even thoughtfully includes a gutter installation clip to ensure a perfect connection and hassle-free implementation.
We vouch for the fish rain chain not only based on its unrivaled style, quality, and durability but also owing to its lifetime warranty promise backed by its experienced staff ready for immediate help if needed. If you're looking to add an heirloom-quality piece to your house exterior or just simply replace those mundane downspouts with something playful yet functional – why look elsewhere?
Pros
Made of durable materials for long–lasting use
Perfect size for single-story homes
Stress-free set up
Can easily be customized to achieve the desired length
The largest fish dimensions in the industry ensure efficient water diversion
Cons
May be too short for homes with multiple stories
Copper may develop a patina over time, which some may not prefer aesthetically
Limited color options are available
Pricier
15. Rain Chains Direct Flutes Rain Chain
This beautiful, Flutes Rain Chain is perfect for the homeowner who wants to add instant curb appeal! It's easy to install and made of durable material that will last for years.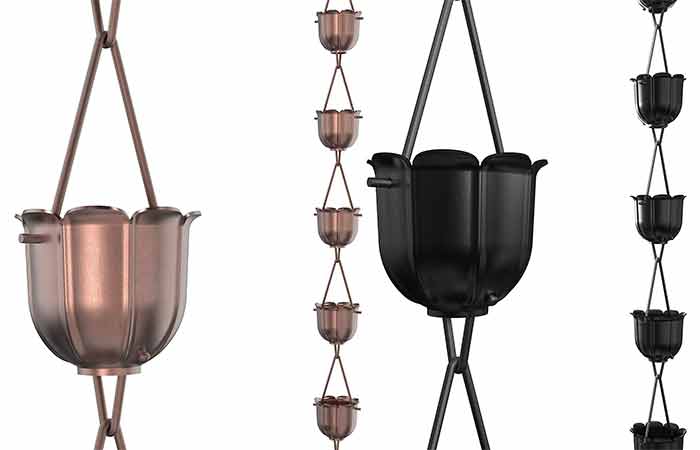 It not only delivers remarkable functionality but also serves as a visually stunning decorative addition to your home.
Manufactured by Rain Chains Direct, it is made of 100% copper, which will begin to patina over time, exhibiting a rich and rustic aesthetic that enhances curb appeal. Measured at 8.5 feet in length, the chain includes cup/links of 2.5″ x 3″, perfect for catching and channeling water gently towards the ground.
What sets this product apart is its impressive blend of form and function – it's more than just an eye-catching outdoor accessory; it's a practical replacement for traditional gutter downspouts too.
Easy installation with no tools required means you can hang up your new rain chain right out of the box— simple! The hanging hook included with each purchase adds further convenience to setup while ensuring durability even during inclement weather conditions.
Rain Chains Direct clearly prioritizes quality in their products, evident from the robust craftsmanship put into every inch of these chains—a distinct advantage over similar items on the market today.
Whether you're looking to revamp one corner or planning a complete architectural facelift through multiple replacements, opting for Rain Chains Direct's Flutes Rain Chain promises both style and satisfaction.
Pros
Enhance the appearance of your home with a stylish and decorative replacement for traditional gutter downspouts
Versatile
Quick and easy installation with no tools required,
Made with high–quality copper for durability and weather resistance
100% copper construction adds a classic touch to your outdoor space while naturally developing an attractive patina over time.
Cons
Installation may require some adjustment to ensure proper water flow and prevent splashing.
Copper material may patina and darken over time, which may not be desired for those seeking a "shiny" new copper look.
Not suitable for areas with heavy rainfall or high winds as the chain may not effectively handle large volumes of water.
What is the Best Rain Chain for Heavy Rain?
Rain chains for heavy rainfall rain are made from robust materials like copper, known for their resilience. Opt for thicker links or larger cups, as these heavy-duty designs can handle substantial water flow without being overwhelmed.
Further Reading: How to make your own Rain Chain: Unique Ideas & Designs
As an Amazon Associate, we earn from qualifying purchases. Details here