Reaching your gutters without a ladder can be a tough task or at least costly if you have to hire someone. Therefore, you must find an appropriate ladder that compensates for your height as you perform your gutter cleaning, repair or replacement tasks up there.
While ladders come in various designs, load capacities, and heights, the best ladder for gutter cleaning is one that is tall enough to reach your 1,2 or 3-story-house gutters, is comfortable, stable or strong enough to withstand your weight, and is made out of lightweight and long-lasting materials.
Following is a review of the best ladders for roof and gutter cleaning plus a buying guide with the top features you should look for while shopping.
Little Giant Velocity Multi-position Ladder
39-pound aluminum-made velocity multi-position ladder by Little Giant Ladder Systems is by far our top pick. It is one of the best sellers and has the highest ratings on Amazon. It is very solid and durable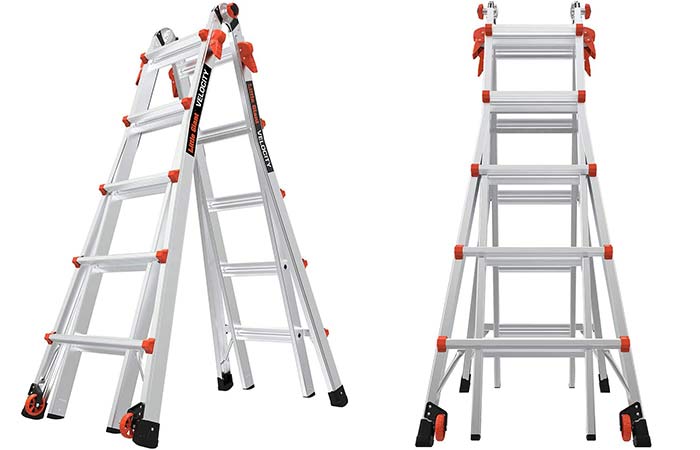 It can be used in different positions making it one the most versatile ladder in this list. It converts to A-frame, extension, trestle-and-plank, 90-degree and staircase with ease. The Rock Lock adjusters quickly alter your ladder into different configurations.
The ladder can support up to 300 pounds, can extend to 19 feet and offers stability, two-pin hinges, flared legs and can be used by two people (who weight not more than 300 lbs.) in gutter cleaning and repair.
The ladder has a hinge and palm system for triple locking thus more safety while you are up there.
It also features Tip & Glide wheels for easy transport from job to job
Pros
The ladder offers greater length, therefore, can reach hard spots when cleaning one/two-story house gutters
Do not need wall surport
They occupy a smaller space; given that they can be folded.
Compatible with other ladder accessories such as wing span and cargo load
Wheels for easy movement without carrying
Easy to adjust
Can be used on uneven ground
Wide rungs boost and flare legs provide more stability and balance
Exceeds safety standards set by OSHA and ANSI
Cons
Heavier thus not portable
They are slightly expensive compared to other ladders.
Louisville Ladder FE3232 Extension Ladder
The Louisville FE3232 is one of the most durable and stable ladders on our list hence guaranteeing safety and reliability. Like the little Giant Velocity ladder, it is one of the top sellers on Amazon.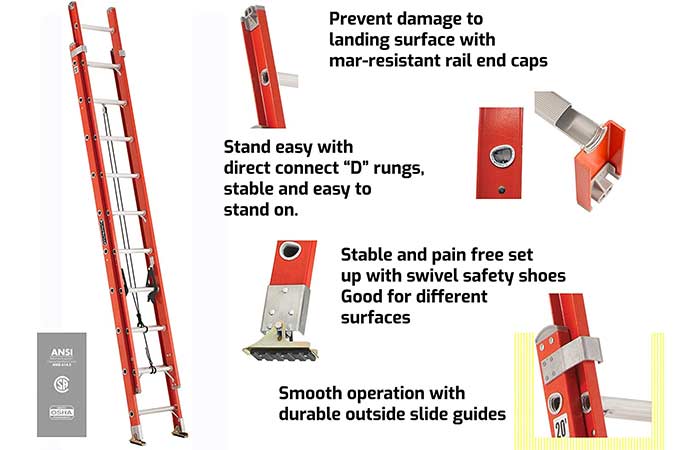 The most outstanding feature of this ladder is its sturdiness that comes from the fiber glass, the material from which this ladder is made.
It can withstand a maximum weight of 300 pounds and can extend to a working height of 29 feet; ideal for both one and two-story house gutter. For 3-story house gutters, there is another model with the exact design but with a higher working height, the Louisville FE3240 fiberglass 40-foot extension ladder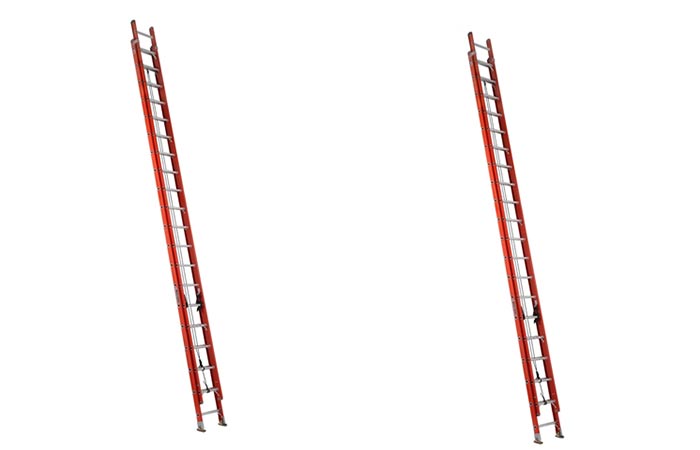 In addition to the above features, the Louisville fiber glass ladders come with;
Elegant design and smooth finish
Steel Swivel Safety Shoe with Metal Shield for more stability and safety
D-Shaped Rungs that are slip-resistant and easier to stand on conveniently
Mar-Resistant Rail End Caps to protect your landing surfaces
Two extra heavy-duty slide guides at the top of the base section combined with a stop on the fly section to prevent overextending the ladder
| | |
| --- | --- |
| Feature | Details |
| Maximum load capacity | 300 pounds |
| Material | Fiber glass |
| Style | Extension ladder |
| Maximum height(reach) | 29 feet |
| Weight | 62 pounds |
| Color | Orange |
| Storage Space | Depth of 6.5 Inches and Height of 32 feet |
Pros
It is strong and long-lasting
High enough to reach two-story house gutters
Safe and comfortable (rungs and metal shield shoes)
Can withstand loads of weight
Can be used for other outdoor activities
Cons
Quite heavy
Requires more storage space(32ft)
Not ideal for low-height gutters
Xtend & Climb Pro Series 780P+ Telescoping Ladder
This is one of the most popular telescoping ladder brands in terms of reviews all across the internet. It is light-weight and made out of airplane grade aluminum alloy for strength and durability
With a load capacity of 300lbs. Xtend and Climb ladder opens to 12.5 feet and closes to 32.25 inches making it useful, easy to carry around and even easier to store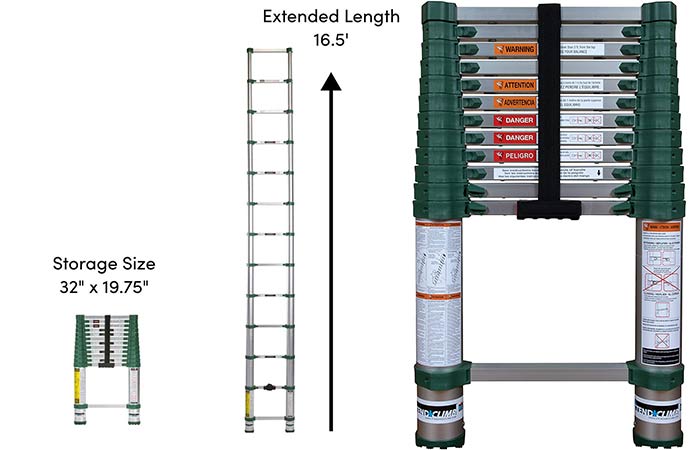 Check current price and reviews
The ladder extends and locks by the foot with easy no pinch closure system. It features an Angled Thumb Release to ensure proper hand position
Comes with an integrated carrying handle heavy duty closure strap.
Clean Touch Anodized Finish for easy to clean after use.
Meets new 2019 ANSI/OSHA standards for safety compliance and duty rating.
Pros
Portable – Easy to carry around and require minimal storage space.
Lightweight, weighs 32 pounds.
Good load capacity – 300 lbs
It offers appropriate reach for one-story house gutter cleaning and more other indoor and outdoor activities
Easy to use and clean
Cons
Not as strong and durable as fiberglass ladders.
Not long enough for two/three story house gutters
Lack other ladder-accessories integration
Slightly pricey
Louisville Ladder FM1414HD, 14 Feet Twin Step
This multi-purpose twin front step ladder is the sturdiest on our list. It is an industrial-grade 14-ft. tall ladder made of non-conductive fiberglass with a load capacity of 375lbs.
The twin front step ladder allows two users to work on the same ladder simultaneously to easily accomplish tasks that would be more difficult for a single person.
This ladder is equipped with DaBoot with non-marring bonded tread mechanically fastened to the upper boot to create a secure slip-resistant footing, SHOX impact absorption system, heavy-gauge steel hinges, heavy-duty gusset bracing, inside spreader braces, and riveted step construction.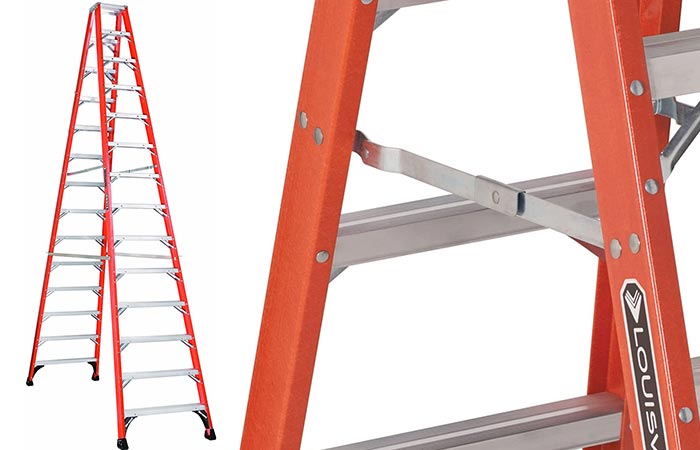 Pros
Versatile
Strong and stable
Durable
Can be used by two people
Meets or exceeds the safety standards set by ANSI, CSA and OSHA.
Does not requires support surface/wall
Cons
Requires huge storage and working space
Limited working height for two/three story buildings gutters
Not easy to carry around
Ohuhu 15.5 FT Telescoping Ladder with Stabilizer Bar
This a light yet sturdy gutter cleaning telescopic extension ladder made from a high-quality aluminum alloy. It is portable and doesn't huge storage space
It has a load capacity of 330 lbs. with a height of 15.5 feet hence can be used in gutter cleaning, roof cleaning, and repair ideal for one-story houses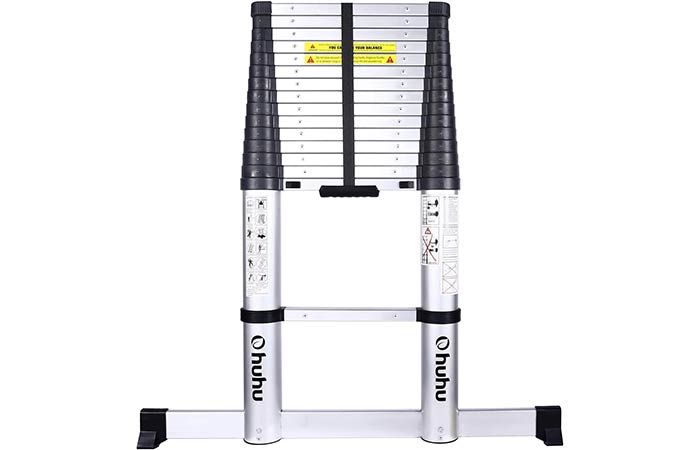 It features specially-designed locking pins hold the rungs in place, preventing sliding and retracting. Simply pull the ladder open and the pins will insert automatically. No more pinched fingers.
It also comes with a stabilizer bar and anti-skid foot pads maximize stability and minimize shakes. The ladder won't budge an inch, even as you climb up and down
For more stability and safety, the ladder comes with non-slip end caps hold the base firmly in place, while extra-wide steps ensure safe climbing. It is compliant with EN131 and SGS European safety standards to give you some peace of mind.
The Ohuhu Telescoping Extension Ladder is perfect for handymen, DIY enthusiasts, and homeowners alike. Thanks to its maximum height of 15.4 ft. (4.7m), this ladder is ideal for everyday tasks like painting, window cleaning, roof repairs, light-bulb changes, and so much more.
Pros
Portable
Easy to use- single button retraction mechanism
Versatile
It has a high weight capacity and heavy-duty construction
It has end caps at the top and base that are non-slip for safety.
Cons
It lacks a support mechanism for loads.
It has average hand grips that are lateral
Not Ideal for gutter cleaning on houses with two or more stories
Werner D1540-2 Ladder
This is an extra heavy-duty aluminum extension 40-foot ladder with a maximum load capacity of 300 pounds. It extends a working height of 35-feet, ideal for 3-story house gutter cleaning.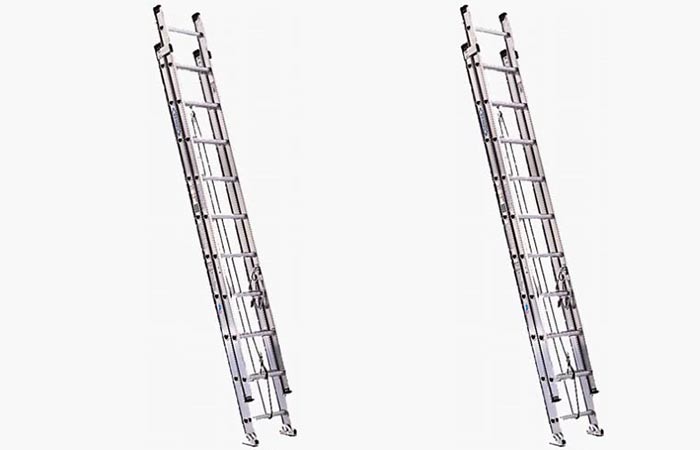 Features& Specifications
The rungs are aluminum slip-resistant Traction-Tred D rungs. Rungs are connected to the rails with Werner's exclusive Alflo rung joint connection for twist-proof performance.
Extra heavy-duty I beam rails are held together with thick guide brackets that fully engage the fly section. Rugged spring-loaded locks operate smoothly.
Shoe rests flat or is held in spur position with the Shu-Lok feature.
Easy separation, rope is held in place with the quick clip that eliminates loose ends knots and tangles.
Dimensions: Rails 3″ wide; Flange 1-1/8″ wide; Rungs 1-3/4″ wide; Base width 18-1/8″ outside rails. Length of extension ladders when not extended is half the total length of the sections. It weighs 89.5 pounds
Pros
Versatile- sections of the ladder to be used independently
Heavy-duty & Stable
Extends enough to reach 3-story house gutters
Easy to operate
Durable
Cons
Heavy and not easy to carry around
Requires huge storage space
It needs a support surface/wall
LUISLADDERS Folding Ladder Multi-Purpose 7 in 1
This folding ladder-style is the perfect choice if you are looking for a multi-function ladder. It is not only easy to fold and store but also light weight and sturdy.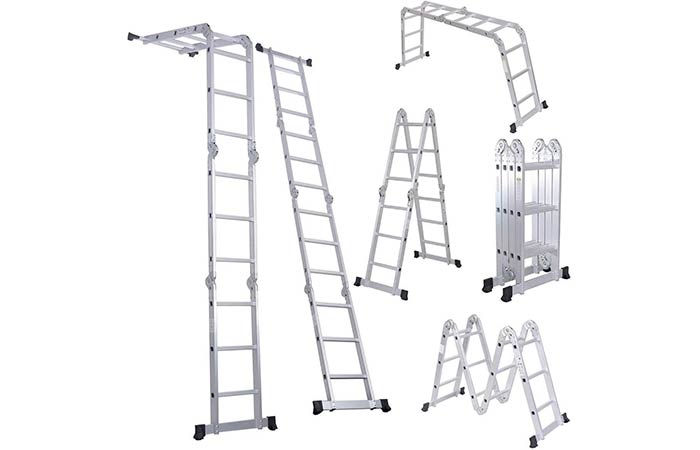 You can use this ladder as scaffold, leaning ladder, stepladder. You can as well change it into many different shapes to meet different height (up to 18.5ft) requirements and working needs;
Heavy-duty aircraft-grade aluminim construction; square rungs and supporting tubes, make this folding ladder stable and durable;
Compact- folds up to 60.2″ x 9.8″ x 23.6″ for easy storing
Safety features
Meets EN131 standard; maximum load capacity is 330LB
Connected by six security locks, which can be opened and locked for changing the shape of ladder easily while guaranteeing the security
Adopting the design of zigzag anti-slip foot straps, which can prevent ladder from sliding during use to a certain extent; with the undulating ridges of the square rungs, it can avoid soles slipping during use as much as possible
WolfWise Aluminum Telescopic Extension Multi-Purpose Ladder
Just like Ohuhu, Xtend & Climb telescopic ladders, this ladder is compact, lightweight (made of aluminum alloy), and easy to carry around.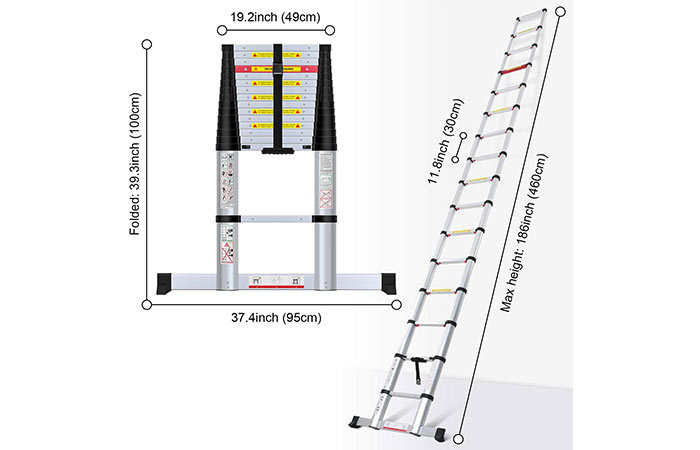 It comes with a stabilizer bar and non-slip mat to improve the stability of the ladder.
It is an upgrade of previous models. It features one-button Retraction that greatly reduces the finger pinching effect. You extend it by pushing the switch at the bottom.
Crash resistance design is added at the joint to extend its service life. The maximum load-bearing capacity is up to 330lbs.
In addition to gutter cleaning, the height of ladder can be adjusted by one foot to meet your different needs, such as replacing bulbs, cleaning windows, or decorating rooms, etc.
Compact Storage Size: Its fully extended height is 15 feet, and the storage size is only ¼ of that.
Fixed with heavy-duty strap for easy transport and storage in your trunk or other limited space.
Pros
Compact
Light weight
Versatile (can be used indoors and outdoors)
Stabilizers for safety and stability
It has a higher weight capacity compared to other ladders
Cons
It is more expensive compared to ladders with similar height
The moving parts likely to malfunction over time
Ideal only for gutters under 15 feet from the ground
Need support while setting up
Louisville AE2224 24-Feet Extension Ladder
This is a 300-pound load capacity industrial extension ladder made out of aluminum. Its height of 24 feet makes the perfect ladder for not only two-story house gutters but also single-story house gutters.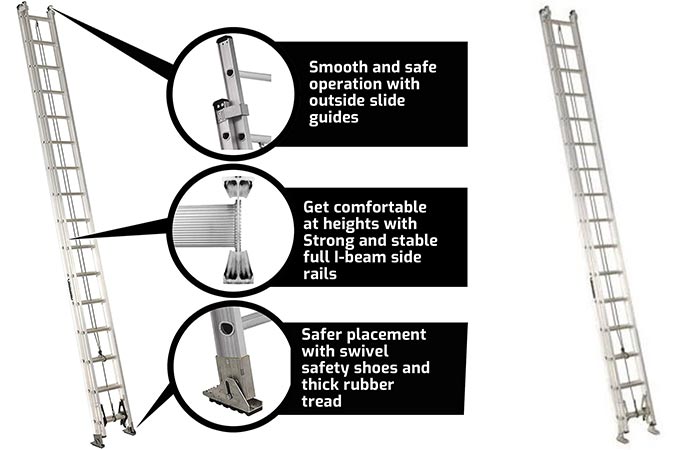 According to the manufacturer, it is equipped with the MAXLOCK rung lock, custom engineered from a patented, advanced molecular polymer, MAXLOCK is the strongest, toughest, and lightest rung lock ever made.
This ladder also includes the patented QuickLatch RungLock system that provides a simple, intuitive method of securing the fly and base sections of the ladder when extended.
This ladder also features outside slide guides, D-shaped rungs fully serrated for a slip-resistant surface, mar-resistant rail end caps, full I-beam for a more stable connection and to prevent twisting, and swivel safety shoes to be used as tread down or in spike position.
Like the other Louisville aluminum extension ladders, it meets or exceeds the safety standards set by ANSI and OSHA.
Pros
Safe
Damage-resistant
Reliable Locking System
Comfortable Footing
Cons
Require more storage space
Not easy to carry around
Construction material not as durable as fiber glass
Specifications
| | |
| --- | --- |
| Manufacturer | Louisville Ladder |
| Part Number | 443-AE2224 |
| Item Weight | 1.8 pounds |
| Product Dimensions | 144 x 18 x 6 inches |
| Item model number | AE2224 |
| Size | 24 Feet |
| Material | Aluminum |
Jiahe Multi-Purpose Folding A-Frame Telescoping Extension Ladder
This a versatile telescoping ladder that can be used in A-frame style or straight. The maximum load is 330 lbs (150 Kg.)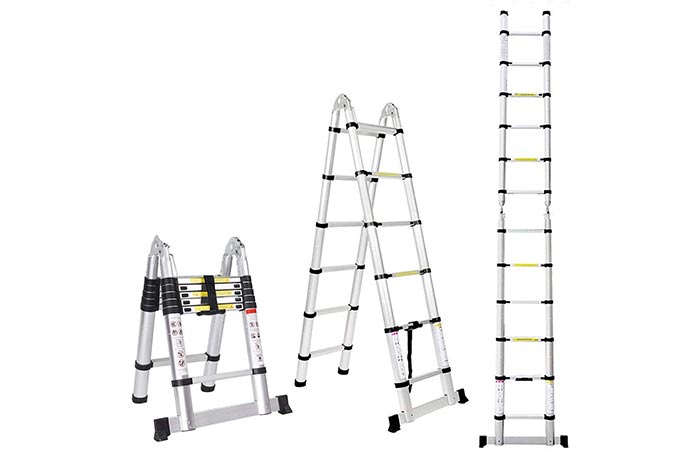 It can extend to 6.25ft when in A-frame ladder and up to 12.5 ft (3.8 m) when in straight ladder. When completely folded for storage it measures 35.5 x 19 x 6.8 inches.
Foldable and retraction design: with inward slide latches, you can adjust the rung by rung in one-foot increments to reach and retract any desired height without effort; protection spacers avoid bumping and friction during retraction.
When you hold the stopper in the middle of the stroller with one hand and remove the stopper by the opposite hand without holding your finger to hold the finger
In addition to gutter cleaning (one-story building), you can use it for Home/Building maintenance, Washing window, Exterior/Interior Decorating, Painting etc.
Portable and convenient: lightweight and compact size, easy to transport and store; a heavy-duty securing strap secures the ladder firmly and with the grip handle, you can easy to carry the ladder with one hand.
Buy Guide for Gutter Cleaning and Repair Ladders
There are various factors to consider before purchasing a ladder in the market. Every brand has unique features that distinguish it from others as follows:
Ladder Type/Style
Telescopic ladders can extend and collapse and the various ladder types discussed above range from lightweight to heavy-duty. The Wolf Wise Aluminum Telescopic ladder and Luisladder aluminum ladder are suitable for home use and when working in small environments since they can easily be carried. Their collapsible nature suits the environment.
Extension ladders operate in a similar manner to telescopic ladders but they only have two sections that can be moved. The two sections can easily be separated and used on their own.
Step & Folding ladders these foldable and in most cases appear shorter than extension ladders. They're the most versatile hence suitable for various tasks. They can be folded and thus are easily transported.
Manufacturers often claim their ladders to be the safest, strongest and most durable, however, the following factors will help you decide on the type of ladder you should purchase.
Construction Materials
You should know the type of material used for constructing the ladder since this determines the lifespan of your ladder.
The most common ladder construction materials include aluminum, fiberglass and steel
Steel ladders are heavier than aluminum, hence more durable. Steel is the best choice for industrial and commercial use.
Fiberglass is extremely strong compared to aluminum. It is so solid that it cannot bend even when exposed to heat. It is also weatherproof and does not conduct electricity when clean and dry.
Fiberglass is as strong as steel however steel highly conductive, expensive and prone to rust.
Ladders made using low-quality materials may appear strong but that's not the case.
Some poorly designed ladders have thin aluminum and sharp edges. This never affects durability but can cause injury when using it.
Inspect the joints between rungs, stiles and the steps. Various joining methods are employed by manufacturers, however, the type of joint determines the durability and strength of your ladder. Ladders with pop rivet at the joints have a shorter lifespan and are cheaper compared to those that have solid rivet joints.
Stability
Find out how stable the ladder is when climbing. This is important for safety. Stability has a lot to do with the quality of the construction itself and the quality of the construction materials. Be use to test and check reviews from other people who have tried the ladder.
Weight
The ladders' weight is a vital aspect you must consider. In case you need to carry the ladder frequently, it is appropriate to buy a lighter ladder. You will move quickly and finish tasks on time. Heavy ladders never mean the ladder is safer and of high quality.
Various lightweight ladders offer safety since they are constructed using advanced technology.
Australian Standards
You need to research whether the ladder you intend to purchase passes the tests set by Australian standards. There are ladders with vague advertisements implying their ladders have met the Australian standards. Refrain from such ladders and prioritize your safety.
Load Capacity
Pick a ladder that is best suited to your load capacity. You might need to place items on the ladder while working, hence you require a firm ladder. When you exceed the load capacity, your ladder might collapse, thus causing accidents. Pick the ladder with the right load capacity for your task.
Additional Ladder Accessories.
Some ladders come packed with additional accessories that will enhance their functionality. Some of these accessories, especially for gutter cleaning include, ladder stabilizers to protect your gutters, hooks, other gutter cleaning tools, etc. Opt these ladder kits since they'll save you some bucks in the long run. However, you can still get accessories on their own. We recommend this bundle that includes
Ladder Max Original Standoff Stabilizer
Gutter Getter Scoop
Gutter Grabber and Extension Pole
Bucket Hook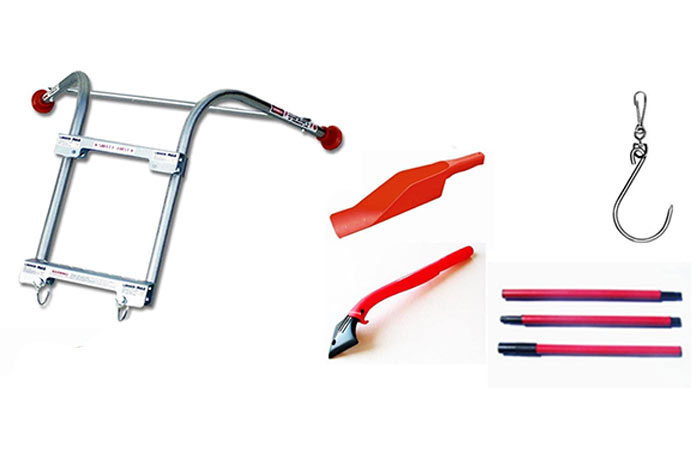 Height
What size ladder do you need to clean gutters?
15 to 17 feet is the recommended ladder height for one-story houses.
For two-story buildings, the ideal length of the ladder should be 18 feet (5.5 meters) or more.
For three-story houses at least a 31-feet tall ladder is ideal
To find the right size, measure the vertical height from the ground to your gutters then add 2 to 3 feet that the ladder will lose due to inclination. This is especially for telescoping and extension ladders that cannot stand on their own.
Pick a ladder that never exceeds your reach by five feet. Never purchase a shorter ladder when your task is of a higher level. This results in overreaching and accidents.
Also, remember that maximum height depends on how far the ladder's feet are from the base of the wall.
Finally, always remember that as long as you respect the manufacturer's specifications, especially the weight capacity and working height, the ladder will work fine regardless of the construction material.
Do take care of your ladder; transport, use, clean and store it properly. How long it will be in good working condition will depend on how you care for it.
More on Ladders and Gutter Cleaning
Gutter Cleaning
Gutter Cleaning Tools & Solutions
References
Aluminium vs Fiberglass Ladders: https://abovethefloor.net/fiberglass-vs-aluminum-ladders/
As an Amazon Associate, we earn from qualifying purchases. Details here