Whether you intend to clean, coat, paint or treat your roof with some kind of chemical solution, first, you need a brush or broom to clean out the unsightly moss, leaves, and debris which have accumulated on your roof over time.
You have a variety of brushes to choose from; telescopic, long-fixed arm, handheld, hard/soft-bristled, flow and non-flow through brushes etc. Selecting the right broom will depend on the type of roof surface and the nature of the task at hand.
Following are some of the best brushes for cleaning, scrubbing or coating your roof plus a guide on factors to consider, and features to look when shopping.
Top Roof Brushes
Following are some of the top roof brushes for various roof works including, cleaning, removing dirt, applying coat, paint and treatment chemicals
Garelick 21-Foot-Long Leaf Roof Brush
It is by far the most popular and most sought roof brush. It is best for general light-weight dirt and debris on roofs. You can use it to get clean off leaves, pine cones and needles that collect on roofs.
This an 18" wide hardwood ash brush head with 2 palmyra bristles, 1 angled tube neck and 2 aluminum braces. The handle consists of 5-foot anodized aluminum poles snap together and can be used in increments of 5 feet.
Can also be used for lite snowfall removal, satellite dishes, solar panels, and shake roofs. It is compatible with 1″ round diameter roof rake extension poles that use a snap-button pole connections.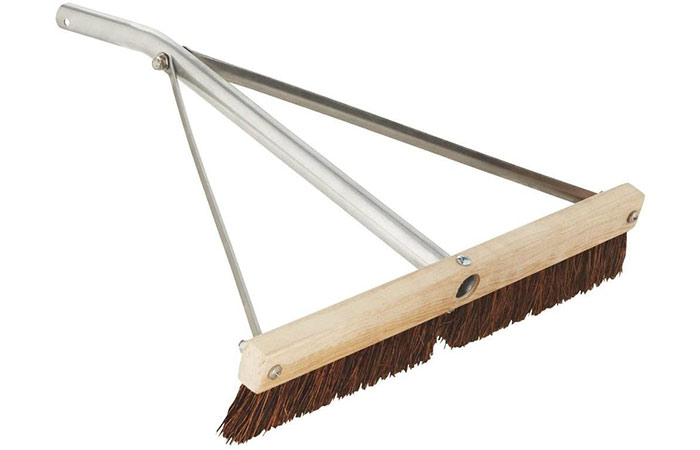 DocaPole Telescopic Roof Brush for Moss & Leaves
The DocaPole stiff synthetic bristle brush kit with 30-foot multipurpose extension pole is the perfect long-handle scrubbing solution for hard-reach rooftop areas, be it you are on the ground or using regular-height ladders.
It does a good job when clearing off leaves and other debris on pitched roofs and valleys. The sturdy extending handle and stiff brush are a perfect combo for clearing moss on your roof too.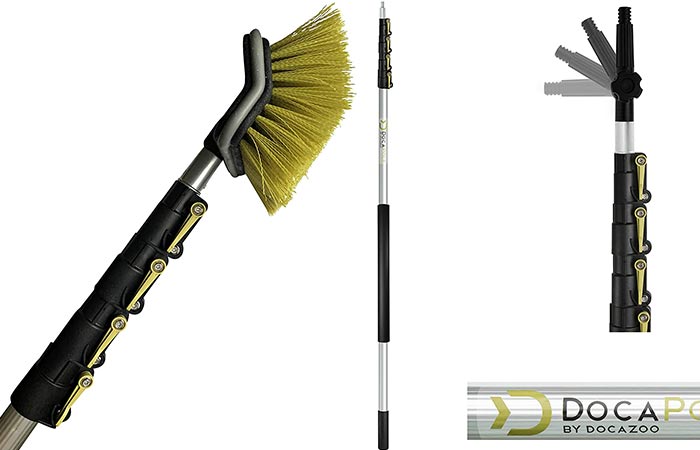 Bristle Features.
Bi-level, multi-angle surface design maximizes surface area contact during cleaning–optimizing brush efficiency and effectiveness
Rubber protective bumper encircles the brush head protecting surfaces where the brush is used
Dry Use for sweeping dust and dirt
Wet Use for scrubbing tough jobs
Long Handle Features
High-quality, light-weight aluminum premium telescopic pole.
7 to 30 feet of extension providing up to 36 feet of reach with the brush attached
Solid metal tip + 180° screw hinge tip accessory
Rubber handle grips
Easy-use thumb lever clasps for pole extension and retraction
Standard/universal threaded tip for easy use with other threaded attachments
Wire Brush Set for Roof Tile Moss
The Ecodite multipurpose brush set can cater for all your needs. This is the best set for moss on your roof tiles.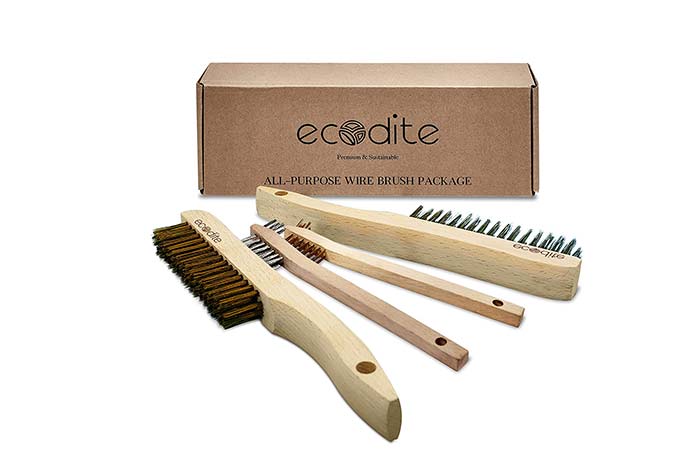 This set comes with medium-sized wire brushes for cleaning large surfaces small brushes small and tight spaces.
The bristles are made of both steel and brass. Stainless steel is optimal for wet surfaces and more aggressive cleaning while brass is used on more delicate surfaces and for light-duty cleaning.
The handles are made of high-quality European Beechwood. The handles is carved into the right size and is curved ergonomically to fit the shape of your hands. The smoothened chamferred edges make gripping our brushes a comfort.
Note: Do not be tempted to use wire brush to scrub the moss off the shingles because moss grips shingles quite strongly. Using wire brushes is likely to damage the asphalt shingles and remove their granules. These brush types are also not recommended for painted roof surfaces.
Daisypower Angled Roof Gutter Cleaning Brush
This brush by Daisypower comes with a sturdy bristles and pole enough to remove big chunk of leaves and debris conveniently.
It features an angled brush head (50% nylon 50% steel stiff bristles) designed to reach the dead spots of the gutters fast and clean.
The handle features a telescopic pole that can extend from 2ft to 5.5ft, to easily reach the roofing gutter, and collapse to a length short enough for easy storage.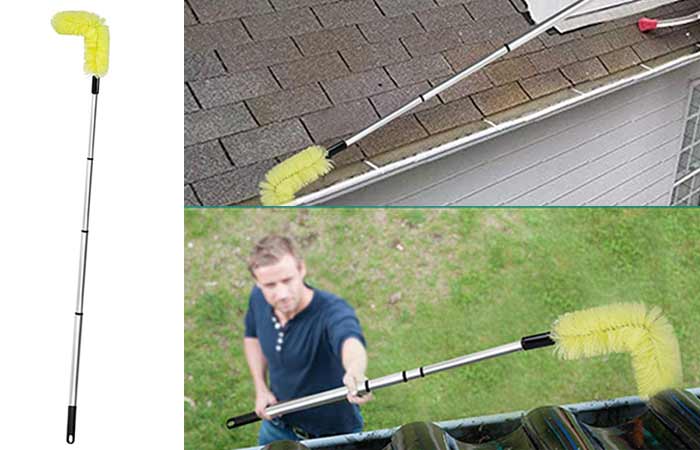 Fuller Brush Angle Broom
This is a both indoor and outdoor multipurpose broom designed to collect all large debris and small particles.
It comes with long lasting split-ended polypropylene bristles that are designed to gather all dirt and small particles while resisting all chemicals, oil and grease. The angling of the broom allows reaching into corners of your roof while removing dirt.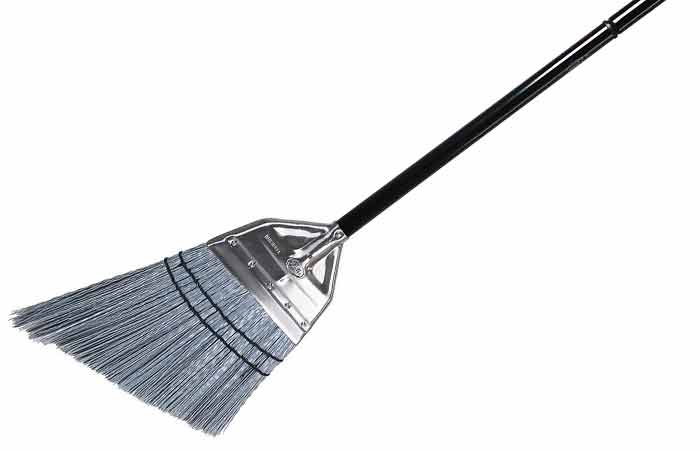 OX Tools Pro 3-Knot Roof Coating Brush
This is one of the best applying roof tar & heavy coatings. Adding an extension pole to can also make this brush work in removing off moss.
White Tampico Fiber -Mixed blend of 80% natural hair and 20% synthetic hair. It also comes with quality smooth timber block for durability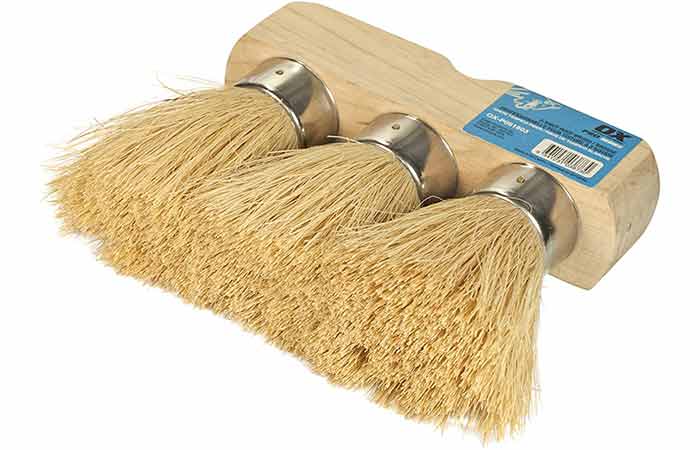 Another paint brush option, is the Gam Paint Brushes PT03980 Driveway and Roof Brush with Squeegee
This is a carded 18″ long 2-in-1 coater brush and squeegee for professional application of driveway and roof coating and sealers
The sturdy fibers from which it is made, make it easier to apply heavy blacktop coatings and crack fillers. It also comes with an inbuilt-in squeegee for smooth surface finishing.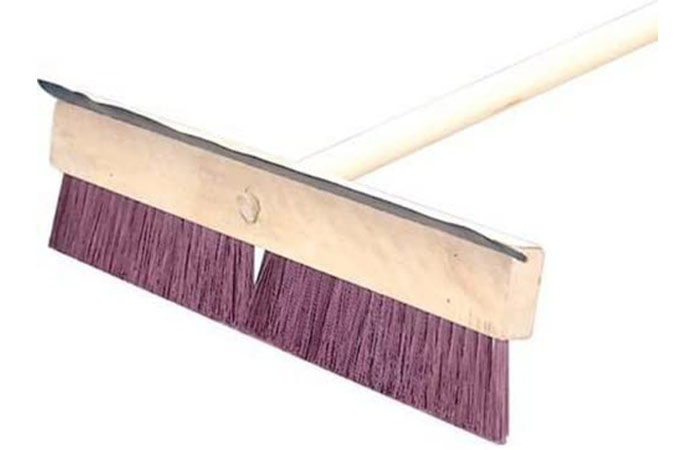 Carbon Steel Wire Deck Brushes – 12″carbon steel wire deck brush w/o h
This is stiff bristle brush that can be used on parts of the roof where soft-bristled brushes have failed. With a lot of care, it can be used for roof moss and loose paint removal.
Features one tapered and one threaded handle hole, staple set in a smoothly sanded hardwood block and a rugged carbon steel deck brush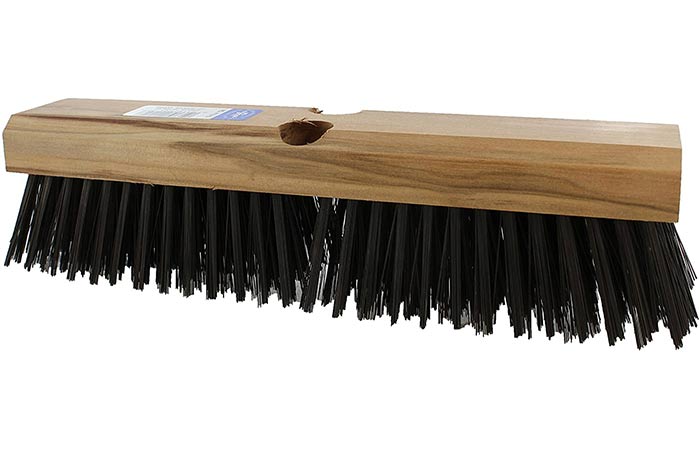 Eversprout Soft-Bristle Metal Roof Cleaning Brush
A soft bristle brush is the most ideal option for cleaning a coated metal roof because it helps remove dirt without causing scratches and damage to your paint. One of our top picks is the Eversprout 5-to-12 foot soft-bristle scrub brush.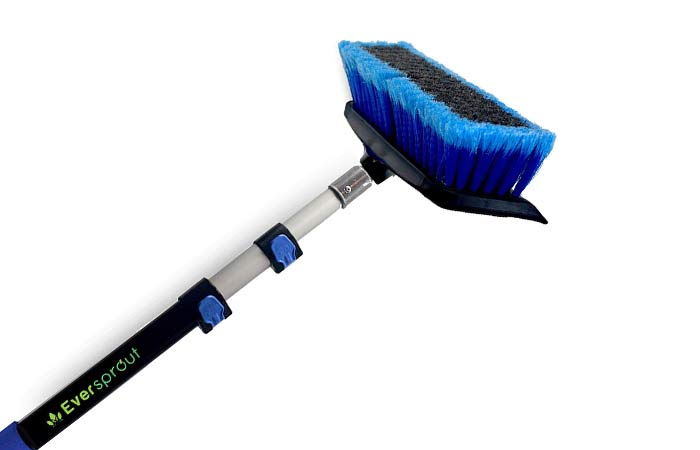 This multipurpose brush features;
Soft bristles.
Rubber bumper around scrub brush protects from damage and scratching.
Lightweight Aluminum pole weighs only 1.5 pounds and is very sturdy.
4.5 to 12 ft extension pole that can reach up to 20 feet when standing
Non-Slip Foam Hand Grips for comfort and reliable grip in wet conditions
Built-in front squeegee for water removal
Conservatory Roof Cleaning Brush
Conservatory roofs are made of glass and caution should be taken when cleaning them. Since you can neither place a ladder nor stand on the fragile glass when cleaning, you need a long-handle and soft-bristled brush (to avoid scrubbing marks on glass). Water-fed telescopic brushes with are the best options.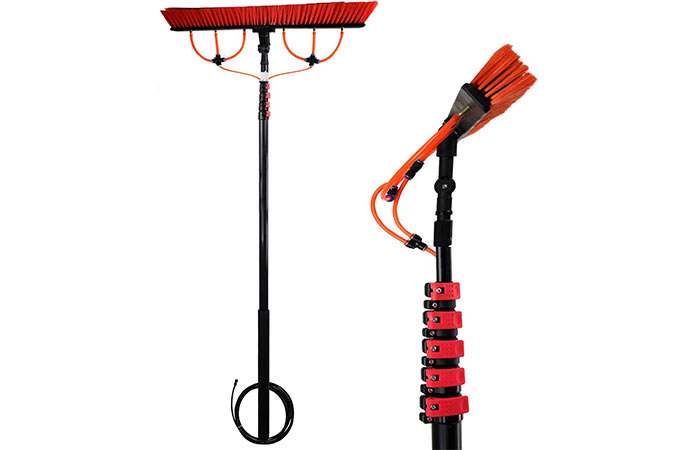 Corrugated Roof Cleaning Brush
Bristles are trimmed to form to your roof for easy and efficient cleaning. They come with sturdy steel wire bristles or soft nylon fiber. They are also designed to be used with a handle for extra leverage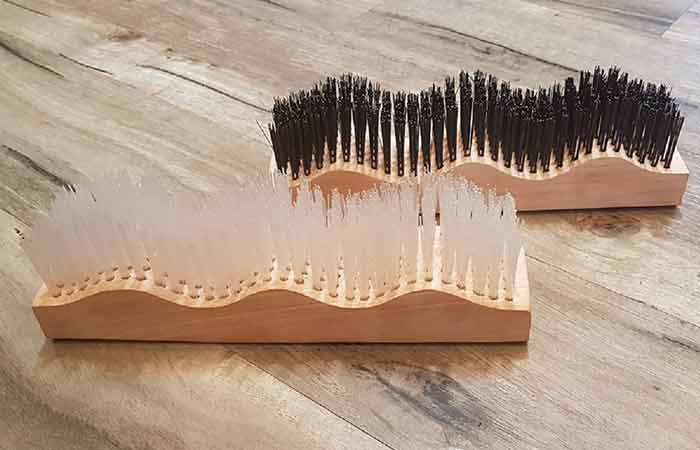 Roof Broom for Snow
Regular roof brooms and brushes are too weak to handle snow. You need a roof rake for this task.
Further Reading
Roofing Brushes & Brooms Buy Guide
Roof brooms come in different sizes and designs. It all depends on the nature of task at hand.
According to a patent filed by Julius Mekwinski, a roof brush comprises a horizontal arm pivotally attached to a vertical arm at a pivot assembly.
A cleaning head is disposed on the vertical arm, and has bristles at a predetermined bristle angle to the horizontal arm to maximize the effectiveness of the instant roof brush in cleaning debris off a roof.
Roof brushes and brooms can be classified into different categories depending on where and how they used, length of their handles and the types of bristles they come with.
When looking for a roof brush, the following are some factors to put into consideration and features to look for.
Roofing Material & Design
Roofing materials range from asphalt shingles, tiles (concrete & clay), metal and even rubber for RVs. Just like roofs are built with different materials, brushes and brooms also come with a variety of bristle materials including soft natural fiber and stiff wire fiber.
Each bristle type is meant for different roofing material thus it is important to find out what material your roof is made of.
In addition to the roofing material, roof come different designs including, flat and corrugated. Always pick a brush or broom type that perfectly suits your existing roof design. Choosing a corrugated roof brush for a flat roof would be ineffective.
It is also possible that particular sections of your roof are made of different materials. Be sure to have different brushes for cleaning the specific regions on your roof.
Hard-bristled brushes cannot be used on soft spots since they would cause damage. Contrariwise, soft brushes can never be used to clean tough stains since the brush would be ineffective.
Durability
Durability of a brush or broom boils down to construction materials and quality of the overall design.
Long-lasting roof brushes are made of high-quality bristles, lightweight, sturdy heads and handles.
Brush/Broom Features
Brushes and come with different features and styles. While some features can add more functionalities to the basic uses, other features can make the brush ruin the overall user experience. For instance additional unnecessary can complicate assembling and dismantling process resulting in a wastage of time.
The following some of the most common features to look for when shopping for roofing brushes.
Brush Handle Size, Style & Construction
Depending on where you want to use the brush on the roof, the handle size and how it is made is an important feature to consider.
The handle can be a detachable long arm/pole or short, handheld and non-detachable. Long handles allow you work on large and hard-to-reach areas while the handheld types of handles are good for small roof surfaces that are easy to access.
In terms construction, roof brush handles are usually composed of wood, plastic or light metal. The construction should be sturdy enough to last without bending or breaking.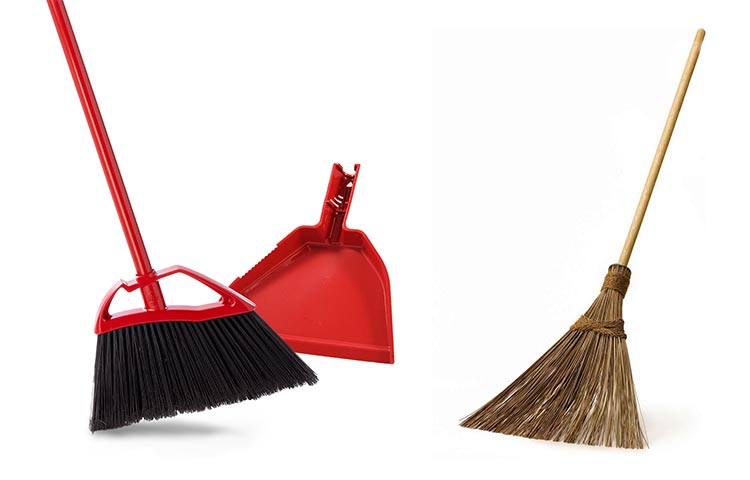 Telescopic roof cleaning brushes.
Another feature of modern roof cleaning brush handles is having the ability to extend when in use and collapse when not in use.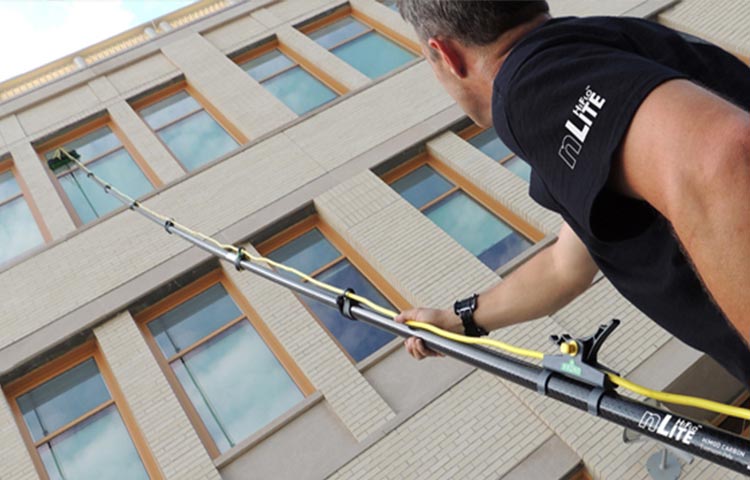 A telescopic or extendable brush is a good choice for rooftops that you cannot easily access from the ground or by regular-height ladders.
The handles are usually hollow and comprise of sections that can slide outward and lock at specific lengths to extend the brush head when you are using it. The pieces collapse to shorten the length of the handle.
The hollow handles have a provision for standard hose pipe in case you need one.
Good handles are created with safety in mind. They are durable, lightweight and ergonomically designed with non-slip handles, for a firm grip when in use.
Bristle Type
Roof brushes generally come with either stiff or soft bristles and are made from wire, natural, synthetic materials including plastic.
The best bristles are made from natural fiber that not only last long, but also friendly to the environment. Other construction materials such as high-quality plastics or polypropylene also make strong bristles that can last for ages without wearing out. The type of roof you have determines what kind of bristles you will require.
Soft bristle brushes are the best for coated, metal, plastic, glass or rubber roofs. These type of bristles are not too abrasive to cause damage. These brushes are also good cleaning light dirt and dust on your roof.
Clay, or concrete tile roofs are not recommended for soft-bristle brush since these surfaces can be abrasive and tough on the bristles.
Stiff Bristle Scrubbing Wire Brush
If your roof made of tiles, you need a stiff-bristled brush preferably, a handheld scrubbing wire brush. Stiffer bristles are the option for tough and accumulated residue.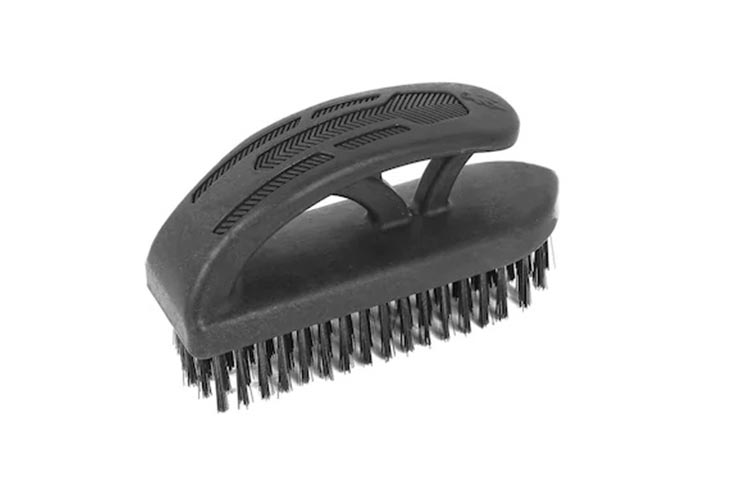 Avoid stiff brushes if you have coated, metal, plastic, glass or rubber roofs. They create unsightly scratches and scraps off roof paint due to the rough nature of the wire bristles.
They are as well not recommended for shingle roofs. Stiff wire brushes damage shingles.
Brush Head Size & Adjustability
The area of the roof on which you want to use the brush can determine the brush head width, length and thickness. If you are cleaning a section of the roof, a small or a standard-sized is enough but if it is a large roof, you need a bigger brush head clean with ease and save time.
Some brush heads are created in a way that they can adjusted to a specific angle to allow access to areas that normal heads cannot reach especially from the ground.
Additional Brush Accessories
Extra accessories include replacement parts or any other piece that can enhance how you'll use the brush. Some of these additional parts can be a telescoping pole/handle, hose pipe, squeegee, storage pieces, carabiner etc.
How to use Roof Brushes & Brooms for Cleaning
Roof brushes and brooms are in most cases to clean the roof. The following are ways you can clean your roof with the brushes.
Clearing up Debris
Debris on your roof can be in form of soil, dust, small rocks or sticks that rack up over time especially if you live a windy area or in places with lots of trees.
You can use a soft-bristle broom for light dirt like dust and stiff-bristled for debris that has piled up for a while.
Tidy up Pine Needles and Leaves
During Fall/Autumn or when there are heavy winds and storms roofs and gutters tend to gather plenty of leaves, pine needles and even branches. With the help of a brush or rake, you can easily get rid of them before they cause any noticeable damages.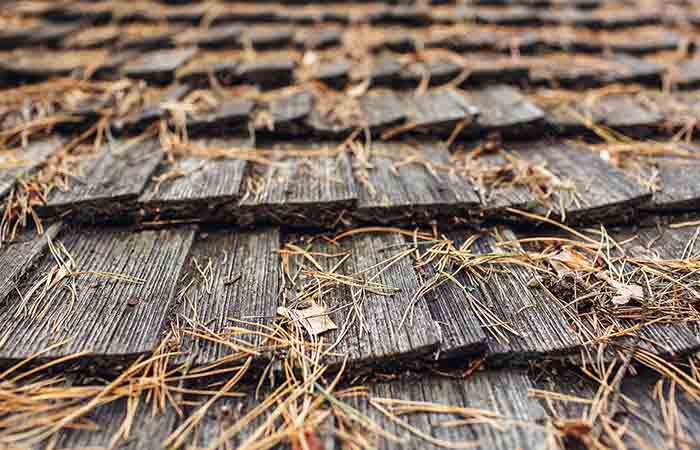 Wash off Moss and Mildew
Discolored streaks on your roof indicate growth of both moss and mildew which are not only unsafe for your health but also the health of your roof. These growths are as well not visually appealing.
With a brush and some DIY solutions, you can clean the moss and mildew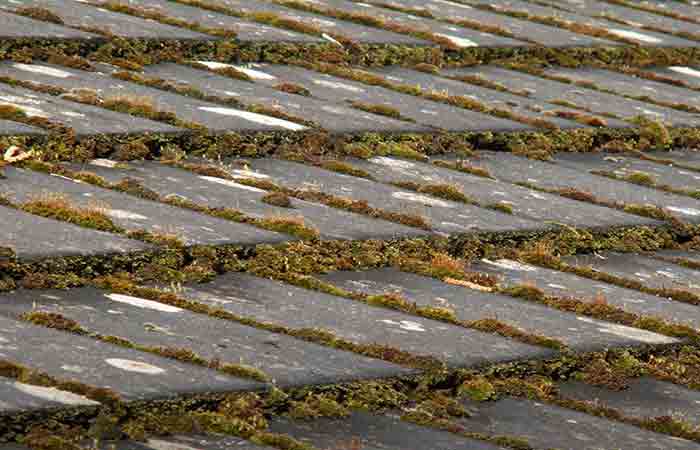 Clearing Water Spots
These are the unsightly stains that appear after or during rainstorms.
All you need is a homemade solution, bleach in most cases, soft-bristled brush a brush with a squeegee attachment to clear the spots
Cleaning Roof Gutters
Just like the roof surface, gutters accumulate debris from the surrounding environment. There is also a chance that granules or other materials from your roof have spilled from the surface and into your gutters.
Rainwater should flow properly through the gutters and the downspout system. If it doesn't, backs up and overflows will occur. With the right brush, especially the types with angled heads, you can easily clean your gutters.
Roofing Brushes for Coating & Other Applications
In addition to cleaning, roofing brushes can be used to perform other tasks including the following.
Roof Coating
Coating brushes make applying heavy coatings easy and quick. Coatings can help protect your roof from severe weather conditions that end up damaging your roof. With roof coatings, you have an additional layer of protection from these conditions.
Application of bleaches and other roof cleaning chemical solutions
Brushes are used to apply regular bleaches on rooftops. Some solutions contain chlorine and harsh chemicals that may be harmful when it comes into contact with your naked skin.
Roof Maintenance Tools & Products
Roof Leaks
As an Amazon Associate, we earn from qualifying purchases. Details here