Roof rakes are some of the most essential tools when removing snow and leaves from rooftops. If not removed in time snow and debris can weigh down your roof leading to leaks and even the collapse of the roof.
The best snow and leaf roof rakes come with resilient scoop or slice-style blades, or metal tines mounted to a sturdy and lightweight extending handle that can extend access all sections of your roof with ease while you are on the ground.
While great roof cleaning tools, not all roof rakes are made the same. Factors such as the length of the pole, the rake head style, weight, construction materials, etc. divide roof rakes into various categories depending on your specific needs. Below is a review of the top roof rakes and a buying guide.
1. Garelick Snow Roof Rake with Wheels
The stylishly designed Garelick snow aluminum roof rake has the standard 24-inch raking blade and is one of the most durable roof rakes around. While it comes in versions of 16feet or 21 feet, it makes much more sense to simply go for the longer variant.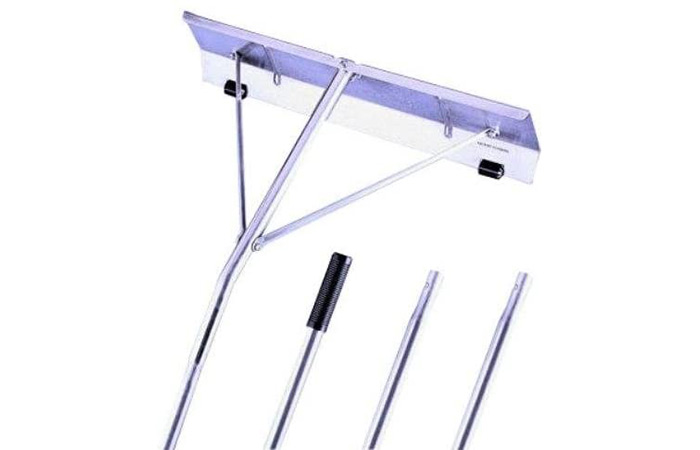 The whole snow rake is made with high quality marine grade materials to keep them rust-free in their lifetime. You won't worry about rust or any other cases of wear and tear with this roof rake.
The blade has a pair of shingle saver rollers which preserve your roofing materials as you rake the snow away. The handle comes in various pieces you easily link together to attain the length you desire (up to 21 feet).
Pros
Marine grade materials to keep the rake free from rust and wear.
Handle can be elongated to 21 feet.
Has shingle saver wheels to prevent damage to the roof.
Braces to support the raking blade.
Cons
The wheels aren't very durable.
This snow roof rake is guaranteed to last for up to 60 years given the good quality of the materials. Given its good working, it'll serve you quite well.
2. Snow Joe RJ205M Twist-N-Lock Telescoping Snow
Snow Joe is a well-known outdoor equipment designer and manufacturer creating tools for all seasons of the year. In the Snow Joe RJ205M Telescoping Roof Rake, the company has created one of the best snow removal tools on the market.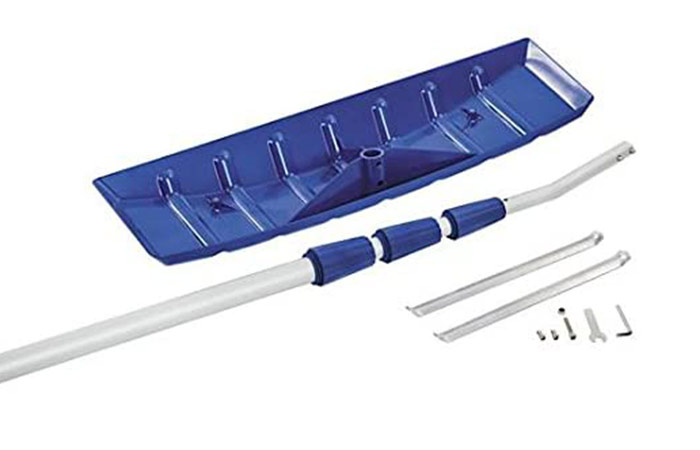 It comes with a high quality aluminum blade that's large enough to cut big chunks of snow from the roof. This blade measures an impressive 6 inches in height and 25 inches in width. For this size, you can easily clear snow off the roof in a short while.
The pole, which is an aluminum tube, measures 6.2 ft (1.9 m) which is a good distance for someone standing on the ground and reaching onto the roof. If your roof is a high one or you need to reach out all the way to the apex, the pole has a twist-n-lock mechanism that extends it to 21 feet (6.4 m). The handle is a comfortable and durable one made of high quality plastic.
You'd expect that such a long roof rake weighs a ton yet it only weighs 4.8 lbs. As such, you'll remove the snow from the roof all day long without getting worn out.
Pros
Wide poly blade rake head measuring 6 inches by 25 inches.
Pole has a twist-n-lock mechanism that allows extension from 6.2 feet to 21 feet.
Weighs only 4.8 lbs for ease of use.
Can be used to remove snow, wet leaves and other types of debris from the roof.
Cons
The straps hooking the pole to the blade need to be stronger.
For a pole that extends all the way to 21 feet and a blade that cuts off large chunks of snow from the roof, this one is a great option for any home. You can also use it for other debris on the roof besides snow.
3. Garant GPRR24 Yukon 24-Inch Poly Blade
The Garant GPRR24 Yukon snow roof rake is one of the best and most affordable snow roof rakes you'll find. It's a simple type of roof rake with simple yet quality parts that does the job quite well.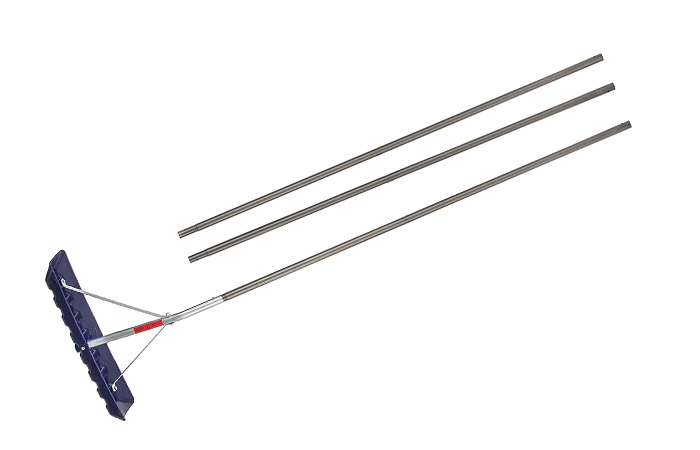 The blade is 24 inches wide and is made of polyethylene material that won't damage the roof no matter how many times you rake the snow off it. It comes with a steady attachment point with two braces (one on either side of the main attachment point) to provide extra support to the blade.
The pole is made of light-weight aluminum material with the first pole measuring 5 feet. You get two other poles of a similar length with their connection totaling to 15 feet of length. Combined with the anti-slip grip, you can easily clear the snow from your roof in no time.
Pros
Polyethylene blade doesn't damage the roof.
The blade is 24 inches wide for faster raking.
Braces to support the blade.
Anti-slip pole grip.
Aluminum pole in 3 sections of 5 feet each for elongation.
Cons
Slightly shorter than the alternatives.
The simple setup of this roof rake makes it one of the best to use. While it doesn't elongate into the twenties in terms of length, you'll not even notice the differences in length when in use.
4. SnowPeeler Roof Rake for Snow Removal – 30 ft. Reach
SnowPeeler is a slicer-style blade snow roof rake that is not only easy use but also sturdy and lightweight.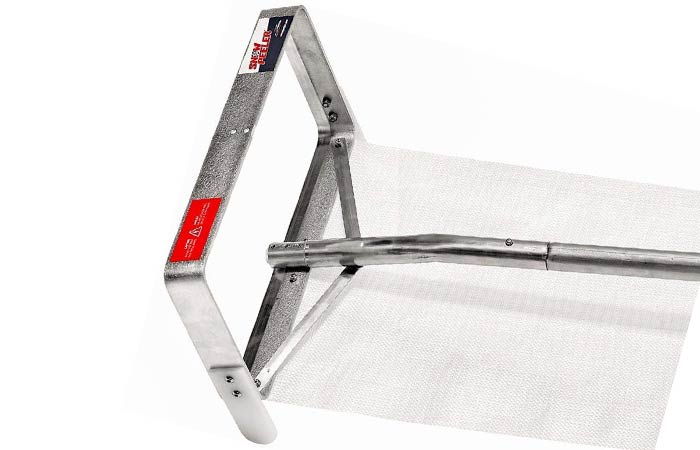 It is a practical & cost-effective solution to protect your roof against the snow loads that create ice dams throughout the winter.
The key features include;
Adjustable 30 FT. reach telescopic handle– Sectional handle lets you add extensions as needed; Includes (6) 5 ft. poles with quick-snap connectors
Tapered Cutting Frame that easily slices through fresh and hard-packed snow.
Glide Pads to protect roof from damage.
Braces for increased rigidity for optimal performance in packed or hardened snow.
Curved Handle Adapter that Increases effectiveness when clearing snow at a distance of more than 20 ft.10 ft tear-resistant slide for increased efficiency. This feature makes it easy to clear snow.
Works best for;
Multi-storey home
Detached garage and car shelter
Cabin / cottage
Low-pitch roof
Extended roof valley
5. Extreme Max Roof Snow Rake with Shingle-Saver
This entrant from Extreme Max is one of the best if you're going to remove snow from story buildings (up to two-stories) as it packs the right features for this type of job. With a pole that's extendable to 21 feet, you'll still scrap off snow from the roof without the need to climb a ladder. This makes the whole process very safe.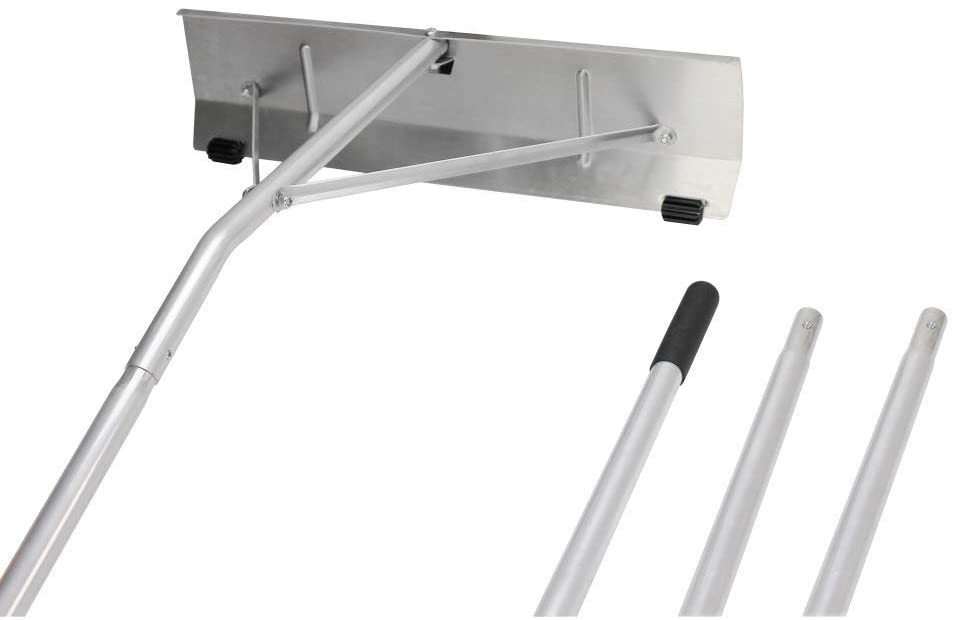 The blade measures 7 inches by 24 inches which is large enough to take large chunks of snow off the roof. It has a pair of rollers that keep the blade from scraping the roof thus preventing damage.
The pole can be elongated using the easy snap-button mechanism which makes the assembly and disassembly very simple and fast. The pole is made of aluminum which is light to reduce fatigue during the raking process.
Pros
Handle extendable to 21 feet.
Easy assembly and disassembly.
Blade has wheels to prevent roof damage.
Lightweight to prevent fatigue.
Cons
It's light and may be difficult removing ice with it.
For normal medium to light snow, this one does a great job even for roofs high up like those on the 2nd floor.
6. TUFFIOM Extendable Aluminum Snow Rake
This is a versatile lightweight and sturdy rake with a 19.3″ wide head cutter that can remove a lot of snow just by one pass.
It is not only an ideal tool for removing snow, but also wet leaves and other debris from your roof, preventing damage to your roof the piled heavy snow loads saving on costly repairs.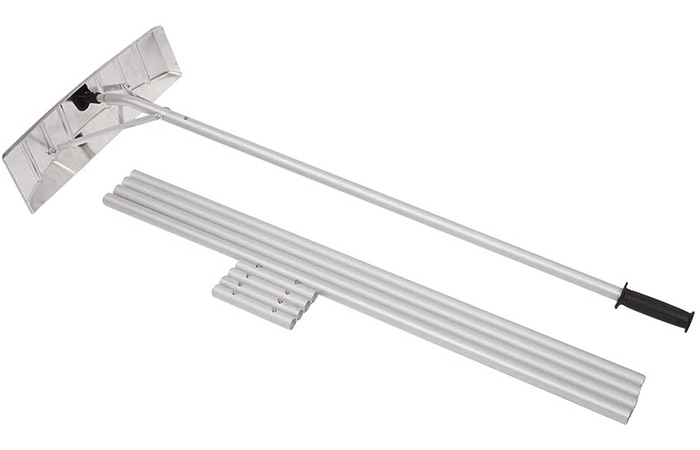 Lightweight high-quality aluminum materials make this snow rake easy to carry and durable enough to be used for long periods of time.
Besides, both sides brackets form a solid triangular structure between the blade and the main pipe, ensuring better stability of the snow rake.
Easy to Assemble and Disassemble-All the installation process would just take you few minutes and you could get a perfect snow rake. All sleeve connectors have snap-lock designs, which is very convenient to assemble.
Flexible Connection Length – Equipped with a long tube with black nylon grip as well as 4 tubes measured 1.2M and 4 sleeves. The length of the product can be adjusted 5 to 20 feet according to your actual needs, easily reaching every corner of your rooftop.
7. Avalanche SRD20 Snow Roof Rake with Wheels
Another popular yet great snow roof rake is the Avalanche SRD20. It comes with an aluminum pole that's extendable to 20 feet of length. You can thus remove snow from the roof without the need to climb a ladder to reach the roof apex. This pole is also collapsible to allow for ease of storage.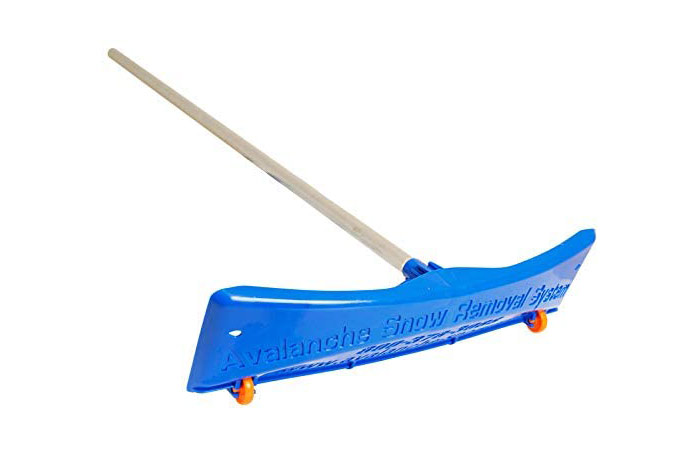 The blade is the most interesting thing on this roof rake. Measuring in at 24 inches of width, it comes with a pair of wheels on the raking edge. These wheels help prevent the rake from scraping the roof which may lead to damage.
The only downside noted with this roof rake is the lack of braces connecting the pole to the outer edges of the pole. While these braces are needed to provide strength to the blade, the edge of the blade is curved to prevent its breakages when raking.
Pros
Collapsible aluminum handle for ease of storage.
Vinyl grip for proper handling.
Pole extendable to 20 feet.
Blade has wheels to prevent roof damage.
Cons
No braces on the blade for extra support.
This is a great roof rake especially for pitched roofs as you can easily reach the top parts of the roof while still on the ground.
8. Suncast 24" Adjustable Snow Roof Rake
The Suncast 24 inch snow roof rake is a multitool that can be used to remove snow and other debris from the roof. The 24" in its name refers to the width of the raking blade which offers a wide area for quick snow removal.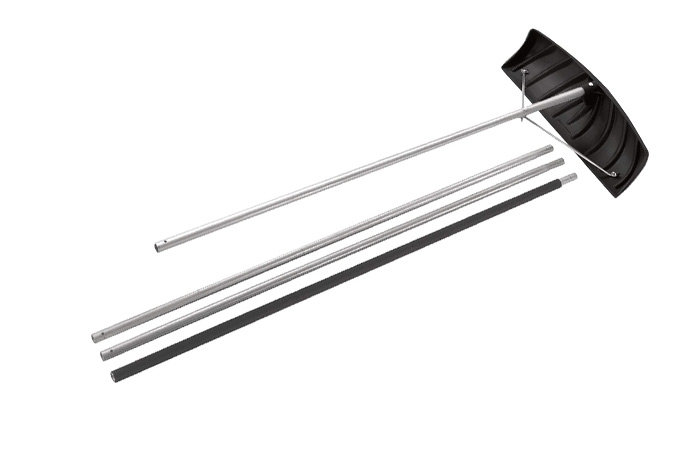 The handle is 7 feet long which is long enough for snow removal while still on the ground. If you need to reach farther on the roof or are dealing with a story building, you can extend it to 21 feet using the extension pieces it comes with.
The handles are made of resin-coated aluminum with the lower part having a curved graphite blade that's non-stick for proper handling. In general, you get a great experience with this snow rake.
Pros
Handle extendable from 7 feet to 21 feet.
24 inch wide raking blade for faster raking.
Can be used for snow and other debris.
Blade has braces for extra support.
Lightweight and durable materials to prevent fatigue.
Cons
Needs proper care as the plastic parts get damaged by the sun.
For someone looking to keep the heavy snow off your roof, this tool is a great addition to your garage for the winter months.
9. Ohuhu 21 FT Adjustable Telescoping Snow Roof Rake
The Ohuhu 21 feet snow roof rake boasts of having the widest raking blade at 25 inches which is an inch above the other rakes. The advantage of that is that you'll rake off more snow each time you pull on the rake.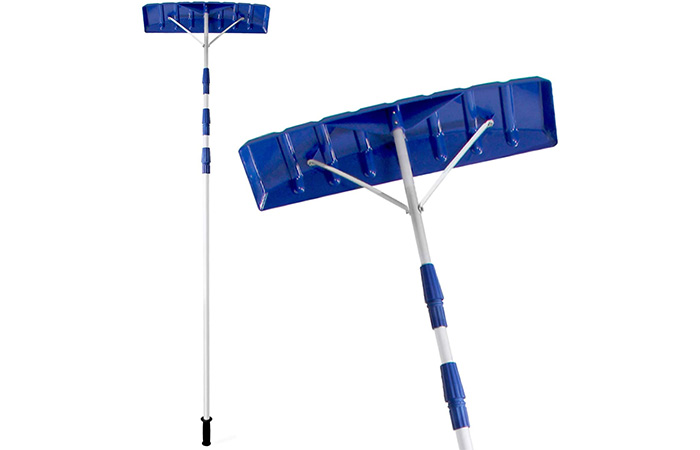 The pole extends to 21 feet to allow for the removal of snow from high up the roof while still standing on the ground. The pole is also a non-slip version to ensure a perfect grip when raking snow or leaves off the roof.
The whole setup weighs in at only 4.8 lbs which is very light for a tool this long. You won't feel a thing when working with it. The assembly process is very simple enabling you to put it together for work and apart for storage in a short while.
Pros
Usable for removal of snow and debris from the roof.
Weighs only 4.8 lbs for easy raking.
Handle extends to 21 feet to reach farther up on the roof.
Handle is non-slip for safety.
Large raking blade for quick snow removal.
Braces hold the blade in position for effective raking.
Easy assembly and disassembly.
Cons
The handle needs proper fixing to work well.
With the largest raking blade width, this one makes work easier by far.
10. Midwest Aluminum Snow Roof Rake
Our fifth spot is the Midwest 96022 Aluminum roof rake. It comes with a blade that's 22 inches wide for fast snow removal. The blade is held to the handle at three points two of which are braces meant to provide more support to it.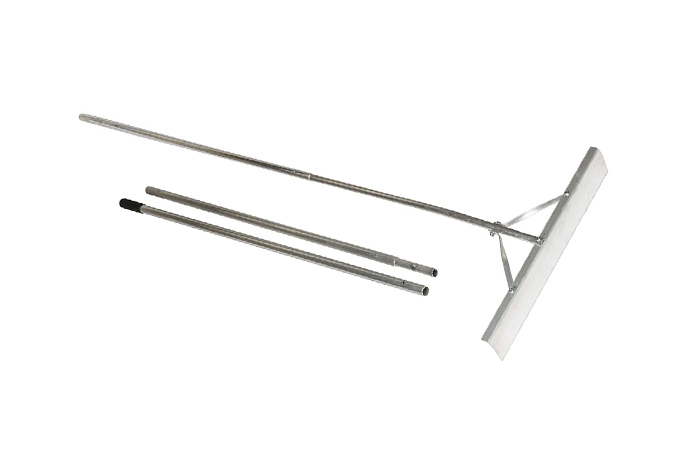 It comes in two versions both measuring 16 feet at full length. One version attains this length by putting together 3 sections while the other one requires 4 sections. Either of these sections are made of high quality aluminum material.
This Midwest Rake is among the most durable snow roof rakes you'll find with some users still with it in good condition after a decade of use. This is thanks to the sturdy construction and high quality materials that went into its manufacture.
Pros
Handle extendable to 16 feet.
Made of high quality aluminum materials.
Easy to assemble and disassemble.
Cons
A bit shorter than other options on the list.
DocaPole Roof Rake for Leaves
The DocaPole rake is the perfect long-reach solution for clearing debris from your roof. It includes a 7 to 30 foot telescopic extension pole handle. The roof rake combined with extension pole provide up to 36 feet of reach when used standing, making it the ideal way to reach all roof sections. Collapse the pole down and the rake becomes a general-purpose lawn and garden rake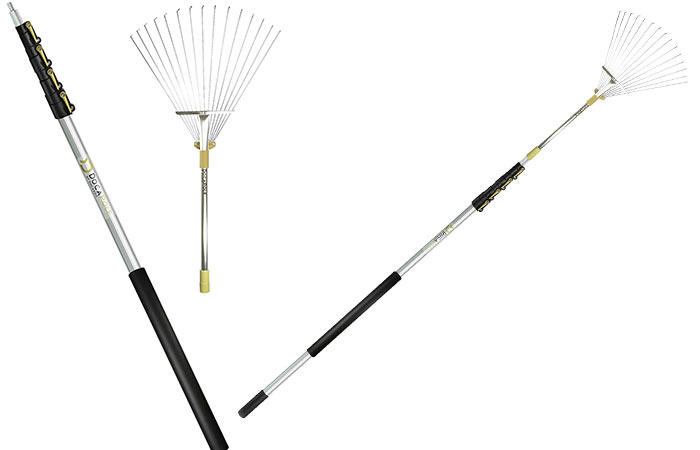 It also comes with premium adjustable rake head—from 7.5 to 20 inches of fan width. A narrower width is ideal for cleaning roof valleys, corners, and tight areas while a wider width adjustment is great for flat roof sections and lawns.
Features
Light-weight, high-quality aluminum
Solid metal tip
180° hinge tip accessory
Easy-use thumb lever clasps
Rubber handle grips
Standard threaded tip for easy use with other threaded attachments
Easy storage—collapses down to 7.5 inches
No-slip locking thumb screw prevents the rake head from spinning on the pole end
Further Reading:
How to Safely Remove Snow from Roof + Snow Prevention Tips
How to Remove Leaves from Gutters with a Blower
Soof Rake Guide-Features & Factors to Consider
Here are some factors and features to consider when choosing the perfect roof rake for removing snow:
Rake Heads/Blade Styles & Size
Snow roof rake blades come in two styles: a scoop or a slicer
Scoop blades are shaped like a traditional snow shovel. They are positioned at the top of the roof and then pulled towards the ground. The advantage is that you use less effort as the force of gravity helps you clear the snow.
However, there's a likelihood that the upward pushing action can damage shingles. Scoop blades also shed excess snow into gutters or onto shrubs and plants along the foundation
Slicer-blade styles work a bit like a cheese slicer. You push the slicer push upward, rather than dragging down. They come a trailing sheet along which snow shoots, staying out of gutters and away from shrubs and plants.
Another pro of these rakes is that they come with wheels or coasters to avoid damaging shingles pushing upward. However, they are pricier than the scoop-style blades.
For roof leaf rake heads, the modern and ideal ones have long, flat teeth/tines bent into an L-shape and fanned out from the point of attachment. This permits some flexibility to allow the teeth to conform to any terrain, while also being light to minimize damage to roofing materials. Some designs allow the teeth to be withdrawn or adjust to various widths.
Another aspect to look into is the size of the head or blade. Size determines how large/small a chunk of snow you'll cut away with each raking motion. Most rakes have a width between 10 and 25 inches with a height of up to 10 inches.
You should find a good middle ground for this part of the snow roof rake as too small a rake means you spend endless hours on the roof while too big a blade means pain in your back and arms.
Construction Materials
The blade and handle are usually made of different materials as they undergo different levels of stress. The most stressed part is the blade and most are made of aluminum or heavy duty forms of plastic. On the other hand, the handle is usually made of lightweight aluminum, polyethylene and thick plastics.
For these materials, having heavy materials has both an advantage and a disadvantage in that one's that's too light is easy to handle but may take some effort to slice into the snow. On the other hand, one that's too heavy will be hard to handle but easily cuts into snow. As such, you need a compromise between weight, durability and efficiency.
With materials, there's also the issue of price. You can get a cheap snow roof rake for a few dollars but it may not last more than a single season. On the flip side, going for an expensive one doesn't guarantee quality over the long-term since price is not usually an indication of the quality. You need proper reviews of the pole to establish what works for you and if you're willing to pay for it.
Pole Length
Simply put, the length of the pole determines how far high on the roof the rake can reach to pull off the snow. Most poles measure about 7 feet and can be extended to as far as 25 feet or more.
Here too, there is a compromise to be made. While a longer pole helps you reach high up on the roof, it can be quite complex to manipulate and may even lead to shoulder pain. Even the lighter materials such as aluminum get reasonably heavy when you have a lot of them in one piece.
For most rakes, the manufacturers list the length of the handle and head in the same area such as 20' x 25". For such a reading, it means the pole is 20 feet long and the head 25 inches wide.
Recommended Reading
The Weight of the Rake
Most of the rakes we reviewed are below 5 lbs for ease of manipulation when in use. Other rakes can go as high up as 15 lbs with most of the weight in the blade. Heavier blades are better at cutting into the snow. However, snow rakes that are too heavy will be difficult to lift each time you want to cut into the snow. They can also easily damage the roof shingles if not done right.
Roof Protection
While most rakes are too light to damage your roof shingles, they need proper protection from the raking motions. Manufacturers add features such as wheels, rollers or bumpers on the lower edge of the blade to keep the roof in place.
Other Features
Other features to consider include the ease of storage, assembly and disassembly, and other miscellaneous features.
Keeping in mind these aspects will give you the right roof rake for the snow.
Snow Roof Rake Safety Tips
While they look (and should be) easy to use, snow roof rakes should be used with a lot of care. Among the precautionary measures you need to take include the following:
Stand on the Ground
When raking snow or debris off your roof, never attempt to do it when on a ladder. Even when your ladder is properly anchored, avoid it as you're likely to fall off as you struggle with the chunks of snow.
Recommended Reading: How to Clean Roof Gutters from the Ground without a Ladder
Keep a Safe Distance
While raking the snow from the roof, stay away from the base of the roof as much as the rake allows. At all times, ensure you're a few feet from the edge of the roof as falling snow can easily hit you. It maybe fluffy but a large chunk of hardened snow can easily knock you out and damage property.
Protect Your Body from Injuries
There are many chances for injuries when using roof rakes to remove snow from the roof. One is on your hands. If the handle isn't smooth and protected, you can easily prick your hands while working. You can use gloves to prevent this type of injury.
The other injuries are muscular injuries. These are in the arms and the back and come from improperly using the rake. These injuries can be prevented by choosing the right weight of the snow roof rake to put less pressure on the arms and back. Also, stand with your feet apart preferably with one foot ahead of the other. If you're right-handed, the right hand should be at the end of the handle, the right foot behind the left foot, and the left arm in front of you.
Other Safety Measures
Other safety measures to put into perceptive include these:
Wear the right cloths for the exercise. These include warm clothing and the appropriate snow boots to keep you properly in one position as you work.
Always inspect your roof before the snow season comes in. This helps you identify the problem areas to be fixed or to avoid using the roof rake with.
Remove smaller chunks of snow at each turn. This is easy on yourself and prevents damage to any objects below the roof.
Avoid power lines at all costs. Besides risking electrocution, cutting them will take out the power.
FAQs
How do you Rake Snow on a Roof?
You stand with the rake in your hand with the blade towards the roof and facing downwards. Starting with the area closest to you, you cut off small chunks of snow then pull them towards yourself and off the roof. This works best for pitched roofs. Always observe the safety measures above.
Should you Rake your Roof?
You should rake your roof each time it gets more than 6 inches of snow. Any snow more than that could damage the roof due to the excessive weight.
Do Roof Rakes Damage Shingles and other Roofing Materials?
If not done carefully, the roofing materials can be damaged with the raking motions. The best solution to this is having a roof rake with rollers or wheels.
For any type of roof rake, always have a feel of the raking motion. Snow should fall off easily once cut by the blade of the rake. If you feel heavy resistance, chances are high that it's stuck on a shingle or other roofing material. Simply lift it up to prevent further damage.
More on Roofs
As an Amazon Associate, we earn from qualifying purchases. Details here