Having the right tools can make cleaning gutters on the second or third floor fast, safe, and less tiresome. Some of the best gutter cleaning tools for 2-story or 3-story houses include telescopic poles, pressure washer extension wands, ladders, leaf blowers, gutter scoops, scrub brushes, and safety kits to protect you from injuries.
Story buildings are normally high. This height makes it quite unsafe and challenging to clean the gutters. Ensure you have a helmet, goggles, gloves, safety harness, and any other necessary protective clothing or tool to keep you safe.
Your safety is paramount; you may risk falls when using ladders. Even when cleaning from the ground without a ladder, some tools involve the blasting of dirt and debris that can land on your eyes, head, or any other part of your body.
Following is a list of these tools with a guide to help in your shopping process.
GutterMaster Pro Telescopic Gutter Cleaner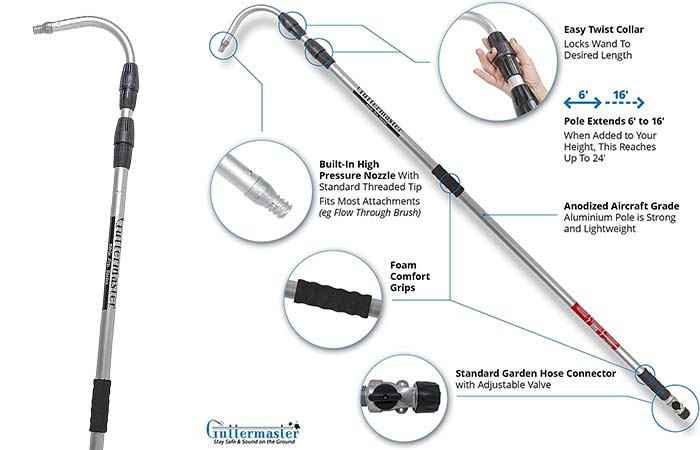 This telescopic water-fed pole makes the tedious seasonal chore of gutter cleaning easy and quick. It eliminates the use of ladders and all efforts you'd require to manually remove dirt in your gutters.
Guttermaster water wands are ideal for flushing out pine needles and leaves leftover from the autumn. All you need is to clean out your downspouts first, then move on to spraying out the horizontal gutters.
This curved wand measures 16″ fully extended. Combined with your own height, this is long enough to reach most second-story gutters.
Water pressure from the pole depends on the water pressure of your own hose and you can control it using the variable flow control valve.
It is easy to use-requires no special accessories or instructions. Just connect it to your hose, and the gutters will be free of dirt in no time.
The pole is designed to fit with most standard garden hoses, so no special attachments are needed.
DocaPole Gutter Cleaning Pole +20 Foot Gutter Cleaner 3-story House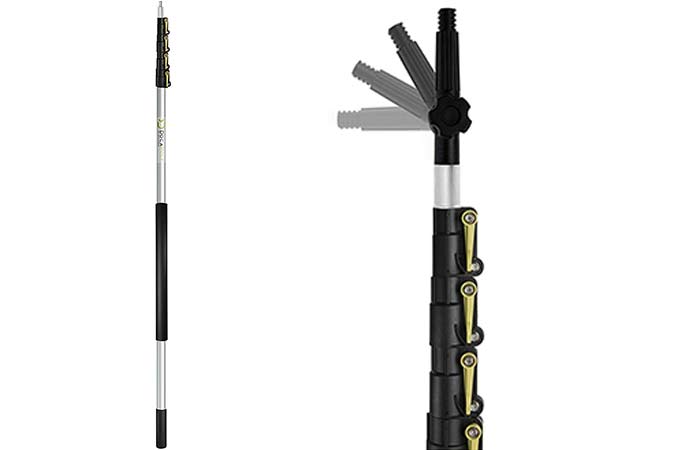 This is one of the most versatile and highly-sought multi-purpose telescopic poles in the market today. Lightweight and extending all the way to over 30 feet, it is the perfect solution for all the high and hard-to-reach roof gutters that would require costly ladders or multiple poles.
The pole is made out of lightweight, high-quality aluminum which makes it strong and durable.
Length adjustment is safe and easy even when extending in an upright orientation. The pole collapses down to 7 feet for simple access in tight spaces as well as for storage and transport.
The manufacturer also offers 12ft and 6-24ft versions of this pole.
The following are features that docapole comes with.
Quick-Release Thumb Levers
Quick-release Thumb Lock Levers allow for rapid pole length adjustment (no cumbersome twist locks)
Adjustable clasp locking tension is fine-tuned with a Phillips head screwdriver to suit preference
Collapses down to 6 feet for safe, easy access to tight spaces and for convenient storage and transport
Easy upright extension solves a greater range of tasks in confined spaces (unlike other more limiting designs requiring horizontal extension before raising)
Metal Tip for Strength
Solid Metal Tip provides strength for a secure connection with standard threaded accessories
Compatible Tip for use with the wide range of other cleaning accessories and all standard ACME threaded attachments
Adjustable Angle
180° Adjustable Hinge Tip accessory attaches to metal tip when needed for challenging angles and hard-to-reach tasks
Positive Lock Knob dials in the perfect angle for jobs like clearing gutters and dusting high surfaces
Comfortable, Confident Grip
Padded Foam mid-pole for comfort and balance
Rubber End protects and provides a confident grip
Versatility
In addition to gutter cleaning, the docapole can also be used for the following tasks
Home and roof inspections
Rake roof
Retrieve toys stuck in pools and trees or on roofs
Saw dangerous overhanging branches that can clog gutters
Wash 2nd and 3rd-floor windows as well as entryway and large bay windows
Scrub house panels and siding
Clean solar panels
And many other outdoor/indoor hard-to-reach tasks
Docapole multi-purpose telescopic pole is for sure the ultimate high/far-reach solution. The only downside is that it may be quite challenging to clean gutters with guards and you really can't see what is exactly is in the gutters.
jOYjOB Pressure Washer Wand Extension Gutter Cleaner Kit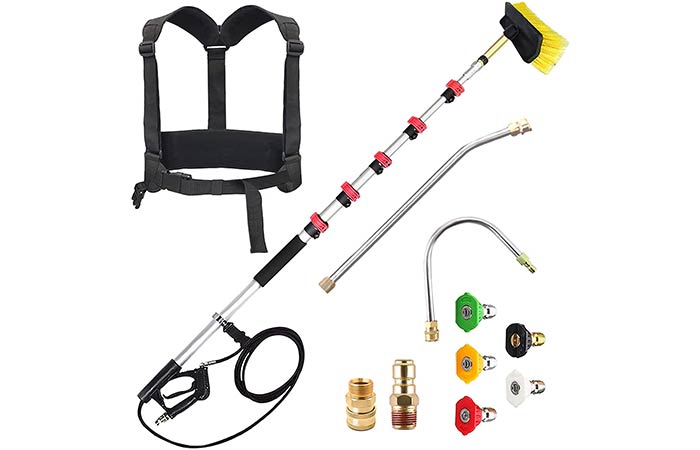 The JoyjJOB telescopic pressure washer wand is made of thicker aluminum tubes to avoid leaks. The aluminum also makes it durable and lightweight. It includes a brush for cleaning other areas including walls, siding, pool etc.
In terms of performance, the power washer spray gun has an ergonomic grip and the wand can extend from 4 ft to 18 ft (a 20 ft option is available)making it easy to work with. From the ground, you can comfortably clean your 2 or 3-story house.
It comes with a pressure washer harness that helps reduce pressure on your arms. The handle is quite comfortable allowing you to work for long time without getting tired.
It is easy to assemble and disassemble the 5 sections telescoping extension wand; thereby fitting into any storage space, and saving space for you
One major downside is that it costs much higher than the other telescopic power washer wands
Ezy Flo High Reach Gutter Cleaning Kit
This tool has a retractable pole that can be extended up to around 16 feet which makes it convenient for cleaning gutters high above the ground.
It uses high-pressure water ejected from an adjustable nozzle, ideal for cleaning debris and even clogged gutters.
This tool also comes with a stiff brush that can be used for scrubbing sticky dirt. The equipment is designed from high-quality aluminum metal which makes it durable and lightweight.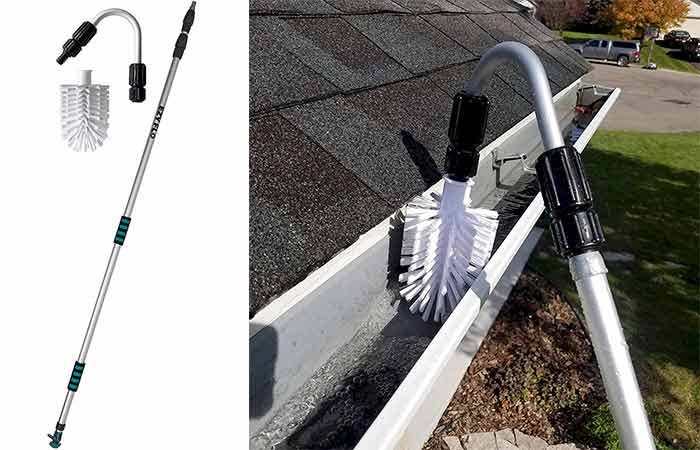 Pros
It is safe to use without the need for climbing a ladder.
Its design makes it effective for cleaning gutters.
Lightweight and durable.
Easy to assemble and disassemble
Cons
The water inlet valve connection to the hose does not fit to some available pipe designs.
You cannot tell how clean the gutters are immediately after cleaning unless you use a ladder or a gutter inspection camera
Telescopic Gutter Cleaning Wand Tools: Orbit & Melnor-Vortex
Cleaning wands work by utilizing water pressure to sweep away leaves, pine needles, and any other form of dirt from your gutters.
Orbit Cleaning wand
This is a retractable cleaner that can be extended to cover a substantial height from the ground. It is specifically designed to clean the hard-to-reach places on the roof including gutters.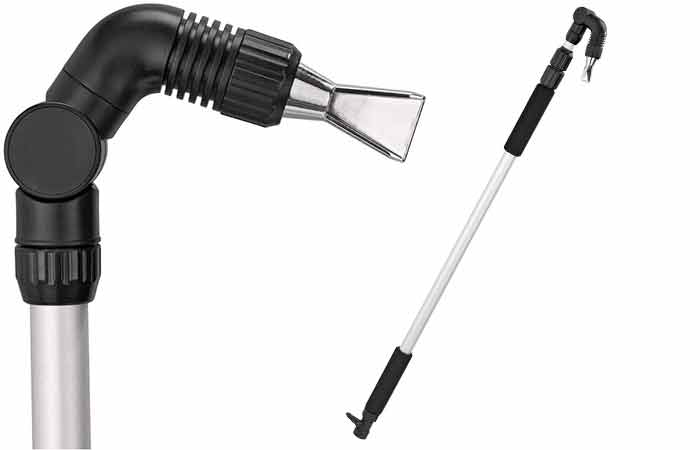 It has a 4-point ratcheting head that is connected to a sweeper nozzle for efficient and easy cleaning. This nozzle is made of zinc metal for maximum durability.
Features
Shaped nozzle that creates a powerful sweeping spray
Extends up to 72″ and the head pivots 360° to enable cleaning gutters and hard-to-reach areas
Strong aluminum construction and non-slip foam grips make it easy to hold
Easy to operate flow control dial
Pros
It is safe as cleaning is done from the ground.
The equipment is long-lasting which makes it cost-effective in the long run.
The rotating nozzle makes it easy to clean inaccessible places of the gutter.
It has a lightweight design which makes it easy to maneuver.
Cons
Learning how to effectively use this equipment might need a lot of time and practice especially to clean the high up gutters.
You might need an additional extension tool or ladder for very high gutters
The Melnor-Vortex Cleaning Wand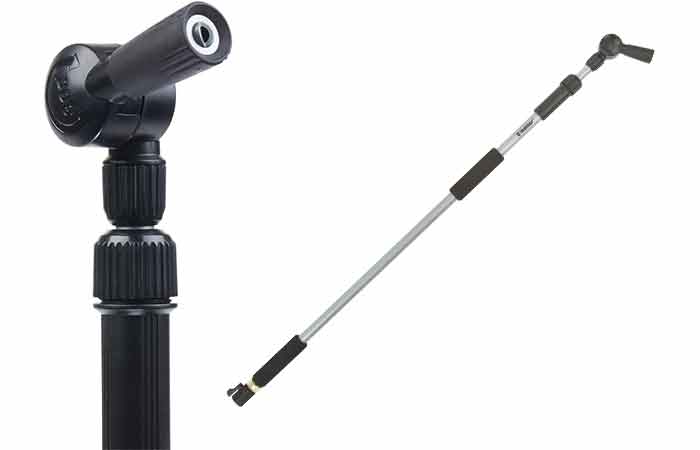 This gutter cleaning tool works by blasting away debris from your clogged gutters. Interestingly, it is not a pressure washer, but instead maximizes your faucet's water pressure in a flat fan-like spray pattern that acts like a liquid broom. The greater your water pressure (40psi or more), the better the cleaning wand performs.
Features
The wand is fully adjustable in length from 40″ out to a maximum of 72″.
The head rotates a full 360 degrees which makes it easy to clean the hardest-to-reach locations like behind the garden furniture on your patio or those hard-to-reach downspouts.
Made with Melnor's quick connect system makes connecting and disconnecting watering tools a snap. Includes an adapter that stays in place on the wand so it's easy to attach to the hose end when you need it.
When not in use with a quick connect system, simply attach the threaded end of the wand to any standard garden hose
The rod itself can be extended to cover up to 16 feet to increase the height accessible from the ground.
Pros
You do not need a source of expensive pressure for cleaning
Versatile
Easy to use
Can reach hidden parts of the gutter
Lightweight and durable
Cons
Low pressure for heavy dirt
Relies on your faucet's water pressure.
AgiiMan Gutter Cleaning Tool Pressure Washer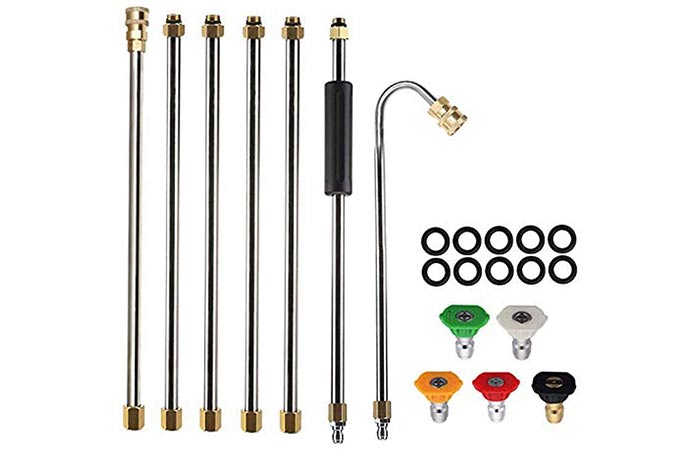 This is an easy-to-operate, install and disassemble gutter cleaning tool made of long-lasting brass and stainless steel. Working pressure and temperature of up to 4000 PSI 140 ℉ respectively.
The AgiiMan cleaning tool consists of 6 straight rods to facilitate adjustability. It includes one curved rod to ensure you can easily access hidden surfaces. The rods can extend to a total length of 102 inches(8.5 ft)
It comes with 5 high-quality nozzle tips for many different uses; soap nozzle and 40, 25, 15 and 0 degree nozzles.
The extension features a non-slip handle that provides a comfortable grip and prevents it from slipping down, elongating the service life of the pressure washer
It also comes with 10 quality O-rings that provide excellent sealing performance for enhanced leakage prevention and easy replacement
The brass connector provides a high-quality fit without leaking at all. You can attach it to the end of any rod without the use of any adapters
The extension wand has M22 14mm male thread end and it can change to 1/4" quick connect with included coupler.
Can be used with a pressure washer gun, pressure washer machine foam cannon, water broom, surface cleaner and cleaning brushes.
Complete Package includes
6 x Straight Wands, Each Wand Length: 15 inch
1 *x gutter cleaner
10 x O-Ring Washers
5 x Different Degree Color Spray Nozzle Tips, red: 0°, yellow: 15°, green: 25°, white: 40°, black: 65°
An alternative to Agiiman gutter cleaner is the Selkie Pressure Washer Extension Wand. The only difference is that selkie costs more but it comes with more rods.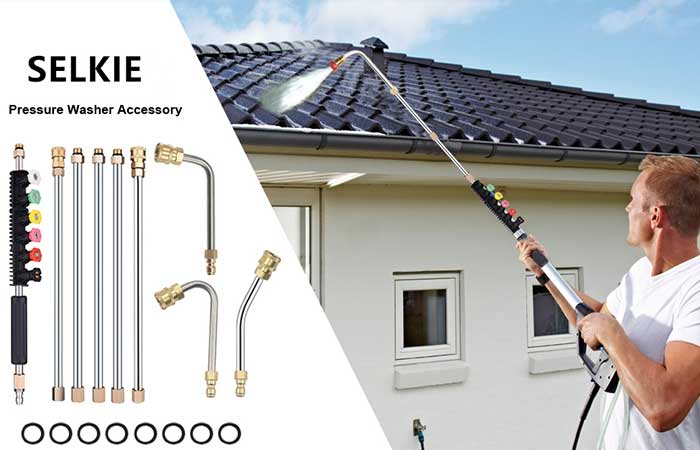 Ladders: Little Giant Velocity & Louisville FE3232
Some gutter cleaning tools do extend enough to reach gutters on 2 or 3-story houses. This calls for a stable, safe ladder that is tall enough to make accessing the roof easily. Louisville and Little Giant are some of the reputable ladder manufacturers in the market. Ladders from these two brands meet all OSHA and ANSI standards.
The Louisville FE3232 and Little Giant Velocity M26 are the most ideal ladders for two-story gutter cleaning. Following is a highlight of the features that these ladders come with.
Little Giant Ladders, Velocity with Wheels, M26, 26 Ft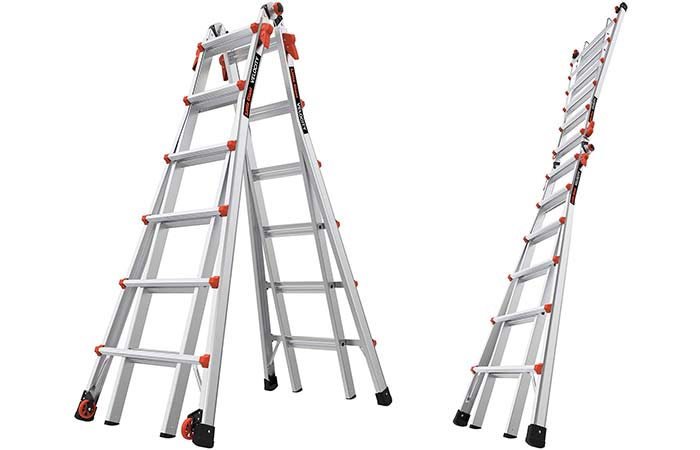 Features
Multi-position ladder converts to A-frame, extension, trestle-and-plank, 90-degree and staircase with ease
Rock Lock adjusters quickly alter your ladder into different configurations
Tip & Glide wheels for easy transport from job to job
Weight capacity 300 pounds
Lightweight constructed of a special alloy
A true two-person ladder
Louisville Ladder FE3232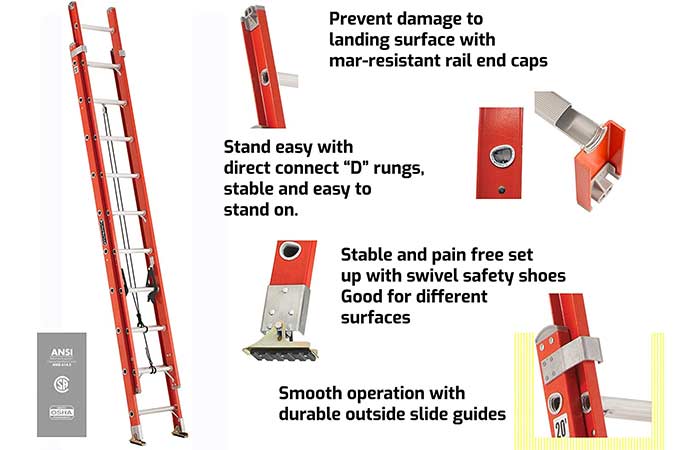 This ladder comes in an elegant design and smooth finish. They are lightweight, sturdy, durable, and reliable.
FIBERGLASS is non-conductive when clean and dry
300-Pound load capacity.
Comes with options that extend up to 40 ft. Ideal for 2and 3 story roof gutters
Swivel Safety Shoe with Metal Shield for safety and stability
D-Shaped Rungs are easier to stand on and add more comfort
Mar-Resistant Rail End Caps to protect your landing surfaces
Further Reading:
Gutter Cleaning Brushes
Gutter cleaning brushes are ideal for getting rid of light dirt such as leaves and dust from your gutters. To use a brush, all you need is a ladder to climb up to your roof and then manually clean the gutters.
You can as well attach the brush to an extension/telescopic pole like the docapole and then simply do the cleaning while standing on the ground.
Some of the best brushes for your gutters include;
Daisypower Gutter Cleaning Brush with Telescopic Extension Pole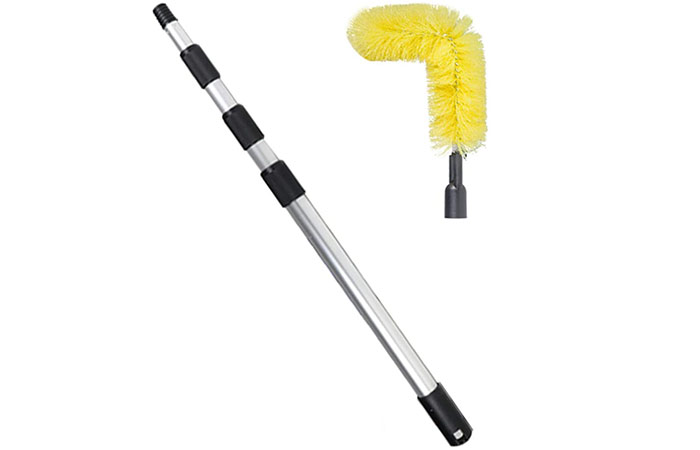 This is a special angled/bent brush designed to reach the dead spots of the gutters fast and clean
It comes with a telescopic pole that can extend from 2ft to 5.5ft making accessing your gutters (first floor) easy without a ladder. It collapses to 2ft; short enough for easy storage
Nylon brush and pole, strong enough to remove big chunks of leaves and debris.
UNGPIPE – StarDuster Pipe Brush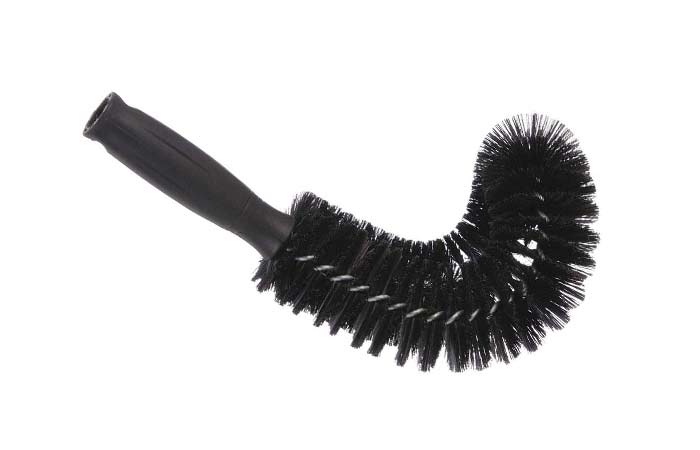 This brush is angled and sturdy. It is ideal for cleaning leaves off gutter covers or guards. It fits standard extension pole threads. For two/three-story-house gutters, you will need a longer extension pole or a ladder.
Gutter Sense Cleaning tool
This tool is used with a pole for scooping dirt from the roof gutters. The tool is designed with a plastic scoop pivoted at an angel and controlled by a set of strings operated from the ground. At the pivot is a screw where the extension pole is attached.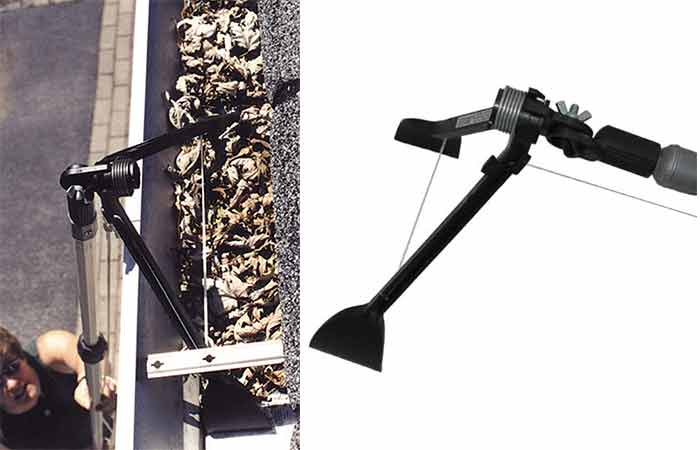 This equipment is capable of cleaning all types of dirt from the gutters including large leaf particles, small dust particles, and even pine needles. The prongs can comfortably open up to cover up to 14 inches of dirt space at a go.
Pros
It is lightweight.
This tool is quite effective as it leaves the gutters very clean.
It does not involve climbing a ladder.
It is cheap to acquire and hence cost-effective.
Getter Gutter Scoop Kit
Gutter Getter Cleaning Kit is one of the most effective tool for scopping. You can use it to rake the dirt from the gutters, then use the scooper attachment to collect and discard the dirt away at a place of your convenience.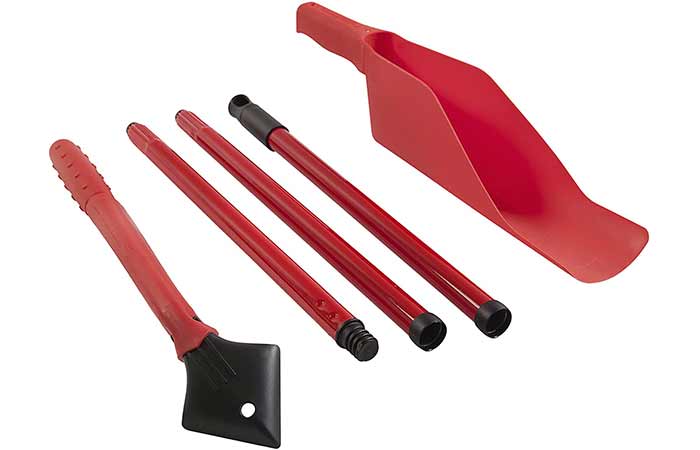 The packaging of the tool includes a gutter debris remover and an extension handle. The tool design is durable and long-lasting for heavy performance.
Pros
It has a competitive price
It has a great quality design.
It is simple to use
The size is small which makes it convenient and easy to fit under the gutters frames.
Cons
The scoop design is somewhat unreliable.
You will need a ladder for high gutters
Leaf Blower Extension for 2nd Story Gutters Cleaning
Another to clean gutters on 2-story house is to use a lead blower or vacuum. Unfortunately, it may be quite challenging to get your blower or vacuum to high areas. The solution is to use extension kits alone or with a ladder.
Further Reading: How to Clean Gutters with Leaf Blower
The following are some of the best extension kits for blowers and vacuums
BLACK+DECKER Gutter Clean Attachment for Blower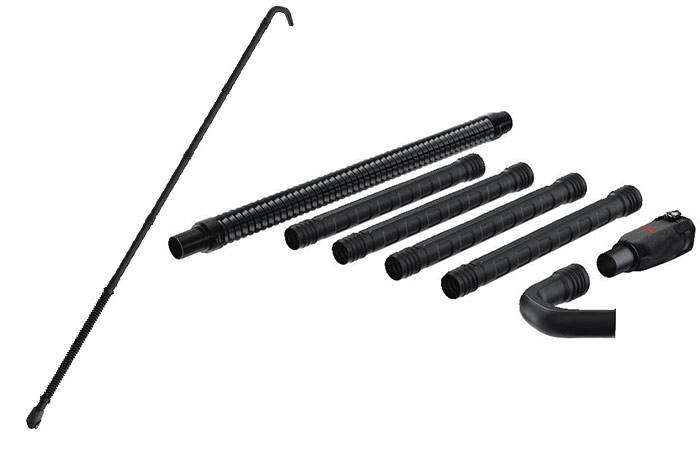 Attachment system designed to fit most blowers for lawn care
Quick-connect extension system includes 4 tubes for up to 12 feet of reach (Based on a 5'11" person holding the pole in a straightened position at chest level)
Flexible tube allows for maneuverability while in use
Clean leaves and debris from the gutter while standing on the ground
Ideal for blowing leaves and debris from gutters
Husqvarna Leaf Blower Kit
This is an extension kit that can be attached to a blower to help clean dry leaves and twigs from gutters. It has four extension tubes that can be used to extend the length to cover up to 12 feet from the ground. This means that in order to access the 2 story gutters, it might require the help of a short ladder.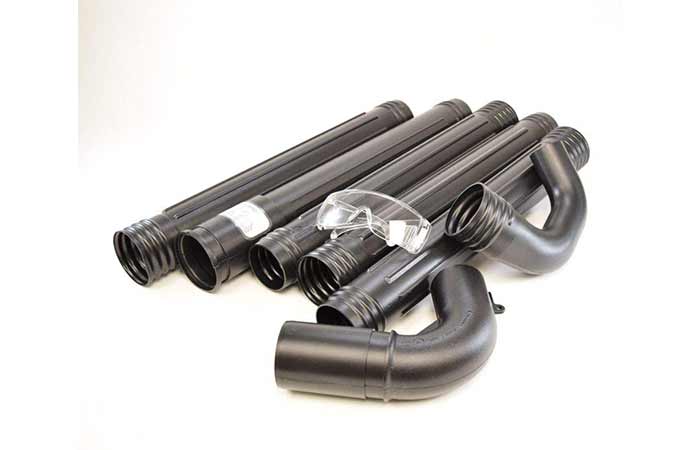 Pros
The price is very friendly.
It is very effective for cleaning dry leaves and pine needles.
It is easy to use and fits with any leaf blower.
Cons
It requires a ladder to access 2 story gutters.
It is not convenient for clearing wet debris and vegetation.
Toro 51677 Gutter Cleaning Kit
The Toro gutter cleaning kit is a convenient tool that can help clean gutters without the use of a ladder. This equipment works with a pressure cleaner or a vacuum cleaner.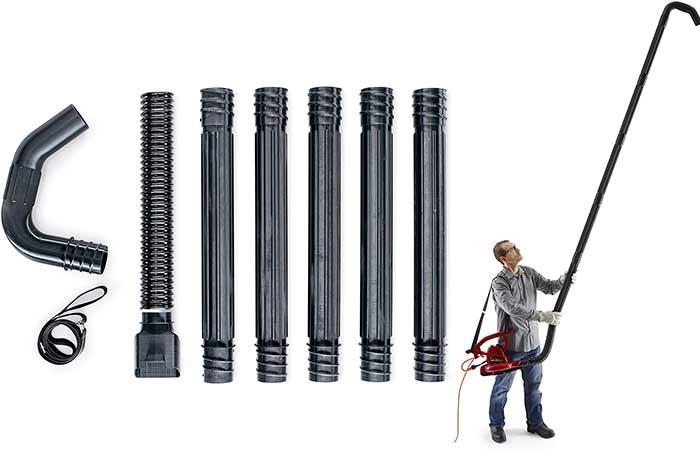 The kit is packaged with a shoulder strap, a connection collar, a gutter nozzle and 5 extension tubes that enable the user to access heights of up to 103 inches high.
The connection collar is used to fit the cleaner tubes to the vacuum machine or the pressure cleaner. The kit is compatible with the majority of the standard blower models in the market. The shoulder strap makes the kit easy to handle when in use.
Pros
It can remove wet clogged leaves and debris from the gutters.
It is easy to assemble and disassemble.
The kit is made from tough material which makes it long-lasting.
It works very fast and reduces the time spent on cleaning.
Purchasing the kit is easy and hustle-free and the company offers excellent customer service.
It is safe to use since no climbing is involved.
Cons
It might prove challenging to effectively clean the gutters at full stretch of the kit using all the extension tubes.
This method requires the use of a vacuum cleaner or a blower hence energy is consumed.
Water Rocket Eavestrough Gutter Cleaner
This is a small device with an interesting rocket design that can be used for cleaning gutters by the use of high-pressure water. As the head of the rocket moves through the gutters, it blasts away the leaves and dirt and clogs that are blocking the gutters.
The high-pressure nozzle is attached to the water garden hose and placed on the gutter. The rest is accomplished automatically as the nozzle works its way through the gutters and eaves. This equipment can also be used to clean tiles, drains, and clogs. The nozzle is designed to be compatible with any garden hose through the inlet valve.
As the nozzle moves through the gutters, it produces jets of high-pressure water ahead and backward which help to move the nozzle through the dirt and push the debris away from the gutter down the spout.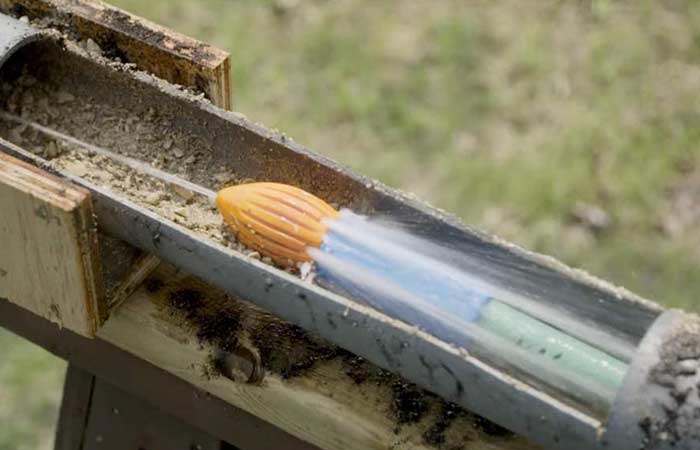 Pros
It is one of the least prices for gutter cleaning devices.
It works fast enough.
It can be used to clean even very stubborn clogged troughs.
Cons
It is quite inconvenient during the cold weather as the water may not work properly.
Gutterwhiz Cleaning Tool
The Gutterwhiz cleaning tool is a relatively cheap and effective tool used for cleaning gutters without the use of a ladder. It works the same way as gutter sense cleaning tool.
Cleaning is done by two prongs operated using a rope that is attached to the tool and extends down to the ground.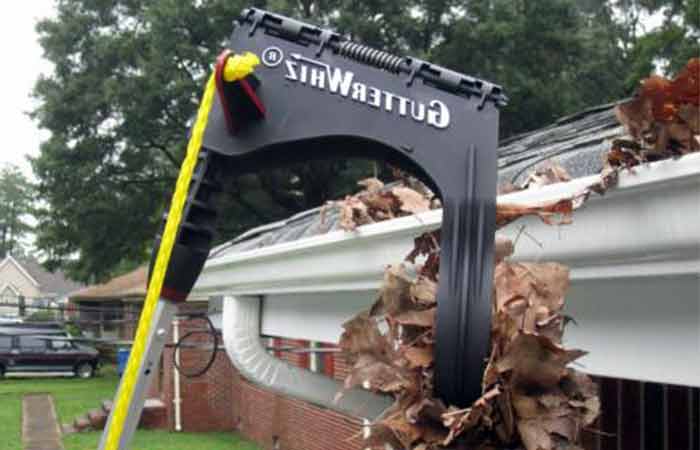 As the rope is pulled by the user, the two prongs close and pick up the dirt from the gutters. The tool is manually operated and does not require a power source such as electricity or gas.
The packaging includes safety eyeglasses to protect the user's eye from falling debris and dust. The cleaning prongs are supported by a pole that is attached to the pivot of the prongs. The length of this pole is selected according to the height of the gutters.
Pros
It is relatively cheap and affordable.
It is easy to use without the need for technical expertise.
It is designed with durable material which makes it long-lasting.
It has an attractive design.
It does not require a ladder.
Cons
It cannot clean small dirt particles.
There is no proper method for disposing of the collected dirt.
The warranty period is very short.
Three/Two Story House Gutter Cleaning Tool Buy Guide
Following are some of the factors you should consider when selecting the right gutter cleaning tool for 2 or 3-story building

Safety
Prioritize safety when choosing gutter cleaning tools. Opt for tools that minimize the need for climbing ladders, such as pressure washer attachments with extension wands or gutter cleaning kits designed for ground-level use. Always follow safety guidelines, wear appropriate protective gear, and exercise caution when working at heights.
Accessibility/Tool Length
Consider how you are accessing the gutters on the second/three story. If you intend to use a ladder, ensure you have a safe and sturdy ladder that is tall enough to reach the gutters comfortably. If you prefer to clean from the ground, look for tools that provide sufficient reach, such as gutter cleaning kits for pressure washers or telescoping tools.
Cleaning Method
Determine the cleaning method you prefer or find most effective. For instance, tools like gutter scoops or brushes, rely on manual cleaning and require you to be on a ladder. On the other hand, other tools such as wet/dry vacuums or gutter cleaning tools for pressure washers, offer alternative cleaning approaches.
Tool Quality and Durability
Invest in high-quality tools that are durable and built to withstand regular use. Look for tools made from sturdy materials like stainless steel or durable plastic. Read customer reviews and consider reputable brands known for producing reliable gutter cleaning tools.
Tool Design and Unique Features
Look for features like adjustable handles or extension wands that allow you to customize the length and reach of the tool. Ergonomic handles and grips can enhance comfort and ease of use during prolonged cleaning sessions.
Compatibility
Ensure that any additional tools or attachments you consider are compatible with your existing equipment, such as garden hoses, pressure washers, or wet/dry vacuums. Check the specifications and requirements provided by the manufacturers to ensure a proper fit.
Budget
Determine your budget for purchasing gutter cleaning tools. While it's important to invest in quality tools, consider options that fit within your budget. Compare prices, features, and reviews to find a balance between cost and value.
Maintenance and Storage
Take into account the maintenance requirements and storage options for the tools you plan to purchase. Some tools may require occasional cleaning or maintenance, while others may need proper storage to prevent damage. Ensure you have the necessary resources and space to care for your tools properly.
Type and amount of dirt to be cleared
The type and amount of dirt to be cleared from the gutters vary from large leaves and twigs to small thin pine needles or sometimes it might include clogged gutters that have layers of mud and even growing vegetation. All these might require different tools.
Weight of the tool
The weight of the tool must be determined based on the working height. Consider tools made of lightweight materials to avoid excess fatigue when cleaning at heights.
Pressure
You need a tool that would provide enough pressure, especially when using a pressure washer. This is because, in order to access the second-story gutters, extension tubes are connected between the nozzle and the outlet valve of the washer. As more tubes are added, the pressure keeps dropping and this might lead to the washer being ineffective.
By considering these factors, you can make an informed decision when buying gutter cleaning tools for your two or three-story house. Remember to prioritize safety, choose tools that suit your cleaning preferences and needs, and invest in durable options that will serve you well over time.
More on Gutter Cleaning
As an Amazon Associate, we earn from qualifying purchases. Details here