With the right attachment or extensions kits, a leaf blower can be an excellent way to easily and safely remove dry leaves, twigs and debris from your gutters without having to climb on the roof. However, a ladder is necessary when inspecting your gutters before a thorough cleaning.
Some of the most common leaf blower attachment for gutters include plastic tubes that extend the length of the blower mouth, different-style nozzles and leaf collection system.
Following is a detailed discussion on the best leaf blower gutter attachment and extension kits, the best leaf blowers for gutters, DIY options, how to blow away dirt from your gutter and more tips.
How do Leaf Blower Gutter Attachments Work?
A leaf blower simply works by releasing a narrow air stream from its nozzles to blow away the leaves and any other form of debris from the gutter. Some blowers can also suck in leaves and small twigs via a vacuum, and shred them into a bag.
The extension kits make the blower a quick and flexible way to clean your gutters from the ground without having to use your hands or roof rake.
This gutter cleaning method is also cheaper compared to other cleaning methods and prevention measures. And once you're done with your blower, you can use it for other tasks around your home.
However, using leaf blower attachments with the debris collection bag is quite messy because the dirt is spread all over the place; on the surrounding ground and on the roof itself.
Leaf Blower Gutter Attachments & Extension Kits
The following is a list of the most popular leaf blower gutter attachments in the market.
Stihl Leaf Blower Gutter Attachment
The Stihl kit comprises a series of plastic tubes attach to your STIHL handheld blower. It is great for removing dry leaves and debris.
It can extend to more than 20 feet, providing the additional extension needed to reach most residential gutters. This leaf blower extension can work for 2nd story gutters.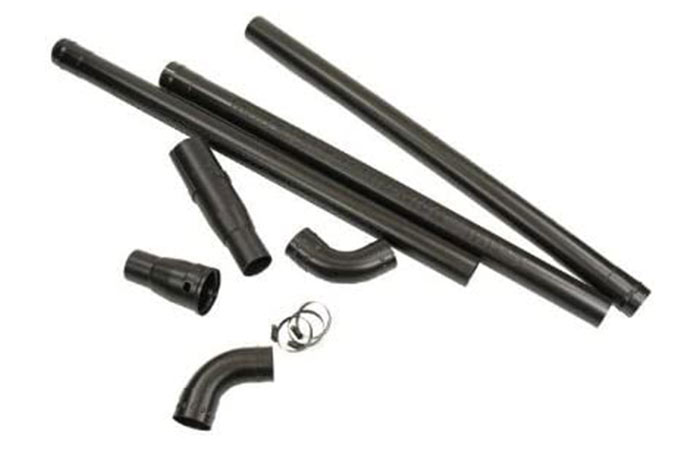 Echo Leaf Blower Gutter Attachment
The Echo cleaning kit is another popular blower extension kit you can use to blow leaves, twigs and other debris out of your gutters. It comes with a maximum height reach of 15′.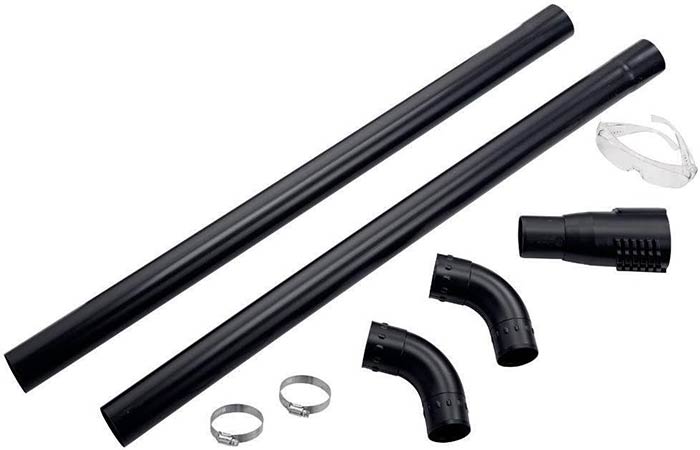 It is ideal for homeowners, especially with single story homes.This kit includes two 7-foot straight extension tubes, adapters, adjustable elbows and clamps. It connects to your ECHO blower or Shred 'N' Vac unit.
Universal Leaf Blower Gutter Attachment
The Worx GutterPro universal gutter cleaning kit comes with easy-to-assemble tubes that connect to most major brands' gas, electric or cordless blowers.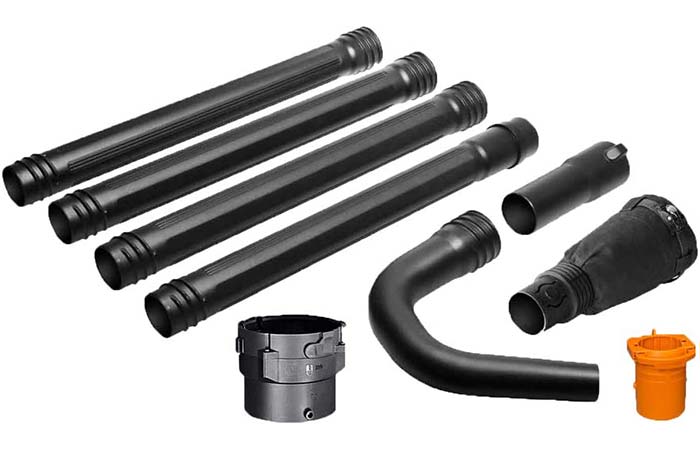 This kit provides premium airflow capable of safely clearing dry leaves, pine needles and other debris from gutters. The hooked nozzle allows to clean hard to reach gutter sections.
With this kit, you can extend your reach up to 11 feet, meaning you can work from the ground
Best Leaf Blowers for Gutter cleaning
Some of the best leaf blowers include;
EGO Power+ LB6504
The Ego's nearly 30-minute run time is among the longest of the cordless blowers. It has easy-to-use controls, a lot of power to clean wet leaves in your gutters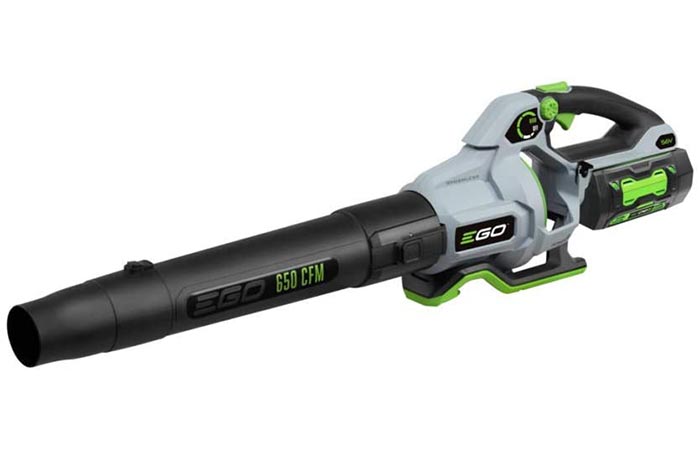 Check current price and Reviews on Amazon
Turbo Button delivers a staggering 650 CFM
Variable-speed control dial delivers 225-500 CFM
Over 90 minutes of run time: 15 minutes on Turbo; 200 minutes on low with 5.0Ah Battery
BLACK+DECKER 2-in-1 Cordless Sweeper & Vacuum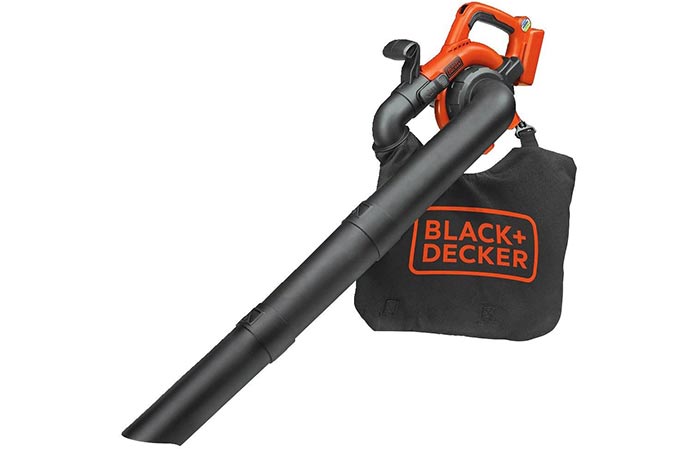 Check current price and Reviews on Amazon
Light weight battery-powered leaf blower that can be easily converted to vacuum mode for quick and easy vacuuming of debris from hard surfaces without the hassle of a cord.
Poulan Pro PR48BT Backpack Leaf Blower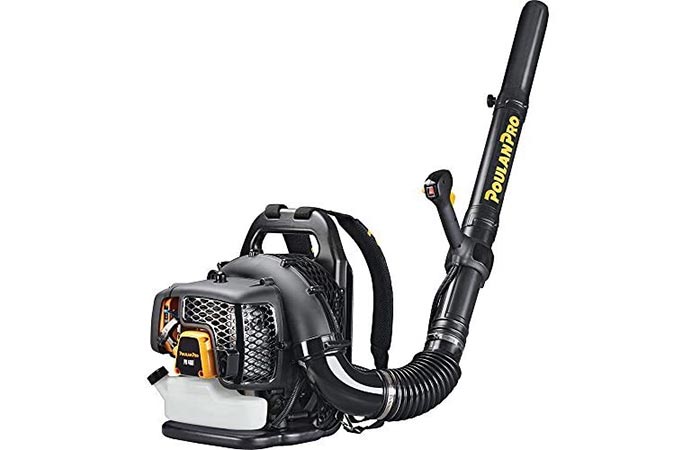 Check current price and Reviews on Amazon
This lightweight blower is packed with all sorts of load-reducing harness for optimal fit, superior comfort, minimal strain, and reduced fatigue for users of any size.
200 mph/475 cfm with a cruise control and heavy-duty frame
WORX WG584.1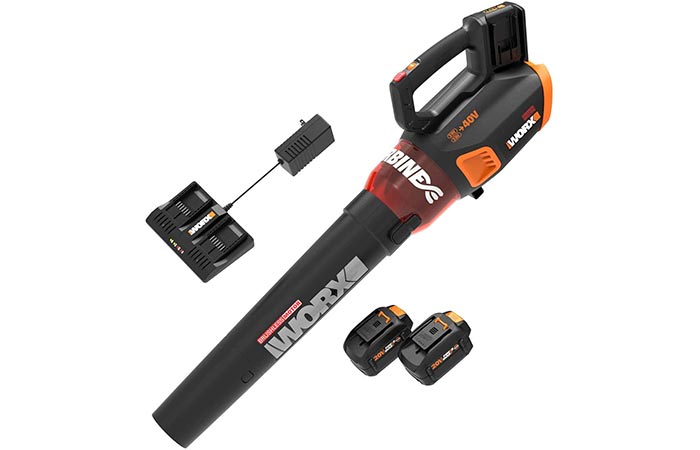 Check current price and Reviews on Amazon
The Worx blower has a lightweight and ergonomic design for easy one-hand operation.It comes engineered with TURBINE technology that delivers up to 430 CFM of air velocity
It also features a 3-speed control with TURBO boost to blast leaves off any surface.
Husqvarna 2-Cycle Professional Gas Backpack Leaf Blower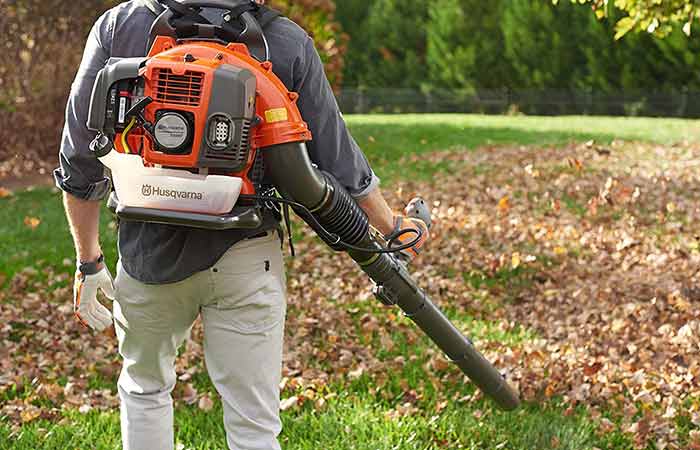 Check current price and Reviews on Amazon
This is one of the best-selling backpack leaf blowers. Powerful clearing performance featuring 434 CFM Air Volume and 251 MPH Air Velocity
Features X-Torq engine design reduces harmful exhaust emissions by up to 60% and increases fuel efficiency by up to 20%
Selecting the Best Leaf Blower for Gutter Cleaning
A good leaf blower should be safe, portable, fuel/energy efficient, less noisy, with enough speed and airflow to blow gutter debris and one with a strong build that will last.
In terms of size (small and medium), power) and designs/style the blowers for gutters include;
Handheld Leaf Blowers– Compact, lightweight, maneuverable and versatile. Ideal light snow and debris including dry leaves and dust. It lacks the power to blow large debris away
Backpack- There blowers are medium-sized and they with more power and longer run time. Can easily blow away wet leaves, twigs, pebbles or soil in gutters.
There other types, known as blower vacs, that can also suck in leaves and small twigs via a vacuum, and shred them into a bag.
How to Clean Gutter with Leaf Blower
When using a leaf blower to clean your gutters, you can either use the blower with a ladder or use extension kits with blower to work from the ground.
Ladder and Leaf Blower Method
Using a ladder is the most straightforward way to clean your gutters. The basic items you need include
The right ladder,
Protective gear, Gloves, Goggles, Helmet, Shoes, ear protection, Harness etc.
Blower
Method
Set up the ladder properly- position it in a manner to allow work to be done towards the downspout.
Put on the protective gear.
Using the ladder get onto the roof
Carefully walk along the edge while blowing the leaves out of the affected gutters.
Alternatively, you can blow out the debris while on the ladder. This means you have to move the ladder after completing each section
In cases where the gutter has many leaves, use the end of the blower to first scoop out leaves before blowing the leaves.
The advantage of using a ladder is that you can see the amount of dirt in your gutter. Thus, you can be sure that everything is cleaned up.
However, using a ladder can be dangerous since accidents can occur resulting in serious injury. Using a ladder can also be quite boring and time consuming especially if you have to climb down to move the ladder after completing one section.
Using Extension Kit and a Leaf Blower to Clean Gutters
This is a safer method compared to using a ladder since you remain on the ground while operating the leaf blower.
It involves employing any of the attachments listed above. The extension is attached to the leaf blower, then hold up high the attachment and point the into gutter as you walk around the building.
This method is also quite messy since the debris will be blown all over from above. It is recommended that you have goggles and helmet on to protect you head and eyes from the the falling debris.
Since you cannot see into the gutter directly, this method isn't as effective as using the ladder. It is recommended to you repeat it at least twice just to ensure that most of the leaves are blown out of the gutters.
Both of these methods are preferable for dry leaves and debris. In situations where leaves are mixed with soil and growing plants, leaf blowers might be ineffective and would require you to remove the dirt manually.
DIY Leaf Blower Gutter Attachment
What is a good mph for a leaf blower for gutters?
At least 190 MPH is a good speed to blow out dry leaves and debris in the gutters. Most handheld blower models that are light, easy to move around, and fit in small spaces come with this speed.
In addition to speed which measures how fast the air is moving, it is important to check the CFM (Cubic Feet per Minute).CFM is basically a way to measure airflow, a high CFM will let you move many leaves at once
Are electric leaf blowers better than gas leaf blowers?
Electric leaf blowers are cheap and low-maintenance machines. They don't require gas and oil, and are lighter and quieter than gasoline-powered blowers.
Gas blowers are, however, more effective and powerful. Some electric blowers are difficult to use since they have long power cords. Gas blowers are noisier and emit smoke, which poses a risk to the environment.
You should also check for the following specific features when selecting leaf blowers
Opt for blowers with narrow nozzles as they efficiently direct leaves in the desired direction.
Select leaf blowers that have durable mulching blades. They rarely get damaged while removing leaves.
Leaf blowers that have vacuums and a powerful collecting bag are necessary when removing wet leaves.
One can opt for backpack models to reduce arm strain while operating the leaf blower.
Safety Precautions while using a Leaf Blower
To provide a leaf blower with a longer lifespan, it is advisable to use it on dry leaves. Windy days can create too much work, therefore, cleaning needs to be done when there is no wind, or when the wind blows in the direction, you want the leaves to collect.
When cleaning a large gutter, divide the gutter into portions to reduce the risk of damaging the leaf blower and make the task of blowing leaves to the desired destination easier.
You need appropriate protection gear for head, ear and eye
Blown leaves and debris can easily get into the eyes and ears. Exposure to continuous noise from the blower affects a cleaners' hearing.
Leaf blowers should remove small quantities of leaves at a time.
Can you use a leaf blower on wet leaves?
Yes, it is possible. To collect wet leaves, direct the bower nozzles to the pile of leaves then blow stronger air streams that can lift and move leaves. You need a high MPH blower to blow away wet leaves effectively.
However, it is easier to remove dry leaves than removing wet leaves. Collecting wet leaves using the blower is not advisable since it may damage the kit especially if has low MPH & CFM.
More on Gutter Cleaning
Gutter Cleaning Tools & Solutions
References
https://en.wikipedia.org/wiki/Leaf_blower
https://www.lowes.com/n/buying-guide/leaf-blower-buying-guide
As an Amazon Associate, we earn from qualifying purchases. Details here