Tiger stripes on your aluminum gutters are unsightly and more pronounced on roofs with bright-colored soffits and dark shingles.
The stripes form when dirt accumulated on top of gutters that do not have covers. The dirt then mixes with the moisture from rain and the air and starts streaming down on the side of the gutters. With time, additional dirt and moisture make the tiger stripes more visible and tougher to deal with. The stripes have nothing to do with the paint or coating on your aluminum gutters.
To clean the tiger strips on your aluminum gutters, use a gentle household detergent with a soft brush. Add bleach if the stripes include some mildew. For stubborn tiger stripes, use specialized gutter cleaning products. You might need a heavy-duty all-purpose cleaner for streaks that are composed of other tougher stains.
Following is a step-by-step procedure to clean tiger stripes, best cleaners plus prevention and maintenance tips that will keep your gutter ever clean.
Steps to Clean Tiger Stripes
The following are the steps to clean tiger stripes on your aluminum gutters.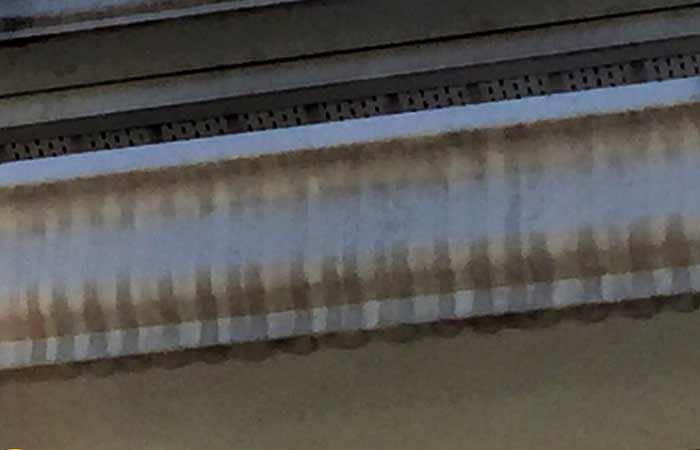 1. Prepare Cleaning Tools & Solutions.
The items you need for this task include;
Aluminum gutter cleaner
Ladder
Goggles, rubber gloves and protective clothing
Scooper
Bucket
Garden hose
Scrubbing brush
Damp cloth or sponge
Extension pole
2. Put on Protective Gear
Use the goggles to protect your eyes, rubber gloves for your hands and protective clothing especially when working with strong chemicals. You might even need a hardhat for your head, especially if you are working from the ground.
3. Prepare the Ground
Some cleaning chemicals can damage plants below the gutters, are toxic to animals and can even harm other objects on the ground. Be sure the ground is clear. Keep away pets and kids.
Do protect the plants around the house and especially under the gutters. Find nylon paper or other material which won't allow the chemicals to reach the ground.
If you've channeled the runoff from around the house to a pond, lawn or other location, re-channel it to another to another safe location.The chemicals in the cleaning solutions can be harmful.
4. Prepare the Cleaning Solution
You have a variety of aluminum gutter cleaners to choose from. The right cleaner will depend on the severity of the tiger stripes.
For mild stripes that have just started forming, especially after heavy rains, all you may need is a powerful stream of water and a wiping material such as a sponge.
For slightly tougher stripes, a gentle household detergent/dishwasher and soft scrubber is sufficient. You can also add bleach to the detergent if there are signs of mildew in the stripes.
For aged, tough, stubborn tiger stripes that may contain other stains, you need a cleaner that is specifically formulated for aluminum gutters. A heavy-duty multi-surface cleaner can also help if there are other tough stains.
Some cleaning products come ready for use while others need preparation. Do follow the directions on each cleaner label. We have compiled a list of the best and most reviewed cleaners in the next section, just after this cleaning procedure.
5. Apply the Gutter Cleaning Solution
The most common ways to apply cleaning solution include spraying, pouring, or using a scrub brush/sponge. Some solutions need some time to soak while others do not.
Each chemical's application process differs from the other. It all depends on how the cleaning product has been formulated by the manufacturer. Thoroughly read through the instructions that come with your chemical of choice for details.
When applying these chemicals, you also have the choice between applying them on the outside of the gutter while standing on the ground or on a ladder. The safer method is using a ladder as it allows you apply from close range and thus avoid getting the chemicals on your body.
Further Reading:
If you cannot access a ladder or you prefer cleaning from the ground, use increase your reach by using an extension pole or use these best tools for cleaning gutters on 2 and3 story house
6. Scrub the Gutters
After the cleaning has broken the stripes, use brush to scrub your gutters, making sure none of the dirt remains there. If the results aren't satisfactory, add more of the chemical then scrub away until you get a sparkling clean gutter.
7. Rinse the Gutters
Once have scrubbed or wiped the stains and dirt, it is time to rinse your gutters. The best way is to use a garden hose that is connected to a water tap or any other water outlet. Spray the water under pressure on the outside of the gutters to wash away any remaining loose dirt.
If do not have a garden hose, you can use a bucket or a water pump sprayer. Do some light brushing to get the best result.
You might also want to rinse the area under the roof for any chemical spills from the gutter cleaning process. Some chemicals, especially those that contain bleach as an ingredient, can damage the walls, roofing and flooring materials.
Clean with large amounts of water with so light scrubbing. If the area under the roof is grass, plants or bare ground, flush it with lots of clean water.
Here are some ideas to make your cleaning procedure fast and effective:
Always remove dirt from the inside of the gutters before cleaning them. This can be anything from leaves, twigs to dust and even nests from birds.
Spray some water on the gutters before you clean the gutters. This breaks down the dirt for easier cleaning.
Use only chemicals which are approved for aluminum surfaces when cleaning the gutters. Some chemicals can be too harsh for the aluminum which might cost you more during repair and replacement.
Use warm water to clean and rinse the gutters as warm water does a better job at removing dirt than cold water. If it is safe, you can also use hot water.
Using water under pressure helps attain better cleaning results Tips to keep the aluminum gutters clean
With these steps and tips, your gutters should be free of the tiger stripes.
Best Tiger Stripes Cleaners for Aluminum Gutters
Below is a list of some of the top products you can use to clean your aluminum gutters.
Chomp Clean Black Streaks Cleaner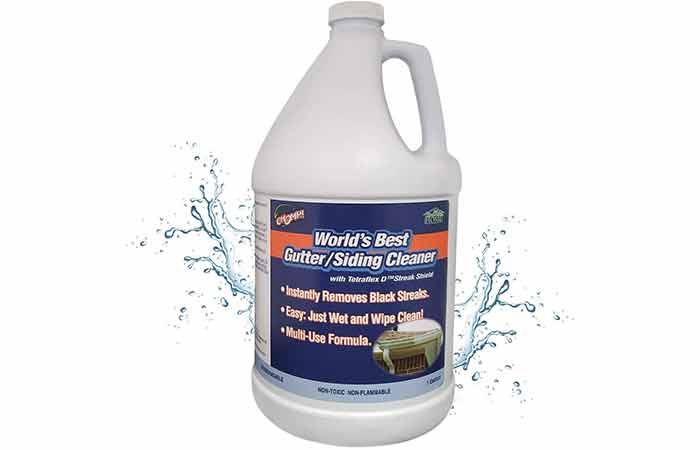 Chomp is a non-toxic and biodegradable cleaner that quickly removes dirt, debris and unsightly stains caused by runoff and oxidation.
You a lot of preparation time. All you need is to apply the wash and wipe or spray clean with a garden hose
Besides aluminum gutters, you can also use it on all vinyl and steel sidings.
Krud Kutter Gutter Wash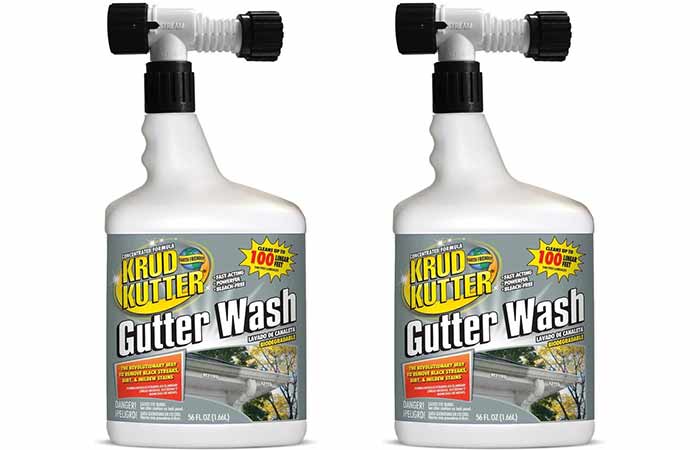 Krud kutter is one of the most effective gutter cleaning solutions. With this cleaner, you can easily remove oil, tree sap, dirt, black streaks, mold and mildew stains, acid rain stains, grime, algae, oxidation and more.
It is Ideal for cleaning and removing stains not only from aluminum but also vinyl, steel, copper or zinc gutters
Biodegradable formula is bleach-free and works in as little as 5 minutes
Hose-mount bottle application eliminates the need for ladders or specialty tools
Oxy Solve House and Siding Cleaner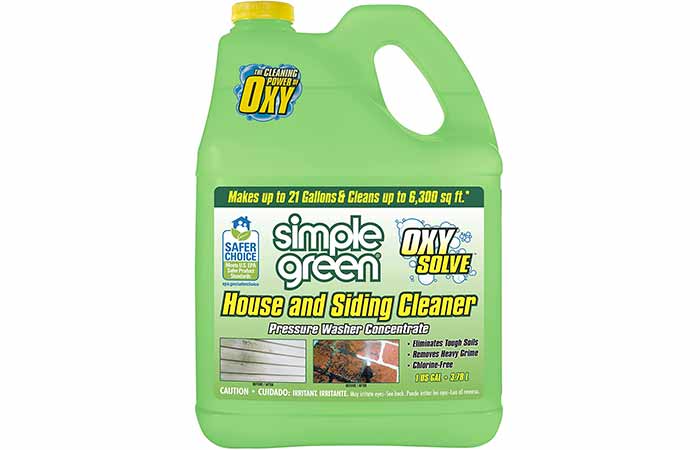 Simple Green's Oxy solve pressure washer cleaner is an all-purpose cleaner for house siding including vinyl, aluminum, stucco, wood and brick
It is ideal for removing stains and discoloring from algae, moss and mildew
It is a Safer, orally non-toxic formula that uses the power of peroxide to lift grime without harsh chemicals.
Star Brite Instant Black Streak Remover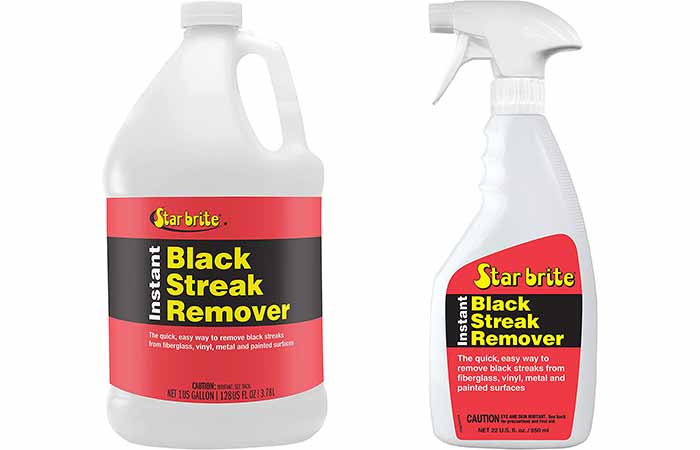 Star Brite is designed to quickly remove black streaks caused by water run off on aluminum and other painted metal surfaces. It is easy to use, all you need is to spray directly onto the black streaks and wipes after a few seconds.
Hundreds of uses; will instantly remove stains not only on gutters but also other areas around/in the house, and marks on boats, cars, and caravans.
AL-NEW Aluminum Restoration Cleaning Solution Kit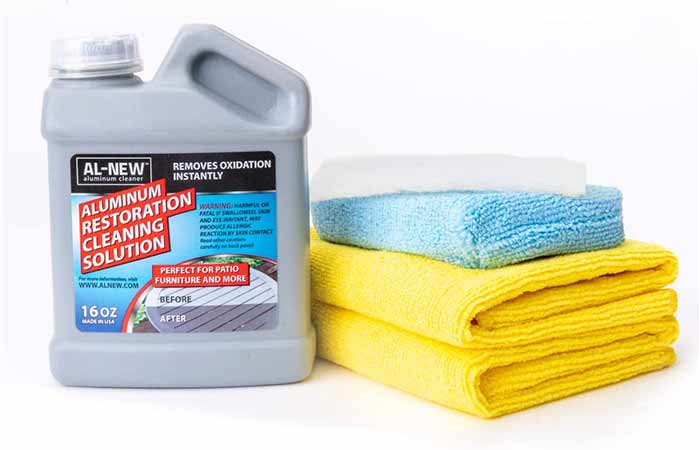 The AL-New kit is a cleaner, restorer and brightener kit designed for aluminum and other painted metal surfaces around the house outdoors, including gutters, patio furniture, garage doors, light fixtures, and more.
It is easy to use, simply apply the cleaning solution on the surface with a microfiber cloth. Once dried, this cleaner leaves a coat of corrosion protection.
The kit comes with microfiber towel/sponge for light stains and a hand pad for deeper oxidation stains.
Further Reading: Best Homemade Gutter Cleaning Solutions
How to Prevent Tiger Stripes on Aluminum Gutters
The following are ideas to stop tiger stripes from ruining the beauty of your aluminum gutters while staying clean at all times.
Use a cover for the gutters. Covers such as leaf guards and gutter guards keep objects from entering the gutters with only the water from rainfall being allowed into the gutters.
Clean your gutters at least 2 times each year.
Trim trees around the house to prevent leaves and twigs from falling into the gutters. This also prevents seeds from the trees from falling and germinating in the gutters.
Add a sieve on the opening to your gutter's downspouts to keep the dirt which might clog the gutters at bay. Periodically, you can remove the collected dirt from the sieve.
Use wider gutters with a larger downspouts. This prevents some objects from sticking in the gutters as they'll be allowed to flow to the ground given the large gutters and downspout.
For each gutter cleaning exercise, get the best cleaning tools and cleaning solutions.
Inspect your gutters each week or after extreme weather like storms or heavy snow. This helps you identify problem areas before it's too late.
More on Gutter Cleaning
As an Amazon Associate, we earn from qualifying purchases. Details here