Having a leak-proof roof isn't easy since you'll be dealing with water which has proven to be quite tricky where most roof types are concerned. Such a roof requires various aspects among them proper and careful craftsmanship and use of the right tools.
Among the items used to make roofs and do repairs on roof leaks are roof sealants. These are liquid and semi-liquid substances that, when applied, provide a waterproof seal on the roof and other areas in the home. Finding the right roof sealant for your type of roof is usually something left to the experts although, with knowledge, you can always get the right sealant for your type of roof leak.
Today, if you walked into a hardware shop and asked for a roof sealant, the sales rep will likely show you several walls covered with shelves all with different types of roof sealants. To help you make the right decision, we have compiled a list of 10 of the best roof sealants at the moment. We also point out which ones are the best for specific types of roofs.
1. Cromapol Acrylic Waterproofing Coating Grey
This grey-colored roof sealant from Cromapol comes in cans of 5kg and is our best choice for a roof sealant. This choice was based on the fact that it works in all conditions and with just about any type of material.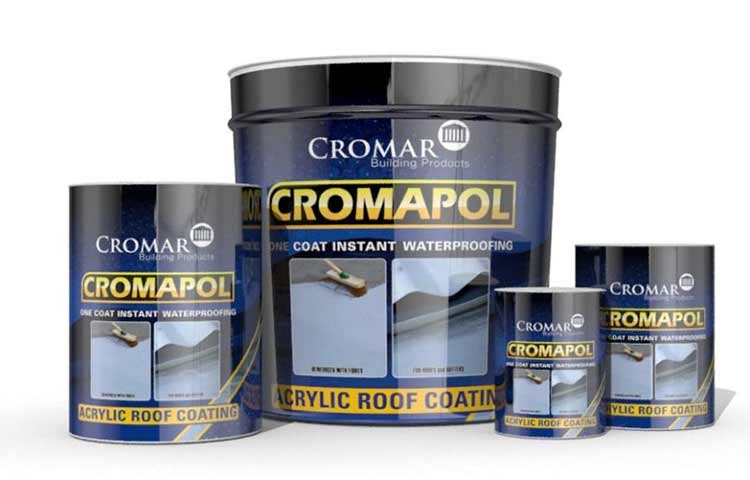 Check Current Price and Reviews
This sealant can work on both flat and pitched roofs. In our reviews, a good number of otherwise great sealants were hindered by the fact that they only worked on one type of roof. With this one, however, you're guaranteed quality no matter your type of roof and its pitch.
Another great point about this roof sealant is that it works with corrugated asbestos, flashing, gutters, asphalt, glasshouses, fiberglass, roof lights, roofing felts, slate, lead, metal and many other surfaces. This means it's a sealant that can be used in many areas of the home without compromising on the quality of the result.
This Cromapol sealant also works instantly no matter the application conditions. You can apply it on both wet and dry surfaces with the same instant waterproofing capability. This means that you're guaranteed the sealant will not wash off as it cures.
It's also among the few quality paints that can withstand ponding with a single coat being enough for most surfaces. Usually, you'll not need a primer for this sealant yet the results are great. With a 3" brush, you'll need between 1 and 2kg to cover a square meter of your surface of choice.
Pros
Works for both pitched and flat roofs.
Works on corrugated asbestos, flashing, gutters, asphalt, glasshouses, fiberglass, roof lights, roofing felts, slate, lead, metal and many others.
Works instantly on both dry and wet surfaces without washing off in the curing phase.
Withstands ponding.
One coat is enough.
No primer needed.
Cons
Strong fumes when used on indoor surfaces.
If you're unsure of what surface you have to seal on your roof, chances are that this sealant covers that hence our best choice.
2. Henry HE587372 Roof Coating
Simply referred to as the Henry 587, this white roof coating is another great option if you need a roof sealant that will last you years.
It's an elastomeric roof coating formulated using fillers, resins and titanium dioxide pigments. These ingredients give your roof a very resilient coating that won't wear off no matter how harsh the elements may be in your area.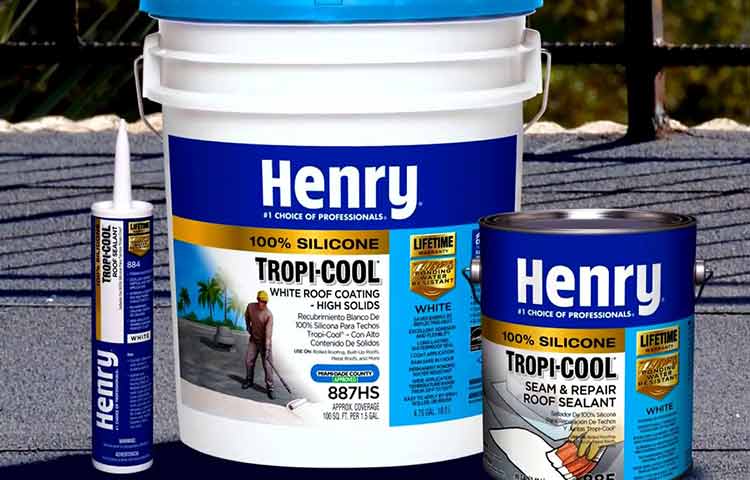 The Henry 587 has a high peel strength coupled with an impressive solar reflectance value, high solar reflectivity and one of the best longevity indices all of which offer protection from the harsh weather.
A fascinating feature of this roof sealant is that it allows for the escape of water vapor from the underlying substrate to keep the roof dry and properly aerated. This feature is possible when the coat has cured properly.
Once applied and left to cure properly, the coat forms a membrane that's permeable on your roof. This way, while it keeps out water from your roof substrate, it allows any moisture from below to escape.
In keeping the inside of your house conducive, this coat releases up to 91% of the heat from the sun. Its elastomeric feature means that it can expand and contract without any cracks. Better still, it doesn't need any primer to work.
Pros
Made with titanium oxide pigments, fillers and resins for durability.
Permeable and breathable coat allowing moisture to escape for a dry substrate.
Releases up to 91% of the sun's UV heat keeping the inside of the house cool.
Doesn't crack when expanding and contracting.
Does not require a primer to work properly.
Cons
While it doesn't dry instantly, the result after its curing is excellent.
3. Good Ideas Dicht-Fix Waterproof Sealant
Third on our list is Good Ideas' best-selling waterproof sealant paste. This is an instant seal that can work on both wet and dry surfaces and has been formulated without tar, asbestos or bitumen for a quality finish. It's the best roof sealant for RV vehicles.
This permanent sealing compound is reinforced with dralon-carbon-fibers and will work with various joints and surfaces such as gutters, windows, roof, balconies, drainpipes and many others. Essentially, it's an all-round compound for the house.
No matter the type of weather you apply this sealant (rain, sunshine frost, snow), it'll cure instantly providing a solid seal on the surface of your choice. We loved the fact that it can operate at any temperatures within -5°C and 38°C without a hitch.
This sealant will work with almost all common surfaces such as roofing felt, fiberglass, aluminum, zinc, slate, plastic, acryl, pond foil, wood, welding sections, tar, copper, lead, shingles, PVC, polyethylene, cast iron, silicone and many more. The fact it's resistant to UV rays and lacks asbestos, bitumen and tar makes it reliable and safe.
The application is done by a spatula or brush.
Pros
Instant sealant.
Works on both dry and wet surfaces.
No tar, asbestos or bitumen for safety.
Works on gutters, windows, roof, balconies, drainpipes and many others.
Works between -5°C and 38°C.
Works with most materials and surfaces in the home.
Can be applied with a brush or spatula.
Cons
Poor storage can easily spoil it.
Another great choice if you need a sealant that does more than seal roof leaks.
4. Dicor RP-CRC-1 Rubber Roof Acrylic Coating White
This acrylic roof sealant is for rubber roofs and doesn't do well with other surfaces. However, in this category, it's the best you can get. It's a two-part formula combining a cleaner/activator with an acrylic coat which extends the life of your EPDM rubber roof.
The Dicor coating dries fast saving on time and labor costs with the latter being cut by more than 25%. Once applied, this coat provides protection form UV rays and all other harsh aspects of the environment. Just two coats are enough for your rubber roof to look, feel and work as new.
Pros
Two-part formula with cleaner and acrylic coat.
Renews rubber roofs by adding a waterproof acrylic coat.
Quick drying.
Provides protection against the sun's UV rays.
Cons
Only works on rubber roofs.
If you have a rubber roof in need of some sealing or a fresh coat of protection, this is a no-brainer.
5. MasterBitumens All Weather Roofing Compound Bitumen Waterproof Coating
This all-weather roofing compound by MasterBitumens is bitumen mixed with organic fiber to add stability and strength to your roof for longevity. It works in all types of weather as suggested by its name and dries up almost immediately.
Once dry, this coat will provide solid water resistance instantly. As such, it's a good choice for the winter months. It works great for waterproofing, resealing and repairing most types of roofs including felt roofs, asbestos-cement sheeting, asphalt roofs, concrete roof decks, tiles, slates and the metal roofs such as lead, zinc, iron and steel.
We loved the fact that the application process for this sealant is fast and can be done with the rain imminent and will still get you a coat to last a lifetime.
However, porous surfaces require a primer to work properly and a reflective aluminum paint may be needed on top of the bitumen coat to regulate temperature. These aspects, however, aren't deal-breakers in our view.
Pros
Works in all types of weather.
Dries quickly.
Has organic fiber for roof stability and strength.
Good for resealing, waterproofing and repairing roofs.
Works with most roofing materials and types.
Cons
Needs primer on porous surfaces and aluminum paint.
Even with the need for a primer and aluminum paint overcoat for some surfaces, this sealant is one of the very best.
6. Liquid Rubber Color Waterproof Sealant White
For metal roofs, Liquid Rubber's color waterproof sealant is the best in our trials. Besides being excellent with metal surfaces, it can work with others such as wood, concrete and others. It's easy to apply and will give your roof a great waterproof coat in a short while.
This sealant works with both pitched and flat roofs besides planter boxes, metal roofs, ponds, foundations, wood, metal, sheds, basements, concrete and many more. It's a major assurance that you can use it on most surfaces in the home.
It's also one of the easiest to apply as it can be applied just like paint. Use a roller, brush and paint sprayer for a great finish. In our review, heavier coats of this material are better at waterproofing surfaces than lighter and thinner ones. Unlike other types of sealants, you don't have to finish the whole can as it'll remain intact and ready for the next shift even when half-used.
What we loved about this sealant is its environmental friendliness. It's a water-based formula without any harmful solvents, odors or VOCs.
You can use it outdoors or indoors without a mask and won't harm either you or your pets. The only thing we were not too impressed with is that it works best when applied on dry surfaces and can take between 24 to 48 hours to cure properly. This is due its being water-based.
Pros
Can be used with most surfaces at home with the best results on metal.
Works on pitched and flat roofs besides planter boxes, metal roofs, ponds, foundations, wood, metal, sheds, basements, concrete and many more.
Easy application process just like normal paint.
Environmentally friendly and harmless to both people and pets.
Both indoor and outdoor application.
Cons
This is an easy pick for when you need a new waterproof coat on your metal roof.
7. HPRS25L 2.5L Thompsons High Performance Roof Seal
The high-performance roof seal from Thompsons is meant to protect your roof for at least 10 years. Yes, a single coat of this roof sealant keeps your roof in pristine condition for a whole decade without the need for resealing.
It's an elastomeric coating meant to provide a flexible yet highly durable membrane over your roof. This means that it will expand and contract with the roof without ever developing cracks or peeling off.
For the period the coat will be on your roof, you'll also get UV protection thanks to the addition of iron oxide pigments in the formula. The coat formed on the roof by this seal is also permeable in that it allows trapped moisture to escape from the roof substrate leaving it dry and strong.
You won't need a primer for this sealant as it needs to be applied directly on a dry surface for the best results.
Pros
Protects your roof for 10 years.
Works with most metal types and surfaces.
Has elastomeric properties for expansion and contraction without developing cracks.
Has iron oxide pigments for UV protection.
Permeable seal to allow excessive moisture to escape.
Cons
Doesn't work well when applied to wet surfaces.
If you're in for a long-term solution to sealing your roof, we highly recommend this one.
8. PrimeSource Building Products GCESRC2 Roof Coating
This PrimeSource roof coating is the best silicone roof coating and great for all types of roofs be they flat or pitched. The fact that it dries up in about 2 hours means that you're safe in using it during the rainy season as it'll not be washed off when rain comes after its application.
The advantage with silicone sealants like this one is that they're naturally elastomeric in that, once in place, they can't crack or peel off due to the expansion and contraction caused by changes in temperature.
The GCESRC2 provides the best seal when it comes to ponding water on flat roofs and extreme temperatures (between 32-120° Fahrenheit). You also get UV protection for your roof with this sealant. With a quick drying formula that doesn't require a primer, your roof will be set for the rains in no time.
You also get good chemical and solvent resistance and will work with various surfaces such as aged EPDM, aged asphalt, cap sheet, aged TPO/CPA, concrete, composite, metal, fiberglass, torchdown, bitumen, sprayed polyurethane foam, and other flat or pitched surfaces.
You thus can rest assured that it'll work with most places in the home including your RV, garage, house and patio without a hitch.
Pros
Works with both flat and pitched roofs.
Dries up in a short time.
Elastomeric properties to prevent cracking when temperatures change.
Provides protection against UV rays.
No primer needed.
Resistant to solvents and other chemicals.
Works with most surfaces in the home and commercial buildings.
Cons
With this root sealant, your roofing needs are taken care quite well. Silicone is naturally water-resistant and will thus provide a good deal on your roof.
9. Everbuild Roof & Gutter Sealant
While a majority of the names on this list have been cans in which you use a brush, spatula or other application tool, this Everbuild roof and gutter sealant is in a tube which is pushed forward with a piston and applied to the surface of your choice.
This too is an all-round roofing sealant as it works with most roofing materials such as wood, metal, felt, asphalt, bitumen and others. On all these surfaces, it creates an instant waterproof seal no matter the angle you choose to apply it. It works on roofs, gutters and other parts of the home quite well.
Given the small size of this roof sealant, we assume it was meant to be used for routine repairs and not for covering the whole roof like the ones in large cans also reviewed here. If you're going for it, choose it for fixing leaks and joints and smaller jobs as it'll quickly run out for larger tasks.
Pros
No need for application tool.
Dries instantly.
Works with most materials
Best for sealing roofing leaks.
Cons
For the routine fixes that don't cover the whole roof, this is a highly recommended sealant.
10. Deck Flex Elastomeric Roof Coating
The last item on our list could easily occupy any other position as it's a great choice for most roof types. In our tests, it proved to be one of the best when it came to flat roofs as it forms a great seal no matter the pitch of the roof. On flat roofs, it works quite well as it doesn't get affected with large amounts of ponding water.
This siliconized roof coating comes with 89% solar reflectance which is important in protecting your roof and in house's temperature regulation. This ends up giving you energy savings of up to 30% since the indoor temperatures will be held within a given range quite easily reducing the need to raise or lower the temperature with your air conditioner.
This roof sealant also resists wear and tear from all types of weather be it rain, sunshine, snow, UV light and many other tough conditions. The fact that it's elastomeric means it'll expand and contract for years on end without ever developing cracks.
The application procedure for this roof coating is as easy as painting the roof with normal paint. You just need a brush and you're good to go. With an impressively low level of VOC (volatile organic compounds), this coat won't damage any surfaces you apply it to.
Pros
High solar reflectance of 89%.
Saves up to 30% of energy costs in the household.
Resists all types of weather.
Elastomeric thus doesn't develop cracks with temperature changes.
Not harsh on surfaces.
Cons
Requires more than one coat to be effective.
This roof sealant from a trusted manufacturer can be your choice no matter the type of surface you have in mind.
For the roof sealants mentioned here, choosing the right one shouldn't be too tough a task as they have their strengths and weaknesses outlined. If you're not sure, head over to the section below for the best sealants for specific surfaces and scenarios.
Best Roof Sealants by Surface and Roof Types
The best roof sealant in each category are as follows:
1. Best All-Round Roof Sealant
In our tests, the Cromapol Acrylic Waterproofing Coat only slightly edges out the Henry HE587372 in terms of quality and all other important aspects. These include how long the coat protects your roof and the ease of application.
2. Best Rubber Roof Coating
If you have a rubber roof or simply need a rubber sealant for your roof, the Rubberseal Liquid Rubber Waterproofing and Protective Coating is your best option. Not only does it last for ages, but it also provides a coat that saves on your household energy needs.
3. Best for Flat Roofs
Flat roofs offer a challenge in that water doesn't run off them as easily as it does on pitched roofs. As such, you need a roof sealant that can survive being submerged for extended periods of time. For this case, the Deck Flex Elastomeric Roof Coating is the best. Besides a good waterproof seal on your roof, it also saves you on energy consumption with more than 89% solar reflectance.
4. Best RV Sealant
For those always on the move in their RV, the best sealant for your RV's roof and other parts is the Dicor RP-CRC-1 Rubber Roof Acrylic Coating. Besides being easy to apply, it works with a lot of surfaces enabling you to seal up any annoying holes on your RV's whole body.
5. Best for Flashing
Flashing is important in keeping the spaces between shingles watertight. However, it tends to wear out when exposed or not reinforced. Using EternaBond RSW-6-50 RoofSeal Sealant Tape adds life to your flashing especially in sunny areas.
6. Best for Ponding Water
For flat roofs and areas that easy experience ponding water, the GacoRoof GR1600-1 White Silicone Roof Coating is your best bet. Being a silicone-based sealant, it doesn't dissolve or get damaged by pooling water.
7. Best Silicone Roof Sealant
If silicone is what you need for your roof, our choice is the PrimeSource Building Products GCESRC2 Roof Coating. It's an easy choice for those with RV vehicles or flat roofs where ponding is common. A good coat of this sealant will keep your surfaces waterproof for years to come.
8. Best for Roof Leaks
While all the sealants on this list can help stop and prevent leaks on your roof and other surfaces, the Liquid Rubber Seam Tape, which can be combined with other roofing sealants, is the best option as it provides a very durable instant seal at a very affordable price.
9. Best for Metal Roofs
For metal roofs, we highly recommend the Liquid Rubber Color Waterproof Sealant for its excellent finish on metal surfaces. It's easy to apply and will cover metal surfaces without compromising on the good qualities of metal roofs such as longevity.
10. Best for Roof Shingles
The Deck Flex All-Purpose Clear Protective Sealer has the features to seal your roof shingles without a hitch. Not only is this sealant great for making your roof waterproof, it also helps maintain the great look of your roofing shingles.
Buying Guide
When in the market for a roof sealant, you should consider the primary types of roof sealants in terms of their pros, cons and how suitable they are to your type of roof.
The types of sealants and their characteristics are as follows:
1. Rubber Roof Sealants
Rubber roof sealants and coatings are among the most expensive on the market. However, they're also the most durable and last a lifetime when applied properly. They're flexible and will thus not develop cracks whenever there are temperature changes. Their levels of solar reflectance are also quite impressive.
2. Acrylic Roof Sealants
Most roof sealants and coatings are made of acrylic material of various qualities. The good thing with this type of coat is that it's great for both dry and wet conditions and will last long in either weather. Also, they're meant to reflect UV rays meaning they'll protect your roof in the time they're in good condition. You can get them in both solvent and water-based variants.
The only issue we found with these kinds of sealants is that they come in various qualities and choosing the right one can be quite hard. Generally, they're very reliable roof sealants.
3. Sealant Tapes
Sealant tapes provide a good seal on most roofing materials especially if you apply it when the surface is dry. They're also some of the cheapest sealants on the market. Their wide availability is a great addition as well.
Their only issue is not being strong enough on some surfaces such as wood.
4. Silicone Roof Sealants
Silicone roof sealants are favored for their high-quality seals and the fact that they perform very well whether in the heat or the rain. As such, they're the best when a given area experiences both hot and rainy seasons such as the tropics.
They also have a great degree of UV reflectance and will thus keep the inside of buildings cool at all times. The main issue with these roof sealants is that they're quite costly.
5. Polyurethane Roof Sealants
For these kinds of sealants, the only available formula is a solvent one although you get aromatic and aliphatic types. The aromatic variants are best suited for colder weather since they don't fare so well against UV radiation in hot areas.
The advantage with polyurethane roof sealants is that they can generally withstand a lot of abuse. They can thus be used for roofs with lots of foot traffic or in harsh weather conditions. The only issue is that the aromatic formula doesn't do very well in hot regions.
6. Roof Sealant Spray
Roof sealant spray is often made of a rubber formula and best for hidden roof areas. You simply point at the leaking spot and spray the sealant. It works best when the area is dry. Most of them provide seals which are as good as other types of sealants can provide.
7. Roof Sealant Caulk
For minor roof leaks during light rains and in regions which don't experience heavy rains, roof sealant caulk can be used. However, it doesn't provide as tight and long-lasting a seal as other types of sealants. It is however a very cheap option for sealing the areas around chimneys.
8. Clear Roof Sealant
Clear roof sealants are best used when you want to waterproof your roof without changing the color of the roof. This can be a metal, rubber, shingle or other roof whose color you like. The downside to these types of roof sealants is that they don't usually have good thermal properties and are quite costly.
9. Roll-on Roof Sealant
A roll-on roof sealant can be any type of sealant especially the ones with the properties similar to those of paints. Chances are high that, if you can use a brush to apply the sealant, you can as well use a roller to apply it.
These roof sealant types can be used either individually or in combination for a single roof since each one works best for certain roof types and areas on the roof.
Further Reading
As an Amazon Associate, we earn from qualifying purchases. Details here