While house roofs are meant to withstand all the abuse from destructive elements, they eventually need to be cleaned and even repaired both to look good and serve you better. Depending on the prevailing conditions, your roof may be dirty from dust, mold or other types of dirt.
When cleaning the roof, you need the right cleaner for your type of roof and dirt. There are many different types of roof cleaning solutions you can choose from. Some of the best roof cleaners include Spray and Forget, Wet and Forget, Eco-friendly Simple Green, Mold Armor E-Z, Jomax and DIY options such as bleach and water.
The commercial cleaners mostly require very little work on your end besides applying them. On the other hand, the DIY ones require some effort on your end before applying them and are often made from readily available household items. Below, we take a look at the best ones in each category.
Spray and Forget Roof Cleaner
From its name, you can easily denote that you only need to spray it to the roof and you're good to go.
Spray and forget continues to clean your roof after application, eliminating the need to scrub or reapply. The ammonia-based formula reactivates each time it rains, providing follow-up cleanings for up to 24 months at a time. There are two popular spray and forget products that seem to work for most homeowners
Spray & Forget SFRCHEQ06 Super Concentrated Revolutionary Roof Cleaner
Spray and Forget SFRCG04 White Roof Cleaner
Spray & Forget SFRCHEQ06 Super Concentrated Revolutionary Roof Cleaner
SFRCHEQ06 is a highly concentrated roof cleaner specifically created for cleaning roofs stained with mildew, mold and algae. It's a great formula used on almost all types of shingles from asphalt shingles, slate shingles, wood shingles and tile/clay shingles.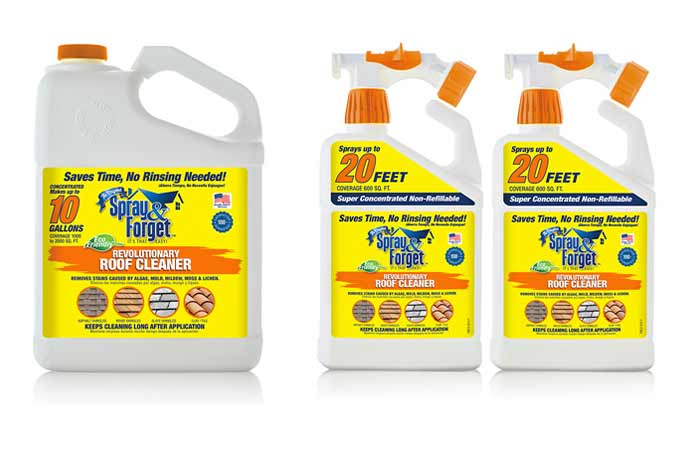 As stated in the name, you only need to spray it on the roof and forget about it. The bottle comes with a hose end adapter which fits standard hose ends such as garden hoses for ease of use. You should ensure that there will be no rain for at least 12 hours after you apply the solution on the roof.
The level of concentration for this roof cleaner is simply amazing as 1 quart can be used to clean as much as 600 square feet of the roof. Given that you only need to use this formula about once every 24 to 36 months or when you see stains, you save a lot.
Pros
Economical since the small amount can be used to cover large areas.
Usable for all types of roofing shingles.
No scrubbing needed hence economical.
Cons
Needs at least 12 hours after application and without rain to work.
The Spray and Forget SFRCHEQ06 is one of the best roof cleaning solutions as it doesn't require scrubbing and has a lasting effect on the roof.
Spray and Forget SFRCG04 White Roof Cleaner
SFRCG04 is an easy-to-use cleaning solution for your roof. It's also white in color making it suitable for most bright colors on roofs.
All you need is to first dilute it then use a sprayer or applicator to spray it on the roof. You don't need to scrub the roof in any way after the spraying. It eliminates various stains including those caused by algae, moss, mold and mildew and works with asphalt shingles, slate, wood and even tiles.
The SFRCG04 has a great dilution factor since a single bottle can be diluted to 10 gallons of the solution. That's enough to clean between 1000 and 2000 square feet of your roof. You only need to be sure there won't be rain for at least 12 hours after you've sprayed this solution on your roof.
Pros
Only needed for roof cleaning every 12 to 24 months (1 to 2 years) after the original spraying hence convenient.
Saves on time since there's no scrubbing needed.
Saves on money since it can be diluted from a single bottle to 10 gallons of the solution. A single bottle can thus cover up to 2000 sqaure feet of the roof.
Can be used on various surfaces such as clay shingles, tile shingles, slate shingles, wood shingles, asphalt shingles and many others.
Mild and won't damage the roof.
Cons
Affected by rain within 12 hours of application.
Needs an applicator for spraying.
Needs a second application for tough stains.
If you already have a pump you use for your garden or lawn, this is a great solution to clean your roof with.
Wet and Forget Roof Cleaner
Second in our list is a product that will take the least amount of time and effort on your end but has some of the best results. With the Wet and Forget 10587, you only need to dilute it then apply it on the affected areas then you're done with the cleaning. The cleaner does the rest.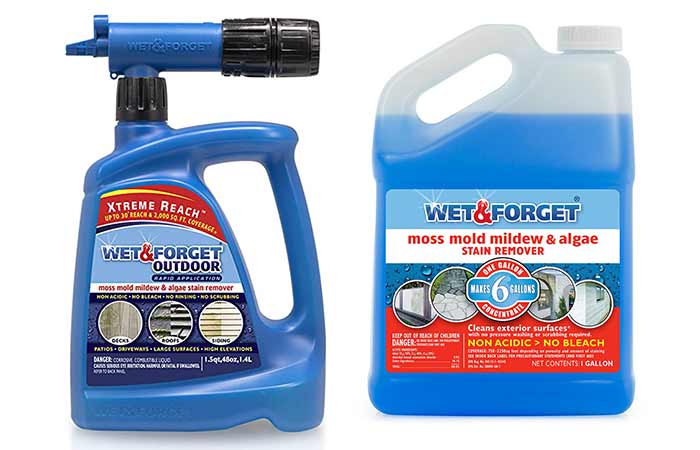 It's made with biodegradable materials meaning that it won't hurt the environment each time you use it. You can use it to remove stains, mold, moss and mildew on external surfaces such as the roof. The fact that it can be used on most materials among them PVC, metal, stucco, concrete, fabric, clay, brick, composite, aluminum and others means you can use it to clean car roofs, decking, siding, painted surfaces and others as well.
The dilution rate for this roof cleaning solution means you can make as much as 6 gallons of the solution from a single gallon of it. It means that you can buy a small amount to clean a large roof with it. Its mild nature also means that you can use most applicators even those that aren't usable with harsh chemicals.
Another Wet and Forget option is the 805048 Roof Cleaner which comes with a hose end sprayer which can help the user reach up to 30 feet high. This comes in handy when you're dealing with a high up part of the roof or the first floor upwards.
Pros
Economical as it can be diluted to a large amount of cleaning solution.
Usable on lots of surfaces.
Non-acidic, non-caustic, no bleach included hence mild and won't damage surfaces.
Saves on time as you don't need to scrub the roof after applying the solution.
Biodegradable hence gentle on the environment.
Reactivated by rain to clean off dirt on the roof or other surface.
No scrubbing or rinsing required hence convenient.
Cons
Needs rain for activation to wash off the dirt.
Not safe for pets and plants.
Highly corrosive
If you're out of time or can't climb the roof to do the cleaning, this is the best roof cleaning solution to go for.
Simple Green, SMP13006 (Eco-Friendly)
This is one of the best eco-friendly cleaner option if you are trying to cleaners with harsh chemicals. It comes with orally nontoxic and readily biodegradable formula but still powerful enough to cut through oil and grease, as well as dirt and grime on your roof.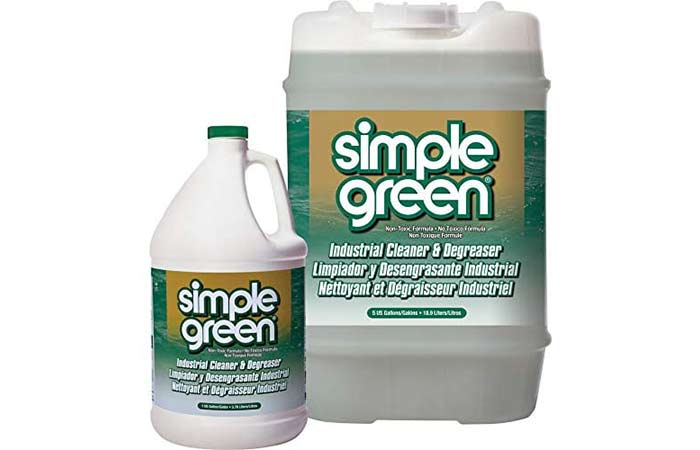 It is concentrate, meaning that you have to mix it with water. You can still use it at full-strength to cut through tougher stains. You can apply it with a roller, sponger, or sprayer, but its eco-friendly formula means you can use it in a pressure washer without worrying about overspray.
Other Pro of simple green include;
Trusted non-flammable, non-abrasive and non-corrosive cleaner is a safer alternative to caustic cleaners and solvents.
Versatile formula can be used to clean and degrease all washable surfaces.
Cost-effective concentrate can be used manually or with cleaning equipment.
VOC compliant and exempt from OSHA and EPA special handling and personal protection requirements for hazardous materials.
Roof Wash Premium Eco-Safe and Organic Roof Cleaner
If you're concerned that the roof cleaning solution will damage the plants that are close to the house or marine life where you have a pond or pool close by, the Roof Wash Premium Eco-Safe and Organic Roof Cleaner is your best bet thanks to being the most environment-friendly roof wash on this list.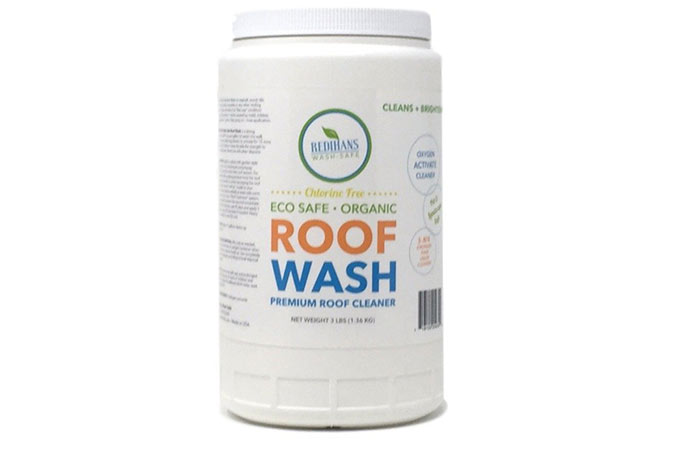 Being an oxygen based cleaner, this roof cleaner will only take between 4 and 6 hours before it biodegrades. It's made with hydrogen peroxide which doesn't harm plants and animals.
Beyond this, you can use it on most roof types including composite, rubber, wood shake, tiles, asphalt and metal to clean off moss, fungus, molds and stains of various types. In using it, you can apply it then either rinse it off or wait for the rain to do the rinsing for you.
Pros
Environment friendly.
Usable with most roof surfaces.
Can be rinsed off or left to be rinsed off by the rain hence economical.
Cons
This is one of the most environment-friendly roof cleaner you can get on the market. The fact that it works for most roofing materials is a major benefit.
Mold Armor
This is the most pocket-friendly roof cleaner. Here are details on how it works
Mold Armor E-Z House Wash 64 fl. oz.
If you're looking for a heavy-duty cleaner at a value-minded price, with a straightforward application process, it's hard to beat this two-pack of 64-fluid ounce jugs. This product comes as two half-gallon bottles of cleaner, each with a hose attachment for extremely easy application.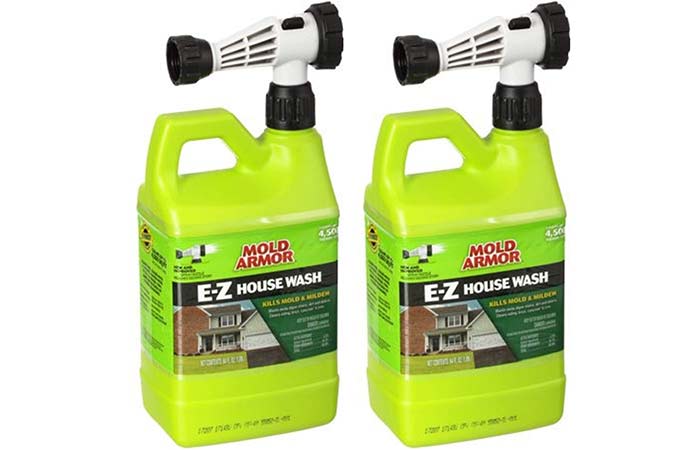 The hose attachment will reach second-floor roofs without issue, and it starts killing mold and mildew within 10 minutes of application. There's no follow-up scrubbing necessary either; simply apply, allow it to work for 10 minutes, and rinse it off to reveal a clean surface.

Home Armor CLEANER 1 GAL
This bleach-based formula is worth checking out if you're on the hunt for a heavy-duty cleaner that will provide near-instant results. This one-gallon concentrate can cover up to 2,000 square feet if diluted with a three-to-one water-to-chemical ratio. Simply apply it with a tank sprayer, a roller, or a sponge. It starts killing mildew and mold, and removing the stains involved, within 10 minutes.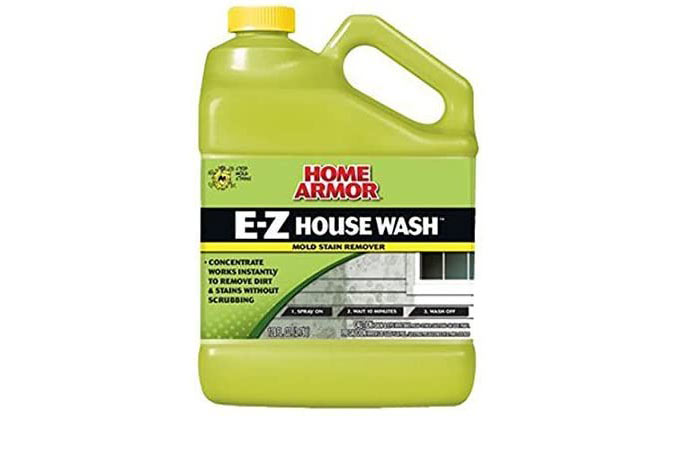 Though the formula has a bleach base, you can use it on multiple outdoor surfaces, including roofing, siding, vinyl, and aluminum, but you should avoid using it on rubber. If you have a particularly tough stain, you can use the concentrate at full strength to help remove it quickly. In most cases, there's no need to reapply or scrub.
Thetford Corp RV Rubber Roof Treatment
If you have a rubber roof that needs some cleaning and protection, look no further than the Thetford Corporation's RV Rubber Roof Treatment. This cleaner will help clear your roof of grime, mildew, decaying leaves and insects, chalk, dust and many other types of dirt in a few minutes.
As suggested by its name, you can also use it to treat the roof of your RV. Its other benefit is that it protects the roof by coating it in a tough polymer material which is anti-static and prevents grime from sticking on the surface. This coat also reduces the formation of powder chalk which often leaves gray streaks on rubber roofs.
This formulation is also very convenient in that you don't need any type of scrubbing to have a clean rubber roof. After spraying it on the surface, you only need to mop up the excess liquid and you'll be good to go.
Pros
Can be used concentrated or diluted.
Usable both a cleaner and protectant.
Saves on time since no scrubbing is needed.
Doesn't contain petroleum products hence won't damage the rubber roof.
Non-abrasive thus will not damage the roof.
Friendly to the environment as it doesn't have damaging chemicals.
Economical as 1 gallon can cover up to 100 square feet.
Protects the roof from UV rays which damage rubber.
Cons
Usable on rubber roofs only.
Costly.
This formulation is one of the best for rubber roofs as it cleans and protects at the same time. When used, it reduces the maintenance by up to 75%.
Jomax Roof Cleaner & Mildew Stain Remover
Wrapping up our list of the commercial roof cleaning solutions is the JOMAX Roof Cleaner & Mildew Stain Remover. It is a bit complex in the preparation process since it needs to be mixed with both bleach and water, applied on the roof and rinsed off after 5 minutes.
Luckily, it works so well in removing dirt, mildew stains and black streaks from roof shingles. It also removes mold and mildew from all non-porous roofs including slate and tiles. You can also safely use it to clean roofs made of composite, metal, wood and asphalt.
Pros
Economical since a gallon can be diluted to make 20 gallons which is enough to cover 2000 square feet of roof surface.
Works with most roof types.
Cons
Complex preparation procedure.
Depending on your budget, roof type and needs, you can choose any one of the roof cleaning solutions above for a clean roof.
RMR-86 Instant Mold and Mildew
This is an instant spray cleaner that has been praised by many based on its incredible ability to get rid of stubborn mold and mildew stains.
It also keeps your home free of musty, damp smells that are usually left behind by other sprays;
It is a fast-acting mold stain remover spray, instantly targets deeply embedded stains that linger between bathroom tiles, in grout lines, under the sink, and on shower doors
You do not need to scrub after applying. Simply spray our ready-to-use formula on the affected area and watch the stains disappear right before your eyes!
It is safe for use on multiple surfaces, from bathtubs, decks, wood, vinyl siding, drywall, concrete floors, brick walls, kitchen and bathroom tiles and other areas where mold and mildew tend to grow
DIY Roof Cleaning Solution Recipes
Besides the chemicals above, you can also have some homemade solutions to a dirty roof depending on the type of dirt on it. The most popular DIY roof cleaning solutions include the following:
Bleach and water
One such way is to use household bleach mixed with water in equal parts. This method works best with removing algae and mold from roof shingles. To do this, you simply spray the mixture onto the roof and you're done.
Be cautious since the solution can also kill the plants close to the roof when it drips of it. The roof should also not be close to a pond as it can affect the aquatic life in there.
Citrus acid
Citrus acid is another important chemical found in cleaners and additives such as baking soda and Borax. You use it the same way as bleach which is by mixing with water, spraying it on the roof then waiting for a few minutes before rinsing it off. You can scrub off the dirt if you want to.
Guide: What to consider when Choosing/shopping for roof cleaning solutions
To get the best roof cleaning solution for your roof, consider the following aspects:
Chemical composition
The chemical composition of the cleaning solution should always be a priority to avoid damaging the environment and even the roof itself. Highly acidic or basic chemicals and those containing bleach will have a negative effect on the plants and animals around the roof. Besides that, they can damage the roof itself if you don't rinse them off after the cleaning process.
Go for biodegradable solutions as they won't have any impact on the environment when in use. For example, oxygen-based cleaners will degrade in a few hours after their use and even when they drop to the ground won't have an effect on the plants and animals in the soil and water.
Type of roof
Next to the chemical composition is the type of roof to be cleaned. With roofing materials ranging from the soft ones such as rubber and fiberglass to the tough ones such as stone and metal, you need to choose a cleaner that is specifically meant for these materials for the best results.
If, for example, you use harsh chemicals on roofs made of soft materials like rubber, you will end up damaging them and needing repairs which will cost you more than you had planned for. On the other hand, if you use mild chemicals on tough materials such as stone and concrete roofs, you may have to repeat the cleaning several times over to get rid of the stains.
Size of the roof
On each container of the roof cleaning solution, there is an indication of the amount of coverage expected from the roof cleaning solution. On this aspect there are two categories namely the ones to be diluted before use and those to be used without dilution.
The ones to be diluted will cover a larger area than those without dilution given the addition of water in the former. There some which aren't diluted yet the low application amount still enables them cover large areas of the roof. You should check this to confirm whether the solution you want to buy is enough for the whole roof.
Type of dirt to be cleaned off
Roofs can be dirty from different things such as mold, mildew, moss, algae, dust and many others. When buying a roof cleaner, you need to know which kind of dirt and how much of it you're dealing with. Some cleaners can clean some types of dirt but not others. Also, you need to know the right chemical concentration to get rid of the type of dirt in question.
Weather conditions
When using some cleaning solutions, there are chemicals that may require at least 12 hours to work without rainfall to be effective. Often, these are chemicals to clear away growths such as those from mold, mildew, algae and moss.
If your location has lots of rain or you expect some that day, don't use them as they'll not be effective.
Ease of use
There are various types of cleaners depending how easy it is to use them. They can be put in three classes namely:
Spray and forget
For this class, you may or may not need to dilute them but you only need to spray them on the roof and forget about them. They will work just fine on their own as they will be activated by wind or the rain.
Wet and forget
Like the previous category, these ones only need to be applied to the roof by pouring or with a brush then left to work through activation by wind or rain. They can be diluted or not as directed.
Apply and scrub
The last category includes those that need to be applied then the dirt scrubbed off. Often, you need to rinse them off for the best results.
Roof Maintenance Tools & Products
Roof Leaks
As an Amazon Associate, we earn from qualifying purchases. Details here