Having the right roof cleaning chemical is one thing and having the right tools to work with the chemical is another. Even with the right chemicals, you need the right applicator to do a good job. While there are large commercial roof cleaner applicators, our focus is on applicators or sprayers you can use at home on your own.
For this class of applicators, you have many options from small handheld sprayers to large back pack sprayers fitting different occasions. It'll depend on the type of roof you have and the dirt on the roof that needs getting rid of.
When choosing the right applicator or sprayer to clean your roof with, put in mind aspects such as the size and height of the roof, the amount of cleaning agent the applicator can carry and design of the roof. These aspects dictate a lot since some types of dirt can't be cleaned off by all applicators. Following are our top picks of applicators.
HARRIS Handheld Pump Sprayer
If you're looking for something that will withstand the corroding power of some of the harshest roof cleaning chemicals, the Harris Professional Pump Sprayer is the real deal.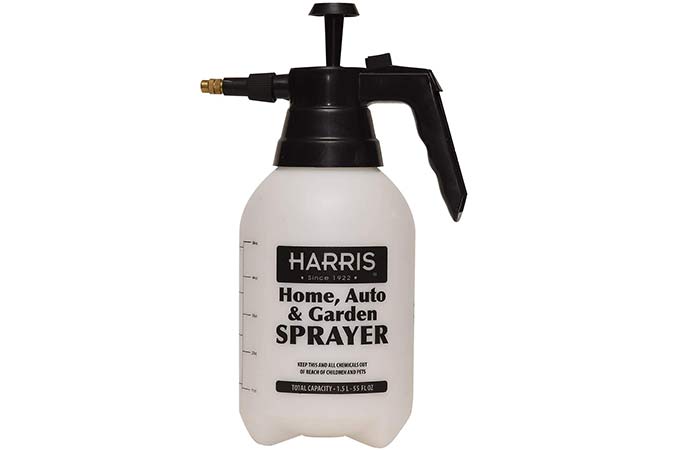 It is a multipurpose 1.5L capacity handheld sprayer that features an adjustable nozzle that allows you to easily change from a fine mist to a direct stream depending on the application purpose. Measurements are included on the side of the bottle for easy mixing and filling. Other good features include;
Durable – Made to hold up against chemicals over an extended period
A locking trigger to allow continuous spray and prevent hand fatigue.
Versatile – Countless home, garden, and automotive applications
Chapin 20000 Garden Sprayer
Another great roof cleaning sprayer is the Chapin 20000 Garden Sprayer. Although it's titled as a garden sprayer, it does a great job at cleaning the roof in our experience with it. It has a 1-gallon capacity which is enough to do lots of cleaning before needing a refill.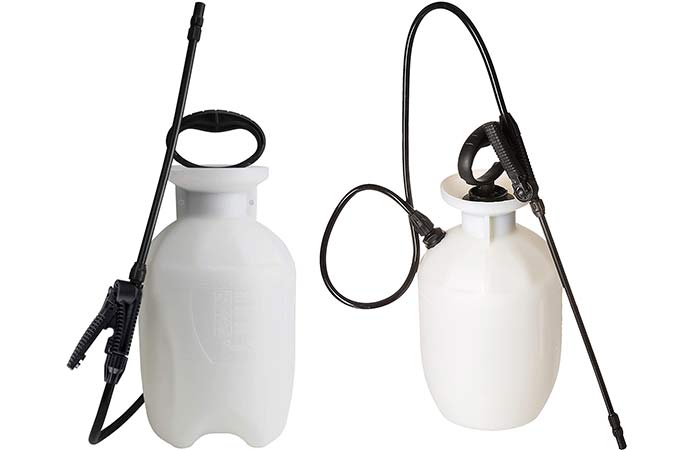 It comes with a funnel-top tank which is translucent and allows for easy cleaning and refilling. With the funnel top, you won't worry about spilling your precious cleaning agents when refiling it. Being translucent means that you'll be able to see how much you've filled it to avoid overflowing. The cover to the refill tank has a handle for ease of carrying the sprayer around which is a handy feature.
The design of this sprayer is a good one since it features a tank that's separate from the nozzle. The two are connected with a pipe. This setup allows you to place the container in one place and have both of your hands to work with. You'll be safer and do a better job this way.
Pros
1 gallon capacity allows for longer work times and fewer refills.
Nozzle is independent of the refill tank making it safer to work with.
High quality materials that are resistant to harsh chemicals.
Has an ergonomic handle for ease of carrying and pumping.
Has an in-tank filter which prevents the clogging of the nozzle.
Can be used in many other areas including the garden.
Cons
The extra pipe included can make it cumbersome to use in some areas.
For small to medium-sized roofs, this applicator is more than enough as you'll only need a few refills before you complete the whole of it.
30 Seconds Outdoor 1 GallonTank Sprayer
For larger and more complex roof cleaning projects, you need a larger applicator and one with more features with the 30 Seconds Outdoor Cleaner being one of the best solutions for this. It has a capacity of one gallon which is large enough to clean larger areas before going for a refill too frequently.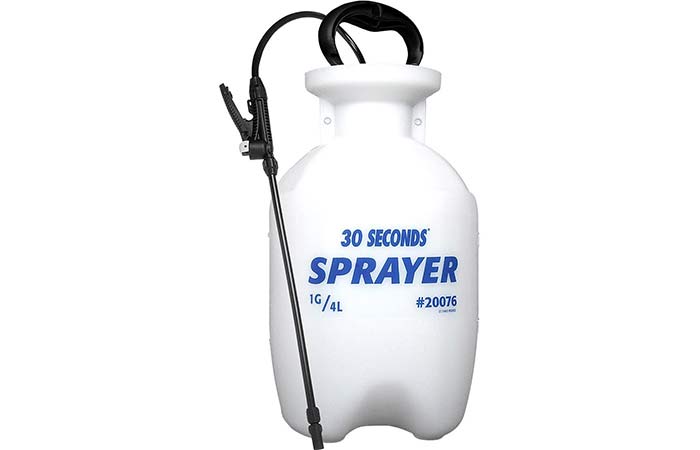 This applicator comes with high quality Viton Gaskets and Viton Seals which prevent leakages from the various parts used to make it. It's made of high-quality materials which are resistant to bleach and most harsh chemicals. You also get a Sure Spray anti-clog filter which allows you work uninterrupted for longer.
Pros
One gallon capacity allows for longer work periods with less refilling.
Properly sealed with quality seals and gaskets to prevent leakages.
Made of high-quality materials to prevent corrosion of the parts.
Handheld nozzle allows the user to reach hidden places and increases safety.
Has an anti-clog filter to keep the nozzle free of debris that might clog it up.
Cons
The extra pipe included can make it cumbersome to use in some areas.
A gallon of cleaning chemicals is more than 3.5 liters which means you can do a lot of work before refilling it.
KIMO 3 Gallon Battery Powered Backpack Sprayer
So far, we've focused on manual sprayers which require the input of both hands with one holding the nozzle as the other one works the handle which exerts pressure.
The KIMO, on the other hand, uses a 2.0Ah battery that churns out 70 PSI of liquid pressure and can run constantly for 6 hours per charge. This spells a lot of convenience for the user since it means less input and lower chances of getting tired for the user.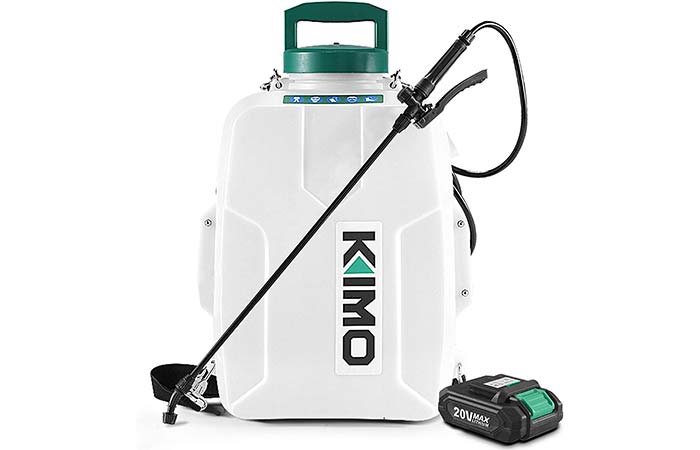 Besides the great battery-powered pump and all its convenience, it also has a backpack design which allows you easily strap the 3-gallon tank on your back for a quick cleaning of the roof. At 3 gallons, you can cover large areas of the roof before you need a refill.
This sprayer has been built around the idea of needing as little effort as possible from the user. For this reason, it can be used by those with injuries and the elderly as most actions are automated. The fact that it has a battery and can be carried on the back with a trigger lock mechanism makes it one of the easiest to use.
Pros
Uses a battery for pumping instead of manual operations making it easy to use.
A large 3-gallon tank reduces the number of refills when working.
The battery can run for 6 hours before needing a charge.
Created in a backpack design with detachable strap pads which increase the comfort of the user especially when used for long hours on end.
Trigger lock mechanism reduces fatigue on the hand as the trigger can be locked to spray constantly when covering large areas.
Easy to use from the setup procedure to the usage procedure.
You also get a metal wand extended up to 43 inches and a plastic wand 20 inches long. Their combination easily reaches the top of two-story building when standing on the ground.
You get various spraying options including misting and others depending on the task at hand.
Can be used for various purposes including cleaning roofs and fertilizing plants or applying chemicals to yards and crops.
The mouth is funnel-shaped and 4 inches wide for easy mixing and pouring of chemicals.
The tank is translucent for easy measuring of chemicals and cleaning.
It's made of high-quality materials which can withstand harsh chemicals.
Leakproof materials ensure safety and economical use of chemicals.
Cons
Still requires charging which can be an inconvenience in places without power.
It's one of the best when it comes to spraying chemicals for various purposes.
Field King 190328 Backpack Sprayer, 4 Gallon
Going up to 4 gallons and in a new design is the Field King 190328 Backpack Sprayer. As suggested by its name, it's a sprayer in the form of a backpack that is strapped up on the back as you pump with one hand while spraying with the other.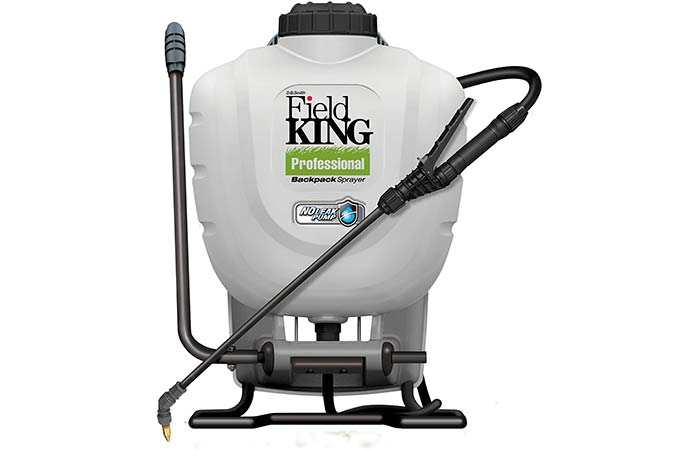 It comes fitted with an internal leakproof pump which makes it safe to use harsh chemicals without worrying about them getting poured onto your back. The pump produces as much as 150 PSI of pressure in the spray which is powerful enough to wash away the most stubborn of dirt on the roof.
We love a lot of things about this sprayer mostly the fact that it allows for lots of freedom when working on large roofs. With 4 gallons of chemicals to spray and the ability to carry around the whole can comfortably on your back, you can cover large areas before needing a refill.
Pros
Large 4-gallon tank allows for coverage of large areas.
Internal leakproof pump prevents leaks which can be from corrosive chemicals.
High quality 21-inch poly wand fitted with Viton seals and can work with wet table powders and harsh chemicals.
Built-in in-line filter and shutoff brass components which make it durable.
Easy access pump allows for quick changing of seals.
Has 4 nozzles namely a foaming nozzle, a brass adjustable, and 2 flat fans. It can also use Tee Jet nozzles.
Cons
Requires a lot of effort to work with as it can be quite heavy when used for a long time.
This is one of the best when it comes to cleaning large roofs.
Chapin International 1002 Multi-Purpose Sprayer
Chapin's 1002, a multi-purpose 48-ounce sprayer designed for both homeowners and professionals. Ideal for a variety of applications such as garden spraying, and general cleaning.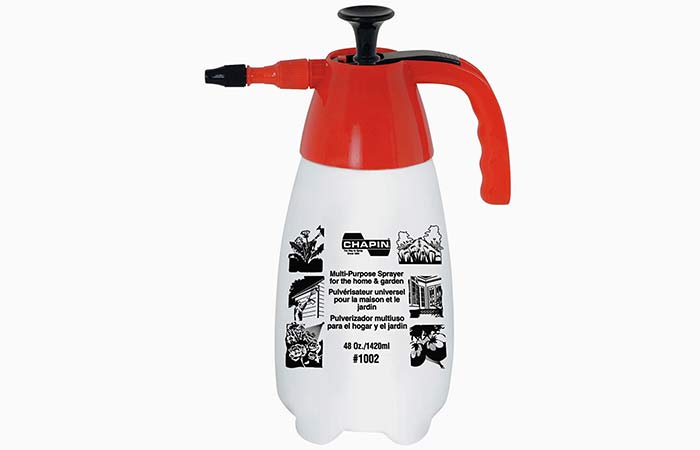 It features a poly bottle with wide mouth opening for easy filling and cleaning. This sprayer comes with an adjustable nozzle to spray a fine mist or coarse stream and includes an in-tank, anti-clog filter for continuous spraying.
48-ounce poly bottle with wide (1.5 Inch) mouth for easy filling and cleaning
Compatible with common cleaning solutions and garden chemicals
Adjustable nozzle to spray a fine mist or coarse stream with a simple twist
In-tank anti-clog filter for continuous spraying
Ergonomic handle to assist in preventing hand and wrist fatigue
Compatible with common fertilizers, weed killers, pesticides and general cleaning solutions
Translucent Tank for easy measurement/ reading
23 Foot Spray Stream Horizontal & 25 Foot Spray Stream Vertical
40-60 PSI, pressure
0.4 – 0.5 GPM
TABOR TOOLS 1.3 Gallon Pump Pressure Sprayer N50A
This sturdy 1.3-gallon compression sprayer is ideal for both indoor and outdoor use. The Tabor N50A sprayer comes with a funnel top opening that allows for easy no-mess filling.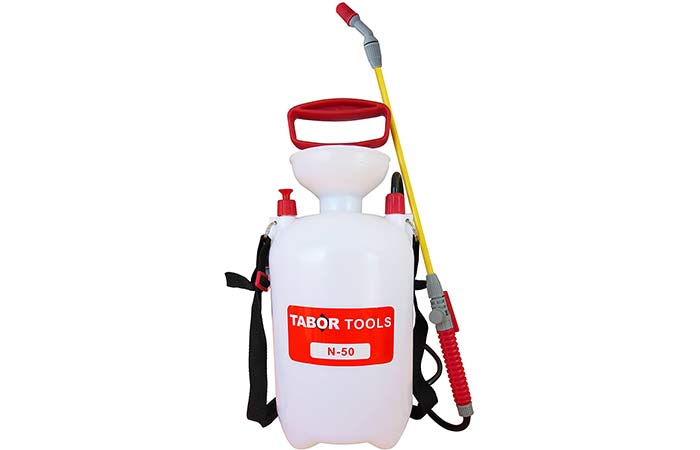 To use it, all you need is to unscrew, fill up the bottle, and close the lid. Pump up the pressure and you are ready to go! This sturdy sprayer is compatible with most commercial liquid cleaners, weed killers, pesticides (PH range 5-8)., herbicides, fungicides.
More other good features of this sprayer include;
It can spray water up to 131°F
16.5" wand for a better reach while standing up straight
The sprayer comes with shoulder strap, so you can save your back.
The comfort-grip handle has a shut-off valve, so you can rest your hand while keeping a constant flow.
This sprayer features a comfortable 50" long reinforced hose, adjustable nozzle, and a 16.5" wand.
Transparent 1.3-gallon bottle allows for easy monitoring fluid levels. You will easily when to refill.
The sprayer features secured seals and o-rings and a spray filter to help prevent clogging.
Trigger with a lock-on option can be engaged for a continuous spraying
The main downside of this sprayer is that it is NOT suitable for caustic or acidic (vinegar) solutions.
BRUFER 72022 Sprayer
The BRUFER 72022 Sprayer is a great option for larger roofs as it comes with a tank whose capacity is 1.1 gallons (4 liters). The top of the sprayer has a funnel design making it easy to refill it and even pour out any remaining chemicals. It also comes with a pressure release valve to avoid any cases of over-pressure in the tank.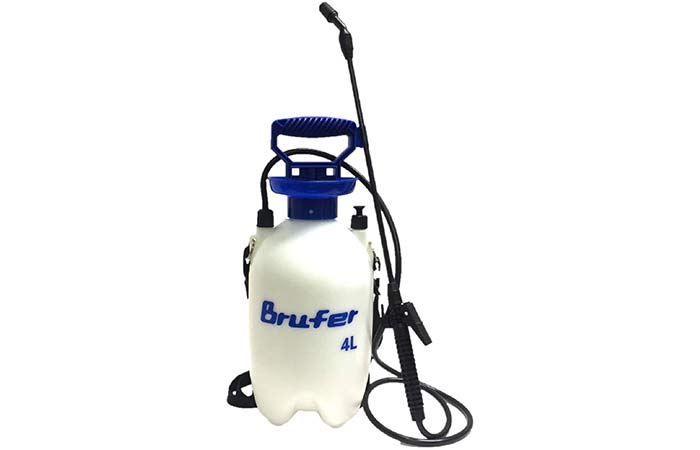 The design of this sprayer is one of a tank independent of the nozzle. The nozzle is connected to the tank with a rubber hose that is 4 feet long. On the tank is a shoulder strap for easy carrying and operation of the pump.
The tank of the sprayer is translucent in color to allow the user see the level of chemicals in it for easy operation. It also has a D-shaped handle that is easy to use as a pump and for carrying it around. The unit has a cone-nozzle that is fully adjustable for ease of use. You also get a trigger lock option which allows for continuous use of the nozzle without holding down the trigger.
Pros
Large 1.1 capacity reduces refill times but is still easy to carry around when working.
The tank is connected to the nozzle with a hose 4 feet long allowing for easy operation.
The added shoulder strap gives a choice between placing the tank on the ground and carrying it with you as deemed appropriate.
The trigger lock option makes it easy to use for long periods of time as it enables continuous spraying without needing to depress the trigger all the time.
Cons
The 1.1-gallon capacity can be quite hard to walk around with on a roof given the weight and the fact that it can destabilize you.
We love how easy it is to use this sprayer especially when it comes to using the trigger lock feature which prevents fatigue in the hands when it's a large roof you're dealing with.
DEFY Roof Cleaner Applicator
At half a gallon of capacity, the DEFY Roof Cleaner Applicator is best suited for small areas of the roof. These can be regions where mold is starting from or where there are spots making the roof unsightly. It has a simple design and is small enough to use with one hand.
The DEFY is a small can whose cap also doubles as the pumping mechanism. Attached to the cap is a trigger and handle which can be operated with one hand increasing the safety of the user. To use it, you simply pour the cleaner into the applications reservoir then water in the remaining part. You then set the dilution dial to "C" (1:6), attach the container to the hose and spray away.
In our experience with this applicator, we noticed the need to refill it more frequently than the others on the list. As stated earlier on, it's best suited to smaller roofs or a few spots that need cleaning as you'll tire yourself out trying to clean a large roof with this one.
Pros
Small size for ease of use.
Simple mechanism makes it easy to use.
Saves time as it makes it easy to mix the roof cleaner and dilute it as well.
Reliable spraying mechanism.
Cons
At half a gallon, the liquid is too little to use for large roofs.
Even with its small capacity, this applicator is one of the best when it comes to cleaning your roof.
Guide: Factors & Features to consider when shopping
When in the market for a quality roof cleaning sprayer, you should consider the following aspects:
Size of the sprayer in gallons
The first thing you need to look at in choosing a sprayer is the size of the tank. For this one, you have options from half a gallon to 4 gallons or even more. For small and low roofs or small spots on the roof, a small half-gallon or 1-gallon can is enough for that. For whole roofs or large roofs with lots of dirt, you'll need a bigger applicator.
Design of the applicator
The design of the applicator also determines whether to get it or not. There are many designs from simple handheld sprayers to large ground-based ones with long pipes going several building floors upwards. You will make a decision on these designs based on your needs such as the size of the roof, the steepness of the roof and the type of dirt you're dealing with.
Quality of materials
You'll be dealing with strong chemicals and will thus need quality materials that won't break or corrode when in use. Every part of the applicator needs to have the best materials which can withstand harsh chemicals and use in the sun. They should also have high quality Viton seals and gaskets to prevent chemicals from leaking and burning the user.
Other features
Other features and aspects to consider include other roles you can put the sprayer to with some usable in the garden and the lawn as well.
With these features in mind, you can easily find the right roof cleaning sprayer for your type of roof. If your roof cleaning procedure is too complex and requires climbing to the roof, you should follow the right safety precautions or get an expert to do it for you.
Roof Maintenance Tools & Products
Roof Leaks
As an Amazon Associate, we earn from qualifying purchases. Details here